Mizuno Cadence Wave and Nexlite Boa Shoes Launched
Choose between Mizuno's new spikeless Boa golf shoe or a running-inspired cleated model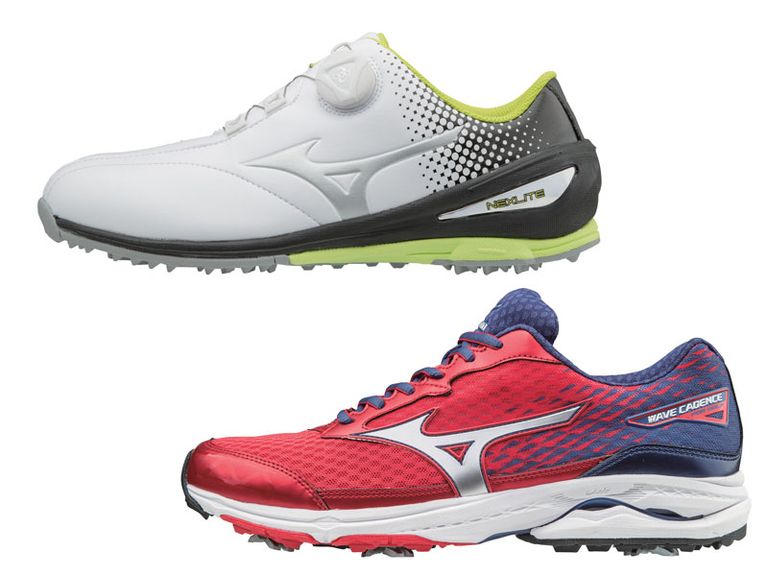 By Joel Tadman
Mizuno Cadence Wave and Nexlite Boa Shoes Launched - The spikeless Nexlite shoe now comes in Boa lacing while the new Wave Cadence is inspired by Mizuno's popular running shoes
Mizuno Cadence Wave and Nexlite Boa Shoes Launched
Mizuno is launching two new golf shoes in time for Spring in 2018 – the Nexlite Boa and Wave Cadence.
Mizuno has long held an enviable reputation for its golf clubs, especially its forged irons, but globally it is actually footwear that represents the brand's largest product category across many sports.
Last year, Mizuno re-entered the golf footwear market in the UK and Europe with the ultra-light Nexlite SL and these two new models bolster its range for the forthcoming season.
The all-new Wave Cadence is a stylish fusion of golf and running shoes that draws heavily on Mizuno's expertise in the world of track and field. Both shoes have been engineered by Mizuno's award-winning running team.
It blends the comfort and support of a high-end running shoe, with the lateral stability and traction needed in golf. Mizuno's headline Wave platform technology provides a unique midsole design that delivers both cushioning and stability. Its unique shape, which is inspired by nature, helps to absorb and disperse the forces as the foot hits the ground, producing a smoother, more cushioned feel on every step.
A newly configured plate allows Wave Cadence to handle uneven terrain with ease while providing a secure foundation for the golf swing. Added durability and traction come via Mizuno's extremely hardwearing X10 carbon rubber, which allows high-impact areas in the heel to last longer and perform better, as well as Silver Tornado Tour Lock soft spikes.
The next-generation Nexlite shoe features the Boa closure system instead of traditional laces, which makes it easier to put the shoes on and take them off.
The Boa dial tightens and releases a durable Nylon-coated stainless steel wire lace that won't stretch, with the tightening system also improving the fit for longer-lasting comfort as the whole foot is secured more evenly within the shoe.
A key golf-specific technology added into the shoe is the IG Multi Technology (Impact Grip System), which is engineered to deliver added grip and stability throughout the swing in firm conditions, and specifically through impact.
The new Mizuno Nexlite Boa is available in five colourways with an RRP of £110 and comes with a two-year waterproof warranty. The water-resistant Wave Cadence is available in four colours and has an RRP of £130. Both models are on sale now.