IJP Design to launch Junior Collection
Ian Poulter's IJP Design is to launch a scaled down version of it's men's Spring and Summer collection for Juniors in March.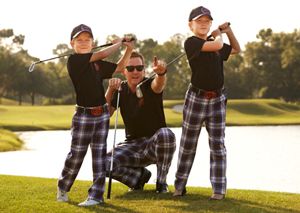 IJP Design is set to launch it's new junior clothing collection for spring and summer in March 2012.
Available to juniors aged 7 to 16, the collection will be a scaled down version of the IJP Design men's collection, all tried and tested by Ian Poulter himself.
It also includes the popular Poulter Tartan colour, which has been adapted to reflect current fashion trends to produce eye-catching, vivid and fun colours, perfect for the junior range.
Poulter's IJP Design junior collection will consist of two trouser designs - the Poulter Tartans and the Tech Trousers. There will also be the Poulter Tartan shorts, two shirt designs, a Hurricano windstopper, Gloryboy cap and belt designs.
IJP Design was launched in 2007 and has since created a name for itself as a high quality, unique and exciting golf and lifestyle brand.
A number of tour pros are now wearing IJP Design clothing along with Ian himself, including American Bud Cauley and Britain's Gary Boyd.
March 2012 will see the launch of IJP's tenth collection for men as well as the first junior collection. A ladies collection is thought to be coming in 2013.
For more information or to purchase something from the collection please visit IJP Design.
Betting experts, writers and video producers. Couple of guys in our early 20's looking to bring the sport that we love into a new era.'