If You Could Take The Open Somewhere New, Where Would It Be?
If You Could Take The Open Somewhere New, Where Would It Be?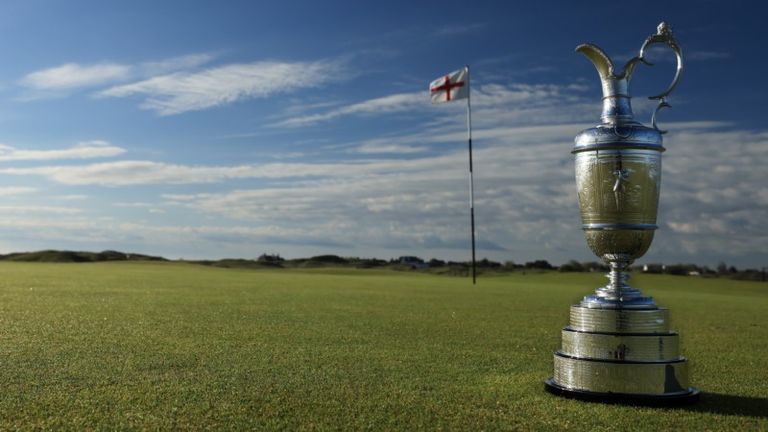 (Image credit: Getty Images)
Golf Monthly Newsletter
Golf tips and expert instruction, golf club reviews and the latest golf equipment.
Thank you for signing up to Golf Monthly. You will receive a verification email shortly.
There was a problem. Please refresh the page and try again.
We ask our forum members where they would like to see the game's oldest major head to next?
If You Could Take The Open Somewhere New, Where Would It Be?
Fourteen courses have staged the Open Championship (opens in new tab) since 1860 which leaves a whole host of incredible links courses in the UK that haven't had the honour.
To save too many arguments we asked for purely links courses with the forum giving their opinions below.
The Big Guns
So we are assuming that capacity for stands/fans/media etc then there are a few that come to mind…
- Royal Cinque Ports
- Rye
- St Enodoc
- Saunton
- Royal Devon - sats
Southport, Hillside, Wallasey, St Anne's. - rulefan
I'd like to see it played at Castle Stuart (opens in new tab) - simply because I love the beauty of the place when you see it on TV. A lot of links courses lack that a little, although I appreciate they have their own beauty. - Canary_Yellow
Only one place it really should go - Royal Porthcawl (opens in new tab). It would be great at many of the other great links around but adding in Porthcawl is the sensible choice. - Liverpoolphil
On the basis that I'd love to see it in Wales - not that I'm Welsh mind, Royal Porthcawl. Otherwise Silloth on Solway. - Grizzly
Would love to see it taken to Wales. Porthcawl is probably the only suitable option in Wales (certainly in terms of challenging the elite players). - DRW
Royal Porthcawl without a doubt. Wales deserves it and it should happen. - 4LEX
I have previously been a massive advocate of Royal Porthcawl getting The Open and I hope this is given real consideration by the R&A. In the context of this though.... Royal Aberdeen (opens in new tab) or Trump Golf Links. The North East of Scotland has some a stretch of sublime courses to rival anywhere. - Captainron
Trump Aberdeen (opens in new tab)- would love to see the pros play the 18th off the back tee in to the prevailing wind. - peld
Realistically I'm not up on the requirements of Open venues and how much they would have to be altered to take into account modern equipment but Dornoch (opens in new tab) is a fabulous course in a great setting. - Backache
If no logistics, it's Royal St. David's (opens in new tab) for me. - IanMcC
Royal Dornoch for me, but looking at some of the suggestions we are lucky to have so many great courses in the UK. - BrianM
Royal Dornoch for me. The par 3s would inspire the rest of us, seeing how easy the pros could mess them up. - Deijavoo
RCD (Royal County Down) (opens in new tab), Saunton, Kingsbarns (opens in new tab), Royal Aberdeen and Macrihanish. - The Dog
RCD, Trump Aberdeen, Dornoch. - The Wedge
Royal County Down has to be the winner surely... - Zig
- North Berwick (opens in new tab) for the quirkiness
- Dundonald for the test (although there are already enough venues in the area)
- Porthcawl for the Welsh
- Princes because the south east needs more Opens
- The Stadium Course (hasn't been built yet) because it would be fantastic if the R&A built a new championship links course, 8000+ yards long, designed for galleries, accessibility and future technology advances (because most of the current rota are a nightmare to get to and can't be lengthened any more). And then kept it as a public pay and play with an accessible green fee (none of this Muirfield snooty nonsense with women changing in the broom cupboard and banned to the kitchen etc). - sunshine
The Links Classics
Rye's a good shout. Would be good to have a few other southern courses on the rota. - spongebob59
Seacroft - I like the idea of all the big name yanks spending their spare time enjoying the delights of Skeggy! - JamesR
Royal West Norfolk (opens in new tab). - Hobbit
Obviously Silloth on Solway GC (with pre arranged sunshine but blowing a minor hooley) - Boomy
I'm going for Southerness, although it would probably need either lengthening or a guarantee of a four-day hoolie off the Irish Sea. - Golfnut1957
And Something Different
Kingsbarns for me. What might be an interesting idea is to double the entry and play it over three adjacent courses.
North Berwick, Gullane No 1 and Muirfield
Carnoustie (opens in new tab), Kingsbarns and St Andrews
Dundonald, Royal Troon and Turnberry Ailsa.
54 hole cut with final round on the 'main' course. - Doon frae Troon
I'd have a bit of this but would go:-
Thursday - S&A (Southport & Ainsdale) (opens in new tab)
Friday - Formby (opens in new tab)
Saturday - West Lancs (opens in new tab) (will sort the men from the boys)
Sunday - Hillside (opens in new tab)
If just one course, Cruden Bay. - Liverbirdie
Mark has worked in golf for over 20 years having started off his journalistic life at the Press Association and BBC Sport before moving to Sky Sports where he became their golf editor on skysports.com. He then worked at National Club Golfer and Lady Golfer where he was the deputy editor and he has interviewed many of the leading names in the game, both male and female, ghosted columns for the likes of Robert Rock, Charley Hull and Dame Laura Davies, as well as playing the vast majority of our Top 100 GB&I courses. He loves links golf with a particular love of Royal Dornoch and Kingsbarns. He is now a freelance, also working for the PGA and Robert Rock. Loves tour golf, both men and women and he remains the long-standing owner of an horrific short game. He plays at Moortown with a handicap of 6.