David Slays Goliath in the 2000 Match Play
The incredible story of how Darren Clarke beat Tiger Woods to win the 2000 Andersen Consulting Match Play at La Costa.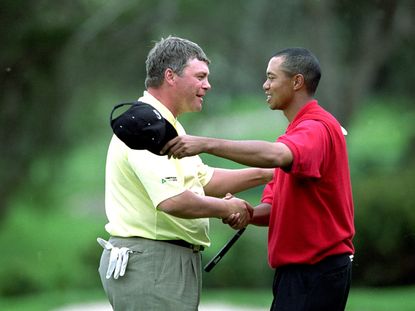 (Image credit: Getty Images)
2000 was the year that Tiger Woods stamped his authority on world golf. Woods won three of the four Majors, six further tournaments on the PGA Tour, another on the European Tour and, together with David Duval, the World Cup. At the time he seemed invincible, almost unbeatable… well, almost.
In the final of the Andersen Consulting Match Play Championship at La Costa in California, Woods received a sound drubbing from an overweight, cigar-smoking, out of form Northern Irishman. This is the story of how Darren Clarke brought down a rampant Tiger.
Tiger Woods travelled to Carlsbad, California for the first WGC event of 2000 as strong favourite. 1999 had been a fine season for the young Californian. He'd won his second Major at the USPGA Championship plus eight further tournaments, including two WGC events and the Tour Championship. He'd topped the PGA Tour money list by almost $3 million.
The new season had started well too. He'd beaten Ernie Els in a playoff to win the Mercedes Championship in Hawaii and had taken another victory in the AT&T Pebble Beach National Pro-Am.
Going into the Andersen Consulting Match Play he was World Number 1 by a vast margin and was determined to make amends for his shock quarter-final defeat at the hands of eventual winner Jeff Maggert the previous year.
Newspaper and TV previews in the build-up focused almost solely on Woods. By that time he'd established a Jedi-like hold over his opposition and pundits viewed most of the field as also-rans before the first shot had been struck. There was at least one man, however, given a chance: the goateed, 28-year-old Floridian David Duval. Then World Number two, Duval had won four times on the 1999 PGA Tour and had briefly been World Number 1. He'd also started 2000 strongly, with three top-five finishes through January. Duval was viewed as Woods' closest rival and, with the two men at opposite ends of the draw; many anticipated they would contest the final.
A name not being bandied about at the start of the week, except perhaps in the clubhouse at Royal Portrush, was Darren Clarke. Granted he was 19th on the World Rankings and he'd finished eighth on the 1999 European Tour Order of Merit, but his recent form had been nothing to speak of. He didn't have a good record in the States and he'd been knocked out in the first round of the previous year's tournament. He hadn't played the early season events on the European Tour and, in the Sunshine Tour's Dimension Data pro-am at the end of January he'd only managed to tie for 37th after third and fourth rounds of 78 and 75.
Clarke travelled to California a week before the Match Play, having entered the PGA Tour's Nissan Open at Riviera Country Club. This was to be a warm-up event, a way to acclimatise and maybe find some form. It wasn't a success. Clarke shot 73 then 74 for five-over-par, missing the cut by six strokes.
He and manager Chubby Chandler decided to drive to La Costa on the Saturday while Tiger and the other PGA Tour stars were playing the third round at Riviera. They thought they might squeeze in an extra practice round with the hope Clarke may come on to a game. That extra round wasn't exactly a confidence booster – Chandler beat Clarke by 6&5. "It was a stuffing," Clarke later said.
So there was little to suggest that Clarke would be a feature in Carlsbad. He was flying so far under the radar it was questionable whether he was even airborne, and his odds of 66-1 looked rather short.
In round one, the Ulsterman faced steely competitor and recent Sony Open winner Paul Azinger. Many expected Clarke to be taking an early bath. Later in the week Clarke admitted he had bookings on flights home every evening of the week.
But Clarke played some excellent golf through the round and dispatched the American by 2&1. Perhaps there was a flicker of hope.
Tiger made short work of Michael Campbell in his first game. The World Number 1 looked imperious as he brushed the Kiwi aside by 5&4.
Clarke shrugged off Mark O'Meara in round two then squeezed past Thomas Bjorn in round three. He found himself up against Hal Sutton in Saturday morning's quarter-final. This was going to be a tough match for the 31-year-old. Sutton had beaten Clarke by 4&2 in the Ryder Cup singles the previous year at Brookline so had a psychological advantage.
But Clarke held firm and was aided by a slice of good fortune on the 5th hole. Sutton split the fairway with his drive then Clarke sprayed his tee shot way right. It was headed for big trouble, but it struck an overhead power cable and so, according to local rules, he was able to re-take the shot. This time he found the fairway. Sutton was rattled and duffed his approach. The American lost the hole, the momentum and eventually the match.
Clarke had made it to that afternoon's semi-final, far further than almost all had expected. In that match he would face David Duval – the man ear-marked to contest the final with Tiger.
Weighing in at over 16 stone with a penchant for the finer things in life, many wondered if Clarke had the necessary fitness to play 36 holes in a day.
"He's not fit, but he's strong," said Chubby Chandler after the tournament.
And so he proved against Duval, cruising past him by 4&2. He was in the final.
Tiger's progress to the final was relatively straightforward. Retief Goosen pushed him in round two, as did Scotland's Paul Lawrie in the quarter-final. But in his semi against Davis Love III, Tiger turned on the afterburners. He made two eagles and four birdies, thrashing Love by 5&4.
One of the predicted finalists had made it to the Championship match, even if the other had surprisingly fallen at the last hurdle. The final would be between undisputed World Number 1 and habitual winner Tiger Woods and a rotund, Guinness swilling Ulsterman whose best finish in the USA had been a tie for eighth in the 1998 Masters. There could only be one winner, couldn't there? On the way back to the clubhouse after beating Duval, Clarke asked Chubby Chandler what time he was playing the following day.
"7.20," was the reply "Why so early?" "Because it's 36-holes." "Is it?"
But Clarke wasn't quite so blasé as he appeared. After a long day against Sutton and Duval, he went back out to the practice range to do some final fine-tuning. He most definitely believed he could beat his buddy Tiger the following day.
That was one of the factors working in Clarke's favour. Most of Tiger's week in-week out rivals on the PGA Tour were already intimidated by his talent to the point of paralysis. Many didn't know Woods as a person, they merely viewed him as a winning machine who was, quite simply, better than them. Clarke didn't see Woods in this way; they were good friends. In the press conference after the semi finals, Clarke described Woods as a "great guy," who'd he'd "slag off," if he wasn't chatty during the final. Asked if he'd ever been intimidated by anybody on the golf course he said, "Of late, no."
Intimidation clearly wasn't a factor as the 36-hole final kicked off early on Sunday morning. Both men came flying out of the blocks and, between them they posted 11 birdies over the first 12 holes. The pace slowed on the last six and Clarke missed a short putt on the 18th that would have given him a one-hole lead going into lunch. Most onlookers thought it was telling; that Woods would turn up the heat in the afternoon and pull away.
The behaviour of the players at the halfway stage suggested otherwise. Unhappy with his swing, Tiger headed straight to the range to do some emergency remedial work with Butch Harmon. Clarke didn't bother hitting any balls. "He didn't need to," said Harmon (also coach to Clarke at the time.) "Not the way he was playing."
Relaxed and rested, Clarke launched an assault on the afternoon's front nine. Four birdies in the fist eight gave him a four-hole lead over the World Number 1. Woods couldn't respond and became visibly frustrated. Although he was out-hitting Clarke by 20-30 yards off almost every tee, Clarke was striking his approaches in close, piling the pressure on the younger man. Woods was forced to attack the pins and was repeatedly inaccurate.
Woods clawed a hole back on the 9th, but lost it again immediately on the 10th. Tiger won the par-3 11th after a gorgeous tee shot, but he made a real mess of the par-5 12th, failing to get out of a greenside bunker. Clarke was four-up again and that was how it remained, the Northern Irishman won by 4&3.
He hadn't just beaten the World Number 1; he'd dominated him. He'd taught Tiger a golfing lesson as well as a psychological one. During Tiger's prime, this was one of the very few occasions he was made to look fallible. Clarke was the better golfer and the better match player on the day. Woods didn't scare him and Tiger wasn't quite sure how to deal with that.
"Darren, to be honest, just flat outplayed me," said a slightly dazed and confused Tiger after the match. This wasn't supposed to happen and Woods could barely believe it. "I just wasn't able to put a lot of pressure on him."
Chubby Chandler was excited at the prospect of his man having bagged $1 million in prize money.
"British Airways better watch out," he said. "They might not have enough Champagne."
Clarke kept his cool though. He spoke with confidence about the way he played and his hope that the win might lead to bigger things, maybe even a Major title. It did indeed turn out to be a fine year for Clarke, as he posted six top-three finishes on the European Tour. But it would be an 11 year wait before he'd get that Major, in the 2011 Open Championship at Royal St George's.
The fact that, during those 11 years, Tiger won 12 Majors and 62 PGA Tour events says something about the significance of Clarke's victory that day at La Costa. The uninformed observer would have simply seen a giant of a man defeating a skinny youth. But, in fact, a golfing Goliath had been felled by the accuracy and assuredness of a rival who'd been given little chance but had refused to be overawed.
Fergus is a golf obsessive and 1-handicapper. Growing up in the North East of Scotland, golf runs through his veins and his passion for the sport was bolstered during his time at St Andrews university studying history. He went on to earn a post graduate diploma from the London School of Journalism. Fergus has worked for Golf Monthly since 2004 and has written two books on the game; "Great Golf Debates" together with Jezz Ellwood of Golf Monthly and "The Ultimate Golf Book" together with Neil Tappin (also of Golf Monthly)... Fergus once shanked a ball from just over Granny Clark's Wynd on the 18th of the Old Course that struck the St Andrews Golf Club and rebounded into the Valley of Sin, from where he saved par. Who says there's no golfing god?