20 Golf Courses To Play In 2018
Broaden your golfing horizons and find inspiration for the year ahead with our must-visit courses guide...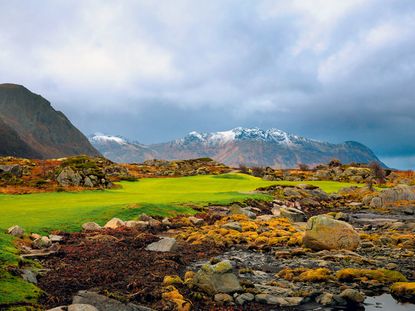 Broaden your golfing horizons and find inspiration for the year ahead with Fergus Bisset and Jeremy Ellwood's must-visit courses guide...
20 Golf Courses To Play In 2018
One of the greatest things about golf is the endless possibility for variety.
In tennis, the court has the same dimensions, whether in Rio or Romford. Football pitches, bowling rinks and snooker tables don't change much around the world, either.
But each and every golf course is unique: long, short, inland, coastal, fast greens, sloping greens, firm ground, fine grasses, long grasses, grainy grasses… the opportunities for distinctiveness are huge. Visiting as many different courses as possible will allow you to experience our great game to the full, and to improve as a golfer.
Here we serve up a tantalising selection of 20 courses (in no particular order) that we feel are well worth experiencing in 2018, both at home and further afield. So, what are you waiting for?
Royal Portrush (Dunluce) County Antrim, Northern Ireland
Fergus Bisset: In 2019, the Dunluce course will welcome The Open Championship for the first time since Max Faulkner won over the Northern Irish links back in 1951. If you haven't played this Harry Colt classic before, make 2017 the year you do and give yourself an idea of what the world's best will face in two summers' time.
Related: Royal Portrush Golf Club Dunluce course review
This is a track where you'll almost always face testing and changeable weather; you'll also experience a wonderful swathe of golfing terrain. Colt incorporated the natural contours perfectly into his brilliant design and, although changes have been made over the years, the layout remains true to his original vision.
GF: £60 per round Nov-Mar; £100 per round Apr & Oct; £190 per round May-Sep; extra round for £80 Tues, Thurs and Sun (subject to availability) W: royalportrushgolfclub.com (opens in new tab)
Oceânico Faldo Course Algarve, Portugal
FB: We're fortunate in the UK that warm-weather golf waits just a short flight away, and one of the most popular destinations for British golfing holidaymakers is Portugal's Algarve. For decades now, the abundance of courses, the beaches, the food and the scenery have tempted us to fly south to this corner of Iberia.
One of the newest and very best tracks on the Algarve is the Oceanico Faldo Course Amendoeira. Designed by the six-time Major champion and opened in 2008, the course is set over superb golfing terrain. Faldo's vision was to use traditional principles to create a modern classic. With brilliantly placed hazards and clear questions asked by each hole, he has succeeded in his mission.
GF: €80–€151 depending on the time of year W: amendoeiraresort.com (opens in new tab)
Royal Park I Roveri Piedmont, Italy
FB: Opened for play in 1971, the Robert Trent Jones Snr course at Royal Park I Roveri hosted the Italian Open on the European Tour between 2009 and 2012. Convenient for Turin airport, with reasonable green fees and a good second course in the shape of the Pramerica, this is a great destination for a short, and slightly different, golfing break.
With stunning views towards the Alps and a natural river running through the course, this Trent Jones layout provides a beautiful and tranquil setting for golf. The course is excellent and the off-course facilities are of a very high quality. The stylish clubhouse boasts a fine restaurant serving many local specialities. This one is a real find.
GF: €50–€130 for 18 holes depending on the time of year W: royalparkgolf.it (opens in new tab)
Machrihanish Kintyre, Scotland
Jeremy Ellwood: For some, it's Royal Dornoch, but for me, the first course to achieve compelled-to-visit pilgrimage status was Old Tom Morris' remote classic at Machrihanish. Many, many years ago I had seen pictures of this links and vowed to one day go there.
Related: Machrihanish Golf Club course review
We never made it, but years later, I finally did. Just to stand on that famous 1st tee and gaze across the beach to the curving fairway makes this a pilgrimage well worth making for any links lover. Machrihanish offers up some truly memorable holes, especially from the 3rd to the turn. Some may say the final two holes don't quite live up to the other 16, and that may be true, but who is really that averse to a genuine closing birdie chance?
GF: £30-£65 per round; £45-£95 per day; five-day ticket – £300 W: machgolf.com (opens in new tab)
Bamburgh Castle Northumberland, England
JE: If you fancy wonderful sea views from practically every hole, plus sufficient short par 4s to instil a sense of real optimism, then Bamburgh Castle on the stirring Northumberland coast is most definitely for you. It's perfectly in keeping with this most rugged of English counties, with views out to sea, inland and of the imposing castle itself.
The opening salvo will see you take on two very tough opening one-shotters then two strong par 5s, but the third par 3 – the 223-yard 6th – is tougher still. From here, it's a real rollercoaster ride over glorious terrain, blessed with the odd blind shot, several stout par 4s and a cast of shortish ones to bring birdie hopes to mind.
GF: £46/£55wd per round/day; £50/£60we per round/day; five-day ticket – £150 Mon-Fri W: bamburghcastlegolfclub.co.uk (opens in new tab)
Pennard Gower Peninsula, Wales
JE: Pennard, on the Gower Peninsula, is a links with a difference. It looks for all the world like a true links as you park up, but a glance away to the south tells you you're still 200ft above Three Cliffs and Oxwich Bays. Yet few who have played it have any real hesitation in labelling it a true links on account of its splendidly rumpled terrain.
Related: Pennard Golf Club course review
The 7th must surely be the only fairway in Britain flanked by a Norman castle on one side and church remains on the other. The back nine gradually works its way closer to the cliffs, before finally arriving at the devilish 16th green with its stirring views. Tom Doak once hailed Pennard "awful quirky," but in a complimentary way. He's right.
GF: £25-£55wd per round; £35-£65we per round; day rates subject to availability W: pennardgolfclub.com (opens in new tab)
Old Head County Cork, Ireland
FB: Towards the south-west tip of Ireland in County Cork, Old Head provides an incredibly dramatic setting for a golf course. Designed by a star team of architects and agronomists, the layout makes superb use of the stunning promontory upon which it sits, raised some 150 feet above the Atlantic Ocean.
Related: Old Head Golf Links course review
This is a course that will challenge even the best players in testing conditions. Nine of the holes follow the clifftops and an errant ball fired seawards can be forgotten. But, with multiple teeing options, this is also a track that will be enjoyed by players of varying standards. Look out for the incredible 12th hole. The tee is cut into the cliffs and the approach narrows to a green perched precariously high above the crashing waves.
GF: €170–€260/€280-€400 for 18/36 holes W: oldhead.com (opens in new tab)
Golf d'Hardelot (Les Pins) Hauts de France, France
FB: Before Article 50 is triggered, take the chance to hop over the channel and enjoy some golf in our European Union. Just south of Boulogne, only 30 minutes from the EuroTunnel terminus, you'll find the wonderful Golf d'Hardelot. The Pines (Les Pins) course there was designed by Tom Simpson and opened for play in 1934. With sandy soil and natural contouring, this track has a great feel and is highly reminiscent of the best heathland tracks of the home counties.
New life has been breathed into the course over recent years; it was restored using old photos and the playing characteristics Simpson envisaged in the 1930s reinstated. The result is a timeless classic.
GF: €50-€90 for 18 holes; €75-€140 for 36 holes (depending on the time of year) W: hardelotgolfclub.com (opens in new tab)
Isle of Harris Outer Hebrides, Scotland
JE: This splendidly beautiful Hebridean nine-holer overlooks uninhabited Taransay, where the BBC's famous 'Castaway' social experiment programme was filmed in 2000. It is understandably modest in nature, stretching to just 4,900 yards for two loops. Golf was once played a little further down the west Harris coast, but the club has been here at Scarista since 1985.
There can be few courses anywhere that better conjure up that 'wonderful to be alive' feeling on a fine day. The setting for golf is simply heavenly, but don't get any ideas about a Sunday round, for in this 'off-the-beaten-track' world, playing on The Sabbath is still prohibited. You can, however, enjoy life membership for the same price as a peak-season round at Trump Turnberry!
GF: £20 honesty box; £350 life membership W: harrisgolf.com (opens in new tab)
Continues below
Expand Five Of The Best Nine Hole Golf Courses
Five Of The Best Nine Hole Golf Courses
For those concerned that golf takes too long…
Expand Top 100 Golf Courses UK and Ireland 2021/22
Top 100 Golf Courses UK and Ireland 2021/22
Look at the new full list of Top…
Expand 15 Bucket List Golf Courses You Have To Play
15 Bucket List Golf Courses You Have To Play
An incredible selection of layouts showcasing the tremendous…
Expand Best In Britain: Six Magnificent Golf Courses You Simply Must Play
Best In Britain: Six Magnificent Golf Courses You Simply Must Play
Fergus Bisset takes a tour of six 'must…
Lofoten Links Gimsøysand, Norway
JE: Lofoten Links, a dramatic course within the 68th parallel of northern latitude in the Lofoten Islands in Norway, may take a little bit of getting to. But it's more than worth the logistical challenge to finally stand there and feast your eyes on a golf course like no other, in the most unlikely of settings.
Lush green fairways and greens weave through moody rocks and lakes set between the Arctic Ocean and the ruggedly spectacular mountains. The opener demands pinpoint accuracy to avoid the Arctic shore, while the stunning par-3 2nd, to a virtual island green nestling in deep-coloured rocks by the shore, will live long in the memory.
You can't help but be filled with admiration for the imagination and vision that has paved the way to such a unique golf experience.
GF: Approx. £80 per round, £120 for 36 holes or £130 for 24-hour golf W: lofotenlinks.no (opens in new tab)
Woodenbridge County Wicklow, Ireland
JE: In some instances, this feature is as much a call to action for its authors as its readers, and that's certainly the case for Woodenbridge, about which I have heard many good things. The club's Twitter handle is @IrelandsAugusta, which instantly grabs your attention.
Now, I've heard a few courses hailed as England's or Scotland's Augusta over the years, so it would be good to find out whether or not Woodenbridge lives up to its lofty billing. Photographically, it would certainly appear to – the course runs through a glorious tree-lined valley with the beautiful Avoca River coming into play on ten holes.
GF: €25-€40 per round Mon-Thurs; €30-€45 per round Fri-Sun W: woodenbridge.ie (opens in new tab)
Wolf Creek Nevada, USA
FB: An hour's drive from Las Vegas, in Mesquite, Wolf Creek is a pay-and-play facility where you'll need some sort of chin strap to support your jaw when it repeatedly drops as you make your way round 18 holes. The course has to be seen to be believed.
With holes carved into gaping desert canyons, huge changes in elevation and sprawling water hazards, it's one of the most spectacular tracks you'll find anywhere on earth. At times, as you look down on yet another lush fairway sweeping between the rocky outcrops, you have to blink to remind yourself it's really there. You may not fancy playing at Wolf Creek for your handicap but, as a one-off experience, it's tough to beat.
GF: $55-$200 depending on time of year W: golfwolfcreek.com (opens in new tab)
Broadstone Dorset, England
JE: This member of Bournemouth's Big Three – along with Ferndown and Parkstone – had somehow eluded me until 2016, but when I finally played it I was mighty impressed.
Related: Broadstone Golf Club course review
It's a wonderful heathland layout that plays through considerable elevation changes, starting from the 2nd, which heads up sharply to a very steep-fronted green. You then plunge back down and over water on the 3rd. The 6th is among the most gorgeous par 3s you'll play anywhere, backed by striking pines. The 7th is then a simply magnificent par 4 – beautiful and strategically demanding – where only two very good shots will find the putting surface. The course climbs to slightly higher terrain via several cracking holes, before descending to clubhouse level once more.
GF: £85wd per round (+Sun after 2pm); £110wd for 36 holes Apr-Oct; £48wd per round Nov-Mar W: broadstonegolfclub.com (opens in new tab)
Trump Turnberry (Ailsa) Ayrshire, Scotland
FB: As the No. 1 course on Golf Monthly's Top 100 UK and Ireland course rankings, the recent changes at the historic Ayrshire venue have heightened Turnberry's status as a must-play track. Already known for the striking stretch of holes around the iconic lighthouse, the alterations there have added greatly to the Turnberry golfing experience.
Related: Trump Turnberry Resort Ailsa course review
Martin Ebert's superb design has turned the 9th into a brilliant par 3 across the shoreline to a green by the lighthouse. The new 10th tee also brings the shore far more into play and the 11th is now played over the rocks to a green perched on the land's edge. The course showcases the very best in links fairways, greens and bunkering, and the views are incredible, too.
GF: £200-£350 W: trumpturnberry.com (opens in new tab)
Traigh Lochaber, Scotland
FB: The 'Road to the Isles' from Fort William to Mallaig is one of the most striking on the British mainland. With views of Loch Eil, the Glenfinnan Monument and Loch Shiel and the rugged splendour of the higher ground towards Lochailort and down to Arisaig, it's a drive that feeds the soul. Just off the main road at Arisaig lies a course arguably boasting the finest views of any track, anywhere.
Standing on the 1st green of this quirky layout, one looks west over the turquoise seas towards the islands of Rum and Eigg and the Cuillins of Skye. The first few holes of the nine-hole course showcase this awesome vista then, further on, the layout turns inland towards the brooding mountains of Morar.
GF: £20 per day; £45 for three days; £60 per week; use honesty box when clubhouse shut W: traighgolf.co.uk (opens in new tab)
Royal Melbourne Victoria, Australia
FB: It might require a rather long journey Down Under, but this is a pilgrimage worth making to play one of the world's most celebrated and imitated golf courses.
The club at Royal Melbourne dates from 1891 and it was in the mid-1920s that the courses as they exist today began to take shape. The great Dr Alister MacKenzie oversaw the design of what would become the West Course. Fairly quickly, an East Course also emerged. Both are classics, although a composite of the two – featuring 12 holes from the West course and six from the East – is the ultimate golfing experience. The turf and terrain on this wonderful stretch of sandbelt makes for some of the best playing surfaces to be found anywhere.
GF: A$500 – visitors welcome Mon, Tues and Fri plus Wed afternoons from Sep-Apr W: royalmelbourne.com.au (opens in new tab)
Fortrose and Rosemarkie Black Isle, Scotland
JE: This wonderful old links set on a slender Black Isle headland almost opposite Castle Stuart dates all the way back to 1793, with today's marvellously exposed course the 1932 handiwork of James Braid.
In any sort of wind, this gorse-framed beauty of a links is at the same time an interesting experience and a visual delight. So many tees sit distractingly close to the lapping waves on the outward loop, yet your full attention is required to keep your ball out of the gorse or the water. Don't take the 133-yard par-3 5th for granted, either, as into the fiercest of winds you'll be reaching for a long iron to cover its modest yardage.
GF: £55wd per round; £60we per round; day rate £80 in the summer W: fortrosegolfclub.co.uk (opens in new tab)
Barnbougle Tasmania, Australia
JE: Some dreams are relatively easy to achieve and others less so, but that hasn't stopped me wanting to go to Barnbougle.
It may be 10,500 miles away in Tasmania, but I do know at least one golfing colleague who has made the trip… and come back raving. This spectacular Tom Doak/Mike Clayton design has harvested accolades like they are going out of fashion since opening in 2004.
It plays over 200 acres of magical linksland and is open to all for a relatively modest green fee. If you're thinking it's a long way to go for just one course, don't panic – the sister Lost Farm layout, which ventures into ever taller dunes, has attracted at least equal acclaim since opening in 2010.
GF: Approx. £60-£66 per round or £79-£85 per day on either course W: barnbougle.com.au (opens in new tab)
Cavendish Derbyshire, England
JE: This moorland/parkland hybrid in the beautiful Peak District is the handiwork of Dr Alister MacKenzie. More than that, the club firmly believes the design principles MacKenzie applied to this humble Derbyshire layout later resurfaced when he created his much more famous Augusta National layout.
Related: Cavendish Golf Club course review
You do indeed get a real sense of the tee shot on Augusta's 18th when you play the 7th at Cavendish, while the false-front greens on the 5th and 14th bring to mind the 9th at Augusta. Perhaps more importantly, though, Cavendish is just a delightful place to play, with a particularly strong cast of par 3s, from the two steep downhillers on the front nine to a testing back-nine trio. It's a lovely course in beautiful surroundings.
GF: £20-£35 per round; twilight reduction of 20 per cent if playing after 4.30pm W: cavendishgolfclub.com (opens in new tab)
Don't forget to follow Golf Monthly on Facebook, Twitter and Instagram
The leading website from the world's oldest golf magazine, we're the go-to destination for amateur and keen golfers alike who are keen to up their golfing game. As well as expert course reviews, news and tips to improve your handicap our golf-focused travel content will help you pair teeing off with your travels in some of the best destinations around the globe.