Best Golf Valuables Pouch 2023
There's nothing worse than all your tees and loose change spilling out everywhere – here's some help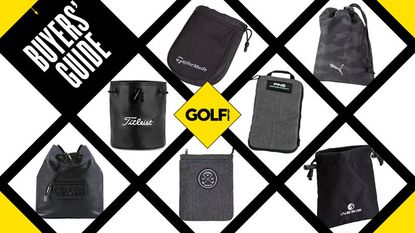 (Image credit: Golf Monthly)
Best Golf Valuables Pouch
As many golfers know, you can't have enough valuables pockets and pouches on the course. Having tees strewn across one pocket, balls in another and maybe pencils in a third, it can get quite annoying trying to fish out what you need from your golf bag. But a valuables pouch is the perfect way to keep your golf gear and personal effects well ordered in your golf bag. As you may know, a cluttered golf bag means a cluttered mind and you don't want that on the course.
For that reason, having a couple of valuables pouches can keep your mind at ease on the course, speed up your round and also help you play better golf. For that reason, valuables pouches are a relatively cheap way of adding a good-looking accessory to your golf bag. So to help you stay organized, we've put together a list of the best golf valuables bags in this guide that will help you play better golf. But you're going to need to have something to fill them with, right? So why not also have a read of our best golf training aids, best golf tees, and best golf towels.
Best Golf Valuables Pouch
Why you can trust Golf Monthly Our expert reviewers spend hours testing and comparing products and services so you can choose the best for you. Find out more about how we test.
TaylorMade Performance Valuables Pouch
+ Handy size
+ Easy to use fastening
- Quite simple looking
TaylorMade are well known for producing high-quality golf products and this valuables pouch is no different. It features a durable fabric make-up along with an internal fur-lined pocket to keep all your belongings dry. And there's no chance of everything spilling out when you throw it in the bottom of your golf bag as it comes with a drawstring closure that can be fastened tightly and unfastened easily when you want to retrieve something from the pouch. This pouch would look excellent in one of the best TaylorMade golf bags.
+ Cool camouflage look
+ Handy drawstring
- Nothing to separate anything in the bag
If you're a devotee to Puma Golf then this is a must-have to stick in your Cobra bag. It comes in a pretty funky camouflage colorway which compliments Puma's unique styling. It is also extremely lightweight, durable and comes with a draw-string opening which keeps all your belongings nicely contained and organized inside the bag. Better still it comes at an affordable price and makes for an excellent accessory that you can store your best golf tees, best golf balls, or even a laser rangefinder in.
+ Easy to keep things separate
+ Good value
- Not the most exciting
This is a particularly stylish pouch, coming in a heathered grey polyester that is both durable and looks good on the course. While it doesn't come in that many other colors, this pouch does look smart in your golf bag and features a handy security clip for added safekeeping that keeps all your belongings safely locked away. Inside you have a velour-lined inner and diver to keep everything segregated and in the right place. So if you want to keep your watch, phone or jewellery separate and away from any unwanted scratches, you easily can with this pouch.
+ Super stylish
+ Premium feel
- Not easy to use if you need to retrieve something from it quickly
This is a bit different from some of the other pouches on this list as it comes with an easy pinch-and-clinch closure and rounded finish. It comes in a premium leather protective material that feels great on your hands and has a slick black and white finish. The bag itself has enough room to fit your phone and wallet in, but could also be used easily for your golf balls, tees or even your ball markers.
+ Zip closure very handy
+ Velour lining
- A variety of colours would be good
Like the Ping valuables pouch above, this offering from Callaway also comes in a fantastic-looking heather-grey fabric. It also comes with a zipper closure and can be attached to the outside of your golf bag as it comes with a secure snap hook.
That makes it very easy to use this pouch to grab tees and balls quickly, without having to rummage through the pockets of your bag.
+ Quality leather offering
+ Excellent size
- It's very pricey!
This isn't your run-of-the-mill pouch, rather a high-end accessory for your valuables. Akin to many of the best PXG golf clubs, it is a high-quality piece of golf equipment and is lined with an ultra-luxe fabric that adds to the premium nature of this product. Its exterior is a mix of pebble leather and polyester and, as is typical of the PXG brand, there is a bold PXG logo emblazoned on its front. It's topped off with a draw-cord opening and metal rivets to complete the sleek jet-black look on the pouch.
How we test golf gear
At Golf Monthly, we test all golf equipment thoroughly and look to find the best golf gear in every category. That way we can give you a clearer idea of which products are worth buying and which aren't. Our methodology revolves around putting products to the test out on the golf course, and with golf pouches, that means using each pouch out on the course to compare how well they store our valuables and golf equipment. It is by using the pouches properly that we can gain an understanding on their quality, durability and how easy each accessory is to use. It is important to note that all product testing is carried out by our experienced team of writers, all of whom play golf regularly and have a very good understanding of what makes a good product.
What to consider when buying a valuables pouch
You might not believe it when we say it, but there are a lot of things to consider when purchasing your next golf pouch. While they probably aren't the most hi-tech pieces of equipment in your golf bag, they will carry some of your most important effects, including your phone and wallet. So for that reason it is important you get the right valuables pouch for your needs to ensure your golf valuables stay safe and organized in your bag. For that reason, we have set out several key considerations below that you need to think about when purchasing your next golf valuables pouch.
1. Size
First things first, you need to think about the size of your valuables pouch. How big or small do you want it to be? What are you going to put in it? Do you want a pouch that can easily slot into smaller pockets in your golf bag, or one that is large and stores everything? Different pouches have different sizes and therefore capacities so it is good to be aware how big some models are.
2. Fabric
What do you want the pouch to be made of? There are models made of leather, polyester, velour, or synthetic materials so there is something for everyone really. The leather models offer a more premium feel whilst the polyester designs perhaps stretch a little better to get more accessories in.
3. Strength/Durability
Linking with the fabric, strength and durability are huge factors to be aware of here because if a valuables pouch is not strong and the fabric wears away, your valuables could fall out and be lost forever. As such we would recommend going for models with premium construction at the forefront of the design.
4. Design
What do you want the pouch to look like? Do you want a brand name on the front or some kind of camo design like the Puma model above? Something simple, or something a little different? There are lots of designs out there with different prints, colors and finishes so have a think about this.
5. Budget
How much are you willing to spend on a valuables pouch? It is a relatively minor accessory in the game of golf but can be very useful indeed so given the range in prices of the products we selected, it is worth having a think about how much you want to spend on one.
Now that you may have figured out which golf valuables pouch you want to purchase, you're going to need some stuff to fill it up with. So for that reason, why not take a look at our guides on the best golf accessories, best golf tops and best golf ball markers.
FAQs
What do you put in a valuables pouch golf?
The golf valuables pouch is the simple solution to keeping your precious items in one safe and secure place. What you put in your pouch is up to you really. You could keep your keys, wallet and phone safe or you could use the pouch to store all your golf items, like tees, ball marker, pitch repairers and so on.
What are golf pouches used for?
Golfers have to carry some items when they head to the course, including their wallets, phone, keys, tees, and all sorts of paraphernalia. A solid golf pouch can provide sufficient space to store all items conveniently and without having to lug around a large bag.
Should I clip my golf valuables pouch onto my bag?
Depending on whether your pouch comes with a clip, you can fasten your pouch onto the side of your bag. That can make finding tees and golf balls a lot easier, meaning you don't have to rummage through the pockets of your bag to find stuff. But do so at your own peril, as sometimes, pouches can fall off your bag if they are not fastened correctly or the fastening is not secure enough.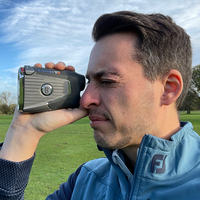 From clubs, balls and tees, to essential sportswear and fitness products, keep it affordable with a little help from our promo and coupon codes.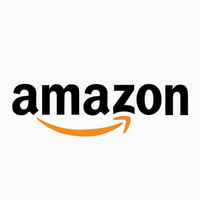 Get saving on those Amazon orders with these coupon codes to help reduce the price in your basket.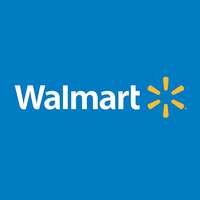 Our Walmart coupon codes can get you better prices on items from the retailing giant including clothing, tech & sports gear.
Get the Golf Monthly Newsletter
Tips on how to play better, latest equipment reviews, interviews with the biggest names and more.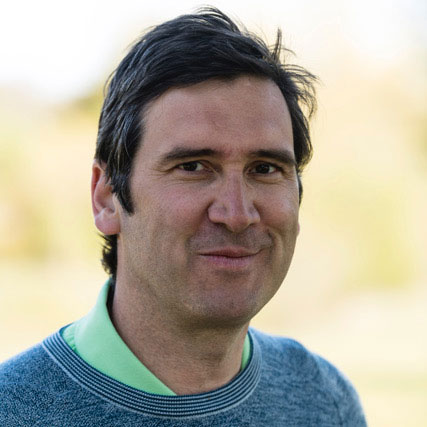 Mark has worked in golf for over 20 years having started off his journalistic life at the Press Association and BBC Sport before moving to Sky Sports where he became their golf editor on skysports.com. He then worked at National Club Golfer and Lady Golfer where he was the deputy editor and he has interviewed many of the leading names in the game, both male and female, ghosted columns for the likes of Robert Rock, Charley Hull and Dame Laura Davies, as well as playing the vast majority of our Top 100 GB&I courses. He loves links golf with a particular love of Royal Dornoch and Kingsbarns. He is now a freelance, also working for the PGA and Robert Rock. Loves tour golf, both men and women and he remains the long-standing owner of an horrific short game. He plays at Moortown with a handicap of 6.