Best Golf Ball Markers 2023
Why not mark your golf ball with some of our favourite ball markers?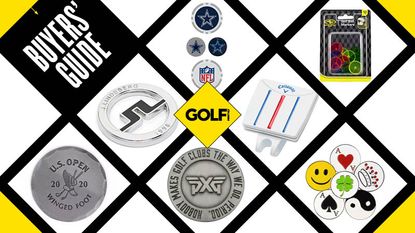 (Image credit: Golf Monthly)
Get the Golf Monthly Newsletter
Thank you for signing up to Golf Monthly. You will receive a verification email shortly.
There was a problem. Please refresh the page and try again.
Best Golf Ball Markers
Some golfers are happy to do the job with whatever coin is sitting in their pocket, others like to have every box ticked, right down to the last detail. If you're playing on tour you'll likely have a 'lucky ball marker' and there's no reason why the rest of us shouldn't add a nice little touch like one of these to our golf.
Even at club level, golf can be a frustrating game but having a quirky or novelty ball marker might put a smile on your face, or even help you nail those long putts. We've set out some of our favorite ball markers below, which features some that will put a smile on your face when putting, but also help you drain those long putts. Additionally, if you want more buying advice on other aspects of the game, we recommend checking out some of our most popular posts below - for example the best golf accessories, best golf balls and the best golf bags.
Best Golf Ball Markers
Why you can trust Golf Monthly Our expert reviewers spend hours testing and comparing products and services so you can choose the best for you. Find out more about how we test.
Callaway Hat Clip and Ball Marker
This magnetic ball marker and hat clip will make the perfect accessory for any cap and will save you rummaging through your pockets through all that loose change and tee pegs.
The marker is slim and neat and ideal for that all-important medal round. Also if you are a fan of Callaway take a look at our guide on the best Callaway golf balls.
Want to show your sports team or alma mater some support on the fairways? Why not do it with your ball marker?
Team Effort is a brand that makes sports team related gear and you can get ball markers signifying NFL/NBA/MLB or even College sports teams logos on. Importantly in each set you also tend to get three or four designs as well, each unique from the others.
J Lindeberg Golf Ball Marker
A premium offering from J Lindberg, this is a sleek and well-designed metal golf ball marker that features the famous JL trademark in its center.
J Lindberg are well known for producing quality golf equipment and this offering is no different. Combine this with one of the best premium golf balls and you'll really look the part out on the course.
'NOBODY MAKES GOLF CLUBS THE WAY WE DO. PERIOD.' It's a pretty good tagline so why not use it on your ball marker. This two-sided and two-toned marker comes with a chrome finish and is made from zinc alloy and black soft enamel.
It's bold and proud, much like the company which has only been going since 2014 but already has a host of tour stars on their books. Take a look at our buyers guide for more info on PXG's best golf clubs.
Callaway Triple Track Hat Clip and Ball Marker
Callaway's Triple Track design has been a huge revelation to the putting market, helping players drain putts thanks to the red and blue alignment lines found on the ball.
Position the marker on the ground and use the red and blue lines to square up your putt, then place the ball down next to the marker and sync up those alignment lines. Once you've got everything squared up, all you need to do now is swing through and tap the ball into the hole.
Da Vinci Golf Ball Marker Poker Chip Collection
These poker chip markers seem to be like Marmite; some love them and some are less keen. They weigh in pretty heavy at 11.5g so they won't be going anywhere when the wind gets up and these will appeal to plenty who like to keep things light and fluffy.
They're not small, being 1.5 inches in diameter and they're very visible so expect a bit of marking to one side or the other but they're a welcome break from the norm.
Giggle Golf Custom Ball Markers
If you like a bit of bling in your golf gear, then you'll love these ball markers. These seem to be squarely aimed at the female market with offerings such as 'Putt Now, Wine Later' though there are more generic products that will apply to all of us – 'Isn't This A Gimme?'
You can also transform them into a necklace for when you're enjoying the benefits of the 19th hole.
These are a fun and bright offering and you can customize what you'd like on your marker if that's what you're after.
Otherwise, there are plenty of options that are worth browsing and there are also a collection of national flags should you be feeling particularly patriotic. A popular collection will likely be the four-leaf clover to help us add a bit of luck on the greens.
Athletic Works Neon Ball Markers
It's not a great look or feel when you've hit the green, marked her up and then spend a very awkward 30 seconds trying to find your ball marker on the green. These are a cheap, simple and highly visible way of getting the job done.
They come in a pack of 12 so when the odd one is lost to a dark recess of your bag you'll have a few spare.
How we test products
When it comes to product testing, our reviews and buyers' guides are built upon a rigorous testing procedure as well as the knowledge and experience of the test team. Product reviews on golf accessories are carried out by all members of the Golf Monthly team. All of our writers are able to efficiently test the vast majority of the biggest product releases while conveying the pros and cons of each item eloquently. Getting into specifics, we test golf accessories outdoors on premium golf courses to get a thorough understanding on what design features each accessory offers.
Ultimately, we aim to be as insightful and honest as possible in our reviews, so it is important to acknowledge that no manufacturer can buy a good review. This is because our team tells it how it is. To learn more about our methodology, see our guide on how Golf Monthly tests products.
What to consider
Buying a new ball marker can be as much about style as anything else. But there are several factors to consider when purchasing a new ball marker that you should take into account.
1. Alignment tools
Perhaps the most important of those factors is whether the marker has an alignment tool on its top. While style is important, draining puts is even more crucial and having an alignment tool on the top of your marker can seriously help you square up your putt and get it in the hole.
2. Weight
Weight is one factor that not a lot of golfers consider when purchasing a new ball marker. Often ball markers can get blown off the greens or moved by other balls hitting them. Plus it's also good to have a heavier marker which you are generally less likely to lose when placed in your bag.
3. Style
Now we get to style, which is a very important consideration when buying a ball marker. Having a snazzy marker that reminds you of something, perhaps an event, a memory, or even a time you nailed a hole-in-one at your local course, can fill you with confidence on the greens. Confidence is king when putting and having that added boost when standing over a golf ball is crucial to help you stop three-putting.
4. Fastening
Not all golf ball markers come with a clip or a fastening that you can attach to another piece of equipment, like a divot repair tool or your cap. Having an additional clip can make it a lot easier to pull your ball marker from your bag without having to faff around in your bag looking for the marker.
While ball markers are one of the most important accessories you can carry in your bag, there are plenty of other handy tools that are outlined in our best golf accessories guide, that you should look to add to your golf bag.
FAQs
What equipment do you need for golf?
Aside from shoes, clubs and a bag, you may also want to carry around some of the following items to help you have an efficient and enjoyable round. You might want to bring with you, tees, a ball marker, a divot repair tool, a club head cleaner, a rangefinder, a GPS watch, or a scorecard holder.
Is it mandatory to have a golf ball marker during tournaments?
It isn't mandatory, although during tournaments you will likely need to mark your ball to allow another player to hit their shot. In this instance having a ball marker is vital as it means that you can easily provide your playing partner with a direct line to the hole without impeding them. Not marking your ball could be considered unsportsmanly and you may incur a penalty depending on club rules.
What is the point of a golf ball marker?
Golf ball markers are designed to help players line up their putts better. They are a useful tool to help you gauge what line to hit the ball on and are also used to help other players behind you, putt through to the hole on an unobstructed line.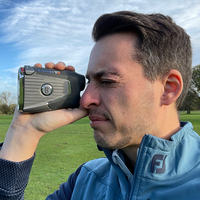 From clubs, balls and tees, to essential sportswear and fitness products, keep it affordable with a little help from our promo and coupon codes.
Get the Golf Monthly Newsletter
Tips on how to play better, latest equipment reviews, interviews with the biggest names and more.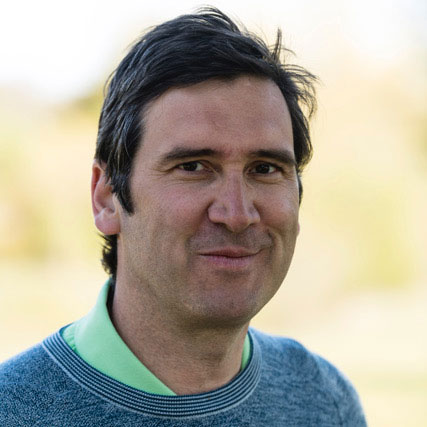 Mark has worked in golf for over 20 years having started off his journalistic life at the Press Association and BBC Sport before moving to Sky Sports where he became their golf editor on skysports.com. He then worked at National Club Golfer and Lady Golfer where he was the deputy editor and he has interviewed many of the leading names in the game, both male and female, ghosted columns for the likes of Robert Rock, Charley Hull and Dame Laura Davies, as well as playing the vast majority of our Top 100 GB&I courses. He loves links golf with a particular love of Royal Dornoch and Kingsbarns. He is now a freelance, also working for the PGA and Robert Rock. Loves tour golf, both men and women and he remains the long-standing owner of an horrific short game. He plays at Moortown with a handicap of 6.