Find Value With These WGC-Dell Technologies Match Play DFS Picks and Targets
The WGC-Dell Technologies Match Play starts March 23. Matt MacKay shares his best bets for WGC-Dell Technologies Match Play.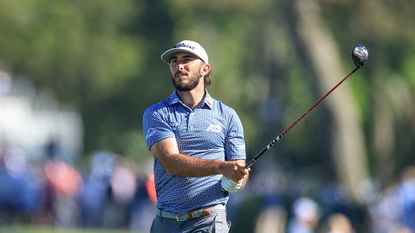 (Image credit: Getty Images)
After spending a month in Florida using default stroke play scoring, the PGA Tour will provide new scenery and a new style of golf for us to consume during the 2023 WGC-Dell Technologies Match Play event in Austin, Texas. The Tour's best players will be competing against each other in a Round Robin-styled tournament, with Match Play used as the scoring system instead of stroke play. So what exactly does this mean when we're constructing DFS lineups?
16 groups of four players each will compete during the first three days at Austin CC, which is the course where Match Play events will be held. Once a player has completed playing everyone once in his Round Robin group, the scores will be tallied, and the highest scorer will advance to the single-elimination Round of 16 to continue engaging in Match Play against the top scorers from other Round Robin groups.
The PGA Match Play scoring gives one point to the player with a lower score on a specific hole, a 0.5 point if they tie, and 0 points to the player with the highest score on a particular hole. There is only a tiebreaker implemented if multiple players within the same Round Robin group are tied at the end of the first three days, leading to a sudden-death playoff that returns to stroke play to determine who will advance to the Round of 16, which will begin on Saturday and conclude with the Semi-Final and Championship Matchups on Sunday. If a player has a significant lead and the losing player cannot catch up with the number of holes remaining, the Match is called in favor of the leader. This applies in Round Robin and single-elimination Match Play.
Only DraftKings is offering up the option to compete in Match Play contests for DFS, so we'll be focusing exclusively on their scoring and pricing when it comes to finding a few of my favorite value prospects on the WGC-Dell Technologies slate. The scoring still remains similar to standard stroke play, awarding players with three points for a hole won, an identical unit compared to birdies while designating 0.75 points to both players if they tie on a specific hole.
However, unlike the Match Play scoring system enforced on players during the event, DraftKings is penalizing players for losing a hole with -0.75 points. This is similar to scoring a bogey during stroke play. There are additional scoring rules for holes not played (+1.6), winning a matchup (+5), and tying a matchup (+2), with a couple of bonus streaks awarded to a player that either has a streak of three consecutive winning holes (+5) or a bigger +7.5 point designation for a player that didn't lose a single hole in their Match Play.
I've identified my favorite prospects who can help us cash our DraftKings lineups once Sunday's Semi-Final and Championship Matchups conclude. Let's find out why each player should be prioritized in DFS lineups ahead of Wednesday's opening Round Robin matchups.
DraftKings - $50,000 Maximum Salary
Scottie Scheffler ($11.1K)
Scottie Scheffler is currently the No. 1 ranked golfer in the world, per OWGR rankings, and is also the defending champion of the WGC-Dell Technologies Match Play event. We've already seen Scheffler successfully defend his title at the Waste Management Phoenix Open in mid-February, and he's fully dialed in with his short game and driver, which led him to his second outright win of the season at TPC Sawgrass a couple of weeks ago. Scheffler is expensive for a reason. His Round Robin group is among the weakest in the field this week, and he'll start matched up against Ian Poulter, who logged a T35 finish in 2022 while not competing yet in 2023. Lock Scheffler up in DraftKings lineups, as he's also the outright betting favorite at 8/1 odds.
Max Homa ($10.1K)
I've been recommending Max Homa in a lot of DFS articles this season, and he's provided mixed results. The 32-year-old Californian didn't fare nearly as well in the Florida leg of the PGA Tour compared to his two outright wins earlier in the season in his home state, but he's primed to make a run in Match Play. Homa has delivered 15-23 birdies in four of his previous five events played, which will go a long way toward winning his Match Play events against Hideki Matsuyama, Kevin Kisner, and Justin Suh. Plus, Homa is ranked third in total strokes gained, meaning he's a beast with his irons, which is necessary for winning holes at Austin CC. Pay up to land a high floor and a potentially high-ceiling prospect who should make the jump from a T35 finish in 2022 to a T15 finish in 2023.
Tyrrell Hatton ($9K)
The biggest value in terms of production versus salary on the slate has to be Tyyrell Hatton. The 31-year-old Englishman is ranked fifth in total strokes gained, including 18th in strokes gained putting, while also possessing a strong, accurate driver that will allow him to avoid bad lies in the undulated fairways and surrounding coarse rough of the Texas countryside. Hatton is a good scrambler, which is necessary considering how low his greens in regulation percentage has been this season. Still, in a group that consists of Ben Griffin, Lucas Herbert, and Russell Henley, I really like Hatton's value to advance to the Round of 16 and beyond, especially at a $9K salary.
Tom Hoge ($7.7K)
Now that we're on my last prospect, I've dug up a high-value player to prioritize in lineups. Tom Hoge is available all the way down at $7.7K on DraftKings, and he's been playing some of the best golf of his career lately, most notably setting a course record for the lowest round ever at TPC Sawgrass, going ten-under-par in the third round and launching himself into a T3 finish in a loaded field. He's matched up with Xander Schauffele's Round Robin group but will start against Thomas Pieters, which means Hoge should smoke the competition on Wednesday. Schauffele is volatile and can implode at a moment's notice, so I'm not afraid to lock Hoge into my DFS lineups for his upside, which is evidenced by ranking first in strokes gained approaching the green, 35th in total driving, and ranking as a top-five player in terms of proximity to the hole location. Hoge is another elite ball striker who averages over 4.5 birdies per round, which is going to be valuable currency in the form of winning holes against his opponents at the WGC-Dell Technologies event this week.
Matt MacKay is an avid writer, editor, and researcher. He enjoys analyzing the game from a fantasy sports and sports betting perspective. Music is another constant in his daily life. Matt loves spending time with his wife and three pets. He likes to read, listen to podcasts, and is constantly aiming to create the most accurate and engaging content in the sports betting industry.