What Is Daniel Berger Wearing?
Take a look at the clothing worn by Daniel Berger.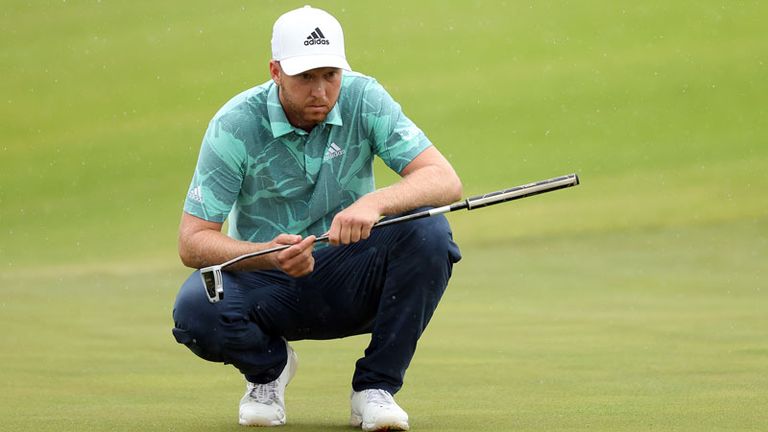 (Image credit: Getty Images)
By Dan Parker
Take a look at the adidas clothing that American Daniel Berger will be wearing this week as the PGA Championship.
What Is Daniel Berger Wearing?
Four-time PGA Tour winner Daniel Berger has been wearing adidas clothing since he signed for them at the start of 2020.
Related: Daniel Berger What's In The Bag?
He's won two or his four PGA Tour titles wearing adidas clothing as he looks to claim his first Major title at this week's PGA Championship at Kiawah Island.
Adidas has taken a giant leap toward more sustainable fashion in recent years, and its golf clothing hasn't been exempt from this major change in manufacturing.
Check out what the 28-year-old American will wear this week.
What Is Daniel Berger Wearing?
Good luck spotting Berger out on the course in this adidas Camo Polo Shirt. He'll be wearing this on Thursday in this fetching teal colour and this polo uses adidas' Primegreen materials which is a high-performance fabric made from recycled materials.
adidas Go-To Five Pocket Pants
Berger will pair his Camo polo with these Navy Go-To Five-Pocket Trousers, a very popular trouser on Tour. Again, these are made with adidas' recycled Primegreen fabric, making Berger's Thursday outfit probably the most environmentally conscious in the field.
Not only this, but the material used to make the Go-To Five-Pocket trousers is super stretchy and breathable too, making them very comfortable out on the course. Berger will wear the same trousers in a light-beige colour should he make the cut and be playing on Saturday.
On Friday, Berger will be wearing the adidas Heather Snap Polo Shirt in Teal. This also uses the recycled, breathable and stretchy Primegreen fabric and also has UV50+ protection against the sun.
adidas Ultimate365 Classic Pants
Berger will wear the adidas Ultimate365 Classic trouser on Friday along with the teal Heather Snap Polo. These have a water resistant finish that allows light rain to quickly wick away and comes with silicone rubber on the inside waistband to keep a polo tucked in.
Presuming he makes the cut, Berger will wear the adidas Go-To Polo Shirt on Saturday along with the beige Go-To Trousers. This is a casual and comfy golf polo that is a clean and classic colour designed to go with pretty much anything else worn.
He'll wear the same style polo on Sunday in Teal.
adidas Ultimate365 3-Stripes Tapered Pants
Berger will wear the adidas Ultimate365 3-Stripes Tapered trousers on Sunday with the Teal Go-To Polo. These modern fit trousers make quite the statement in all white and are a performance pair of trousers too with the stretchy fabric allowing for a range of easy movement.
adidas CodeChaos Golf Shoes
Throughout the week Berger will wear the adidas CodeChaos shoes. They're certainly one of the bolder shoes on Tour at the minute, but in this white colour they strike a classy but different pose.
It is a sporty, spikeless golf shoe that delivers excellent comfort and grip – there is some very good value for money on offer here if you want to try something a bit different than the standard golf brogue. Not to mention it is also one of the most comfortable golf shoes out there right now.
adidas Tour Snapback Golf Cap
Berger will wear the adidas Tour Snapback Golf Cap throughout the week at Kiawah Island. He often wears white but there are two other colours to choose from in this stylish, wide brimmed golf cap.
Titleist Players Golf Glove
Berger will use the Titleist Players Golf Glove throughout the PGA Championship as he has done all season so far. This is the top glove in Titleist's range and features the highest quality cabretta leather for an incredibly soft feel and confident grip on the golf club.
adidas Golf Braided Stretch Belt
This is a great belt design, thanks to its strong and stretchy construction to ensure long lasting durability and performance. The stretch strap is braided for distinctive styling as well as fitting perfectly to any waist size.
For all the latest from the golf world, follow our social media channels Facebook, Twitter and Instagram
Have you thought about taking out a subscription to Golf Monthly magazine?
Subscriptions are available in both print and digital editions through our official online shop Magazines Direct and all postage and delivery costs are included.
Golf Monthly is packed with all the information you need to help improve your game.
Take your game to the next level with tips, drills and advice from top Tour Pros and the UK's top coaches.
Impartial in-depth reviews of the latest equipment will ensure you buy the best whatever your budget
If you are looking to venture away with friends Golf Monthly will give you plenty of ideas of where to play and stay.
Dan is a recent graduate based in Solihull. Dan completed a Masters degree in International Journalism at the University of Sussex, where he started his own cricket podcast and website.
Throughout his studies, Dan worked for American Golf branches in West Sussex and Coventry, becoming a custom fit specialist during his two years with the company.
Dan primarily looks after buyer's guides and equipment reviews on the Golf Monthly website, but also can be found on the occasional opinion piece online.
Dan is a left handed golfer, has a handicap index of 10 and is a member at Fulford Heath Golf Club in Worcestershire.
Dan is currently playing: Driver: Cobra King Speedzone Fairway: Cobra King Speedzone Hybrid: TaylorMade Rocketballz 21° Irons: Wilson Staff D7 (5-GW) Wedges: Cleveland RTX 3 52°, 56° Putter: Wilson Staff Infinite Buckingham