Gloria Old Course, Belek, Turkey: a review
Gloria Old is a tight pine-tree lined course with a tough opening trio of holes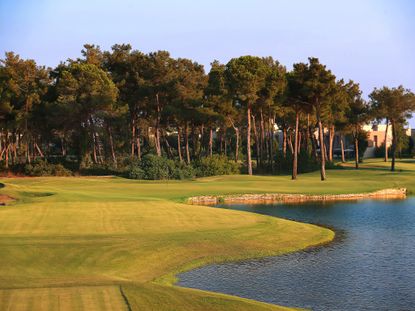 (Image credit: Kevin Murray)
Gloria Old is a tight pine-tree lined golf course with a dramatic opening trio of holes
Gloria Old was the first course at Gloria. It opened in 1996. In those days it was not Gloria Old, of course. It only became so when a new course, named Gloria New (spot a theme?) came into existence.
This new course involved re-jigging the order of the holes at Gloria Old as the clubhouse was moved so as to be able to serve both courses.
The result is what was a testing and dramatic closing stretch has now become the first three holes of Gloria Old. This is a most daunting trio to start off with.
The 1st is a left-turning dogleg with a carry over water to the green. It is a par 5, but longer hitters have a two-shot route to the green made tricky by three pine trees standing between edge of fairway and lake.
The 2nd is longish par 3 with a compulsory carry over water of 175 yards. A greenside bunker to the right of the putting surface ramps up the challenge further.
This hole is stroke index 15. It is at this point you realise that stroke index was designed for use in matchplay (opens in new tab), not a strict ordering of how hard the holes are.
The 3rd is a long par 4 which curves between avenues of pine trees.
The course is pine-tree lined and tight holes abound throughout the round, particularly the par-4 6th and par-5 17th.
The 7th is another par 3 over water but it does have a bail out.
The par-3 10th is a bizarre hole in that it does not fit the pattern elsewhere at this course. It is a flat par 3 of 154 yards at is maximum and 140 from the yellow tees. There is nothing between tee and green, although bunkers flank the green. But few of pour party played this hole well.
The rejjgging of the holes has left another fairly mundane par 3 as the closing hole. The course has five par 3 and five par 5s, and the 14th is an attractive par 3 over water with plenty of dry land between lake and green.
In comparison with Gloria New, Gloria Old is harder and tighter. However once you have played the first two holes, the water hazards are less threatening on Gloria Old than Gloria New.
Gloria Old and Gloria New are priced the same and equally popular.
Contributing Writer Golf courses and travel are Roderick's particular interests and he was contributing editor for the first few years of the Golf Monthly Travel Supplement. He writes travel articles and general features for the magazine, travel supplement and website. He also compiles the magazine's crossword. He is a member of Trevose Golf & Country Club and has played golf in around two dozen countries. Cricket is his other main sporting love. He is the author of five books, four of which are still in print: The Novel Life of PG Wodehouse; The Don: Beyond Boundaries; Wally Hammond: Gentleman & Player and England's Greatest Post-War All Rounder.