Should all clubs have two Sets of Stroke Indexes?
Should all clubs have two Sets of Stroke Indexes?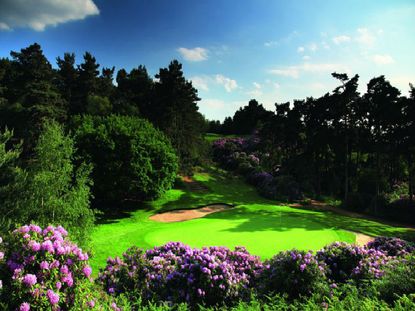 Why isn't the ordering of stroke indexes simply governed by difficulty? Is there a case for clubs to produce a secondary set of stroke indexes for stroke play competition?
A common misconception among amateur golfers is that stroke index is simply a reflection of the difficulty of a hole. Stroke index 1 should be the hardest hole on the course, stroke 18 the easiest, right? No, this is not necessarily the case.
There are a number of criteria that a club will have taken into account when allocating stroke index (opens in new tab) and, as the accepted method for allocation is governed principally by the requirements of match play, difficulty is merely a single bullet point on the significant list of considerations.
In The R&A's (opens in new tab) Guidance on Running a Competition, it is stated that the committee should "draw up a list for the course (Rule 33-4) called the Stroke Index, giving the order of holes at which any handicap strokes awarded should be taken." Set in the Rules, there is no flexibility on this for clubs who wish to hold competitions. But the method for allocating the stroke index is far less implicit.
In fact, The R&A's guidance confirms there is no one basic principle for fixing the order of the stroke index. Clubs are given options and advice, but in the end it is up to individual committees to decide.
Firstly, it is recommended that stroke indexes are spread evenly over the 18 holes. This is obviously important for match play. If stroke indexes 1 to 5 all fall in the first half-dozen holes, many handicap matches could be all-but finished after six holes.
One way to effectively spread the ratings is to allocate the odd-numbered strokes to one nine (typically the longer nine) and the even strokes to the other side. Stroke index holes 1 and 2 should be placed in the middle of each nine, and not next to stroke indexes 3 to 6.
None of the first eight stroke index holes should come on the 1st or 18th holes, or at the 9th and 10th at clubs where matches sometimes start on the 10th.
This is to prevent unfair advantage in matches that go to the wire and sudden death. The suggestion is that strokes 9, 10, 11 and 12 should be allocated to the 1st, 9th, 10th and 18th holes.
The course set-up should still play a part in the recommendations for allocating stroke index for match play. CONGU suggests that stroke indexes should be assigned to holes of varying length in turn. So stroke 1 might be a par 5, stroke 2 a long par 4, stroke 3 a short par 4 and stroke 4 a par 3. The theory is that this provides a better spread to even the playing field for players with different abilities and skill sets.
By following these guidelines, clubs should have a stroke-index allocation that is fair for match play competitions. But for competitions in formats like Stableford, par and bogey, wouldn't it make more sense for the allocation of stroke index to be influenced more heavily by hole difficulty? There is a strong case for this and some clubs now opt to have two sets of stroke indexes.
Thanks to modern scoring technology, it's possible for clubs to see average scores at individual holes through the course of a season (and further back), giving definitive evidence of the order of average hole difficulty in relation to par.
This is a good starting point for allocating a stroke play stroke index, but it would still be sensible for a committee to look to attain some sort of spread over the 18 holes, considering hole types and lengths.
For example, if the five hardest holes by average fell on the first five on the card, shot allocation for low-handicappers would be extremely unbalanced and, if they started poorly, their race could be run within an hour of setting foot on the golf course.
If a club opts for two sets of stroke indexes, it would make sense for two separate scorecards to be produced, and tee markers would require clear markings signifying the two indexes.
With the best will in the world, there would inevitably be some early confusion. But lines of communication to members have never been better and, when the teething problems were overcome, the two-index system would provide a heightened competitive playing experience.
Another good reason for having a second set of stroke indexes is that they can have an impact on handicaps. CONGU's Clause 19 dictates that, for handicap calculation purposes, the worst score one can return on any given hole is a net double-bogey. So where strokes are received could be of importance: If a 5-handicapper made a seven on a par 4 with stroke index 8, the seven would be cut to a six for handicap purposes.
If he had missed the buffer zone by a single shot, this adjustment would mean his handicap wouldn't go up. If he had matched Competition Standard Scratch (CSS) the adjustment would mean he'd receive a 0.1 cut. But, if the hole had been stroke index 4, then no adjustment would have been made.
For the most accurate handicap calculation, it would seem practical for the lower indexes to be applied to the toughest holes where possible.
Many clubs have had the same stroke indexes in place since time immemorial, generally set with match play in mind. For that format, they most probably prove effective. But for stroke play, they might be less fit for purpose. It may seem complicated to produce two sets of stroke indexes, but to deliver a complete and reflective competitive experience, it makes sense.
Fergus is a golf obsessive and 1-handicapper. Growing up in the North East of Scotland, golf runs through his veins and his passion for the sport was bolstered during his time at St Andrews university studying history. He went on to earn a post graduate diploma from the London School of Journalism. Fergus has worked for Golf Monthly since 2004 and has written two books on the game; "Great Golf Debates" together with Jezz Ellwood of Golf Monthly and "The Ultimate Golf Book" together with Neil Tappin (also of Golf Monthly)... Fergus once shanked a ball from just over Granny Clark's Wynd on the 18th of the Old Course that struck the St Andrews Golf Club and rebounded into the Valley of Sin, from where he saved par. Who says there's no golfing god?