Argentario Golf Resort And Spa - Everything You Could Ask For
Sam Tremlett travels to Argentario Golf Resort and Spa in Tuscany to experience a tough golfing test, stunning views and delicious food and drink.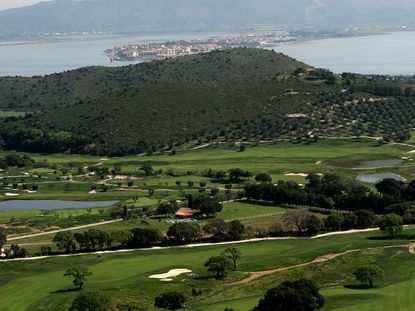 Sam Tremlett travels to Argentario Golf Resort and Spa in Tuscany to experience a tough golfing test, stunning views and delicious food and drink.
Argentario Golf Resort And Spa - Everything You Could Ask For
As far as golf holidays go, Italy may not be your first port of call, with Spain and Portugal being more popular destinations. However, that should not be the case because golf and Italy are becoming a quality pair. Francesco Molinari has just become Open champion, the 2022 Ryder Cup will be held in Rome, and the incredible natural beauty and wonderful weather on offer means you really should start to think of Italy as a golfing destination. I found this out on my very first press trip for Golf Monthly with the destination being Argentario Golf Resort and Spa in Tuscany.
Day One
After a flight from Gatwick to Rome's Fiumicino airport we, (I was travelling with two others), took a transfer to the resort. The car journey produced an early highlight of the trip as we drove through the small, rustic, town of Orbetello to get to the main road leading onto the peninsula. (Quick side-note: there seem to be no rules on Italian roads!).
We soon arrived at the resort. Situated in a verdant valley near Porto Ercole the surrounding scenery offers incredibly picturesque views and a stunning backdrop for some golf but unfortunately that had to wait.
Greeted by our host Laurent Coppini and his team, I am ashamed to admit that the two years of Italian I did at school deserted me when I needed it most. Thankfully everyone's English was better than my Italian! Laurent gave us a whistle-stop tour of the hotel where he explained that the hotel's design is like a dragonfly. The reception, bar and restaurant are in the central body section and the rooms of various sizes across extend outward like wings.
Having unpacked we headed to Dama Dama, the hotel's main restaurant where the chef served us a delicious set menu with the rabbit filled ravioli the highlight. After a long day, and some fine food (and a couple of beers) I headed to bed excited to get on the golf course in the morning.
Day Two
The sole opportunity for golf on the trip was upon me and of course, it appeared as if I had brought English weather with me because rain was forecast in an area that rarely gets any at all!
Quickly my mind shifted to the course we would be playing. The 18-hole golf course, inaugurated in 2006, was designed by architect David Mezzacane and professional golfer Baldovino Dassù. The holes were then shaped by Brian Jorgensen. Additionally, the course has been awarded the "Agri Cert" certification for its bio eco-compatibility, and all products used for its maintenance are completely natural. A par-71 course measuring at 6,218 metres off the back tees, I was excited to get going.
The first offered a fairly innocuous start but from then on the course really kicked up a gear. The second was a long-ish par-3 at 177 metres, and with seven bunkers and a view of the sea out to the right, it was very pretty indeed and I welcomed the par on my scorecard with open arms.
The par-5 sixth was the next hole of particular note as its tees were built up onto a steep hill giving a view out towards the town of Orbetello. It was also cleverly designed too because two sections of water intersected the fairway which basically took driver out of your hands unless you had Dustin Johnson or Rory McIlroy's length. Instead of lashing a driver down there, you had to plot your way up to the green. The next was a short par four that was Italy's version of the 18th at TPC Sawgrass and then we moved onto the 8th which is probably the hardest hole on the course. Nearly 200 yards off the back tees, the par-3 was the narrowest hole I have ever played with large trees on both sides beckoning your ball to them.
The Closing Stretch
As we criss-crossed our way all over the valley floor, we eventually came to the closing stretch of holes and like every good golf course, the closing stretch really ratchets up the difficulty level. 16 has a narrow fairway to target, but the real treachery lies in the green. Probably the largest green on the course, it has two tiers separated by a massive drop, and it offers a multitude of pin placements that could easily make you look a bit foolish.
17 is the longest par-3 on the course. Playing over 200 yards, water and three bunkers protect the green which has deceptively large undulations to it. Believe me take a par and move on here.
Finally, the closing hole could be a card-wrecker. The fairway splits due to a clump of trees in the middle of it and a sneaky ditch runs through them too so you have to try and hit over them. The approach shot is tough as well because the green is small and well protected.
A Tough Test
After a beer and a shower, it dawned on me what a hugely fun round of golf that was. The company I was with played some part, but I would argue the course had a bigger say. No hole looked the same, the greens were true and quick, the nature and surrounding scenery was beautiful, and at times it was so peaceful.
Additionally, as a moderately good player, I came away thinking it is not a hard course, but is not easy either. There are a lot of birdie chances available provided you keep the ball in play. However, if you make mistakes, go offline, and lose control of your ball, it will punish you.
Other Facilities
But if you are not a golfer, do not fret because there a plethora of other facilities and activities for you to get stuck into when your travelling companion is out on the course.
On the bottom floor of the hotel there is a spa, two large swimming pools (indoor and outdoor), hot and cold pools, a well-equipped gym, and a sauna. (Personal favourites were the sauna and hot pools!)
There are also conference and meeting rooms on this floor for whatever purpose you require.
Outside there are tennis courts, a play area for kids and a five-a-side football pitch. Alternatively, you can go down to the beaches and soak in the glorious weather. There are also villas being built available to buy.
Sightseeing
After a quick lunch we drove around the peninsula seeing the sights and luckily the sun had emerged which made Monte Argentario one of the most stunning places I have ever been.
First we went to Porto Ercole and then Porto Santo Stefano which were just short drives away, and I got a Monaco-esque vibe from both. Large boats, beautiful Italian architecture and water so blue it took a great amount of persuading not to go for a swim.
Next we drove up the panoramic road that laced itself on the top of Monte Argentario, and at 600 metres up, it gave a gorgeous view of the three links to the mainland. On either side of the main road are two natural beaches and within them are two lagoons.
We then returned to the resort and had a final meal in Dama Dama which once again pleasured the taste buds.
Everything You Could Ask For
As far as trips go, I couldn't have asked for much more. The golf was excellent and challenging, the sauna was perfect, the food was delicious, the room was comfortable, and the service was excellent. If you do decide to make Italy your next golfing destination, you will not be disappointed if you go to Argentario Resort and Spa.
For more information please visit their website here - https://www.argentariogolfresortspa.it/en/
A golfer for most of his life, Sam is a Senior Staff Writer for Golf Monthly.
Working with golf gear and equipment over the last five years, Sam has quickly built outstanding knowledge and expertise on golf products ranging from drivers, to balls, to shoes.
He also loves to test golf apparel especially if it a piece that can be used just about anywhere!
As a result he has always been the one family and friends come to for buying advice and tips.

He is a graduate of Swansea University where he studied History and American Studies, and he has been a part of the Golf Monthly team since December 2017. He also previously worked for World Soccer and Rugby World magazines.
Sam now spends most of his time testing and looking after golf gear content for the website. He also oversees all Tour player content as well.
Unfortunately, Sam is not a member of any club at the moment but regularly gets out on the golf course to keep up the facade of having a handicap of five.