Iconic Masters Pictures
We take a look at some of the most iconic Masters pictures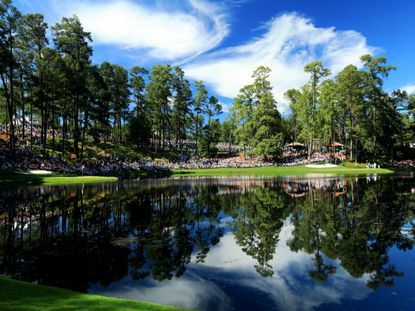 We take a look at some of the most iconic Masters pictures since the inaugural tournament at Augusta National in 1934
Iconic Masters Pictures
We highlight some of the most memorable moments from past U.S Masters events. We take a look back at past winners, memorable shots and some wonderful, idyllic images of Augusta.
Shepherd's Delight
Beautiful imagery of Augusta on the 18th green during the final round of the Masters Tournament
Horton Smith
Horton Smith, winner of the first US Masters in 1934
Jordan Spieth becomes second youngest Masters winner
Jordan Spieth wins the 2015 Masters and his first major
Bubba's victory
Bubba Watson celebrates on the 18th green after winning the 2014 Masters Tournament by a three-stroke margin
History maker
Adam Scott of Australia celebrates his win on the 10th hole during a playoff with Angel Cabrera at the fourth round of the 77th Masters. Scott sank a 10-foot birdie putt on the second playoff hole to beat Angel Cabrera becoming the first Australian golfer to capture the green jacket
Bubba's Master-ful achievement
Bubba Watson poses with the green jacket after winning the 2014 Masters Tournament
Tiger Woods in 1997
Tiger Woods celebrates after sinking a four-foot putt to win the US Masters. Woods won the tournament with a record low score of 18-under-par
Amen Corner
"Amen Corner" was christened following the 1958 Masters by writer Herbert Warren Wind following Arnold Palmer's first major victory
Arnold Palmer's plaque
A plaque was unveiled in honour of Arnold Palmer during the US Masters in 1995. Palmer won the Masters four times in 1958, '60, '62 and '64
Legends
Honorary starters Gary Player, Arnold Palmer and Jack Nicklaus greet each other on the first tee at the start of the 2014 Masters
Jack Nicklaus celebrates during Par 3 Contest
Jack Nicklaus celebrates his hole-in-one on the 4th hole during the Par 3 Contest prior to the start of the 2015 Masters
Jack Nicklaus' 1986 Masters win
Jack Nicklaus won the 1986 Masters at Augusta National aged 46
Phil Mickelson's joy
Phil Mickelson jumps in the air after sinking his birdie putt to win the Masters by one shot on the 18th green during the final round of the Masters in 2004
Nick Faldo celebrates Masters playoff win
Nick Faldo celebrates after victory over Raymond Floyd for the 1990 Masters
Past European winners of the Masters
April 1992: Past European winners of the Masters. Nick Faldo (1989, 90, 96), Sandy Lyle (1988), Ian Woosnam (1991), Bernhard Langer (1985, 93) and Seve Ballesteros (1980, 83) pose for the cameras during the 1992 US Masters
Vijay Singh's Masters victory
Vijay Singh celebrates victory after winning the 2000 Masters tournament
Tom Watson during the 2010 Masters
Two-time Masters winner Tom Watson hugs his son/caddie Mike on the 18th green during the final round of the 2010 Masters Tournament
Avi was a freelance writer for Golf Monthly in 2016.