Danny Willett Wins 2016 Masters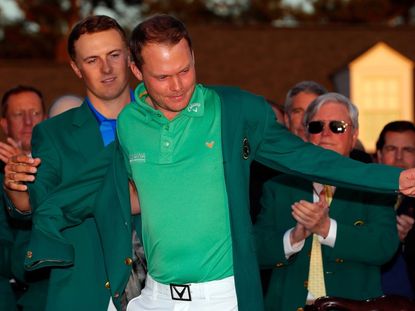 (Image credit: Getty Images)
Danny Willett shot a faultless 67, five under par, in the final round of the 2016 Masters to win by three
As Danny Willett approached the closing stretch of the 2016 Masters he trailed defending champion Jordan Spieth by five shots.
Spieth - the third-round leader who had led the Masters for its previous seven rounds going back to the first round of 2015 – had sucked the drama out of the final round as he seemed destined to successfully retain his cherished title.
Then thunder struck at Amen Corner, as is its want.
Spieth missed a four-foot putt for par on 11 before dunking two balls into Rae's Creek on 12. Two balls and one title bid, sunk without trace.
Playing three groups ahead, Willett capitalised with birdies at three of the closing six holes to cut adrift playing partner Lee Westwood and Spieth.
Willett became the first golfer since Phil Mickelson in 2010 to shoot bogey-free 67 to win the Masters. He finished on 283, five under par, to win by three.
"It's just crazy, just surreal," said Yorkshireman Willett, 28, as he held his press conference wearing his green jacket.
"I've won a couple tournaments but this is… this is just a different league. It's a major. It's the Masters.
"Jordan obviously had a terrible run on 10, 11, 12… and fortunately enough I was able to seize the opportunities.
"You dream about these kinds of days so to actually be sat here, it's still mind-boggling; that we have been able to come through everything that happened and play so well under the pressure that we did on the back nine, to be able to sit here with a green jacket on."
It has been the fortnight of a lifetime for Willett, whose wife Nicole gave birth to their first child Zach last Tuesday.
After staying at home in Yorkshire for a few days after Zach's birth, Willett flew to the United States on Monday night and was the last player in the field to arrive at Augusta National this week.
That meant his caddie Jonathan Smart wore number 89, the same number worn by Jack Nicklaus's caddie (his oldest son Jackie) when Nicklaus won his sixth and final Masters in 1986.
Robin Barwick travelled to the 2016 Masters with Mercedes-Benz. Mercedes-Benz is global sponsor of the 2016 Masters Tournament
Robin has worked for Golf Monthly for over a decade.