Palmer has retired as an honorary starter
But Palmer still plans to attend the opening ceremony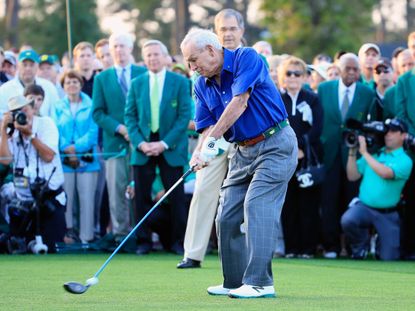 (Image credit: Getty Images)
The news comes as part of the 86-year old's scaling down of his golfing commitments
Arnold Palmer has retired as an honorary starter at the US Masters, following a long-standing shoulder injury.
The other two honorary starters at present are Jack Nicklaus and Gary Player and they will still participate in the ceremony (opens in new tab).
Palmer plans to attend the opening ceremony and the champions dinner. But the 86-year-old will not be swinging a club.
He explains: "I stopped playing in the Masters in 2004, I stopped playing in the Par-3 contest last year, and now it's time to end this part of my Masters career. I would love to go on doing it forever but I don't have the physical capability to hit the shot the way I would want to hit it. So I'll have to be content to watch."
Palmer has been scaling down his public appearances, and has been a more low-key presence at this week's Arnold Palmer Invitational on the PGA Tour than in previous years.
Palmer who won the US Master four times, became a honorary starter in 2007. In doing so he re-started a tradition.
In 1963 Augusta National has instituted the idea of honorary starters. But no-one officially started the tournaments of 2003 through to 2006. In 2007 Palmer was appointed as the sole honorary starter for that year.
He continued in this role up until last year. In 2010 he was joined in the role by Jack Nicklaus, and in 2012 Gary Player joined this duo.
Six times Masters-winner Nicklaus (opens in new tab) has responded to the news that Palmer has retired as an honorary starter at the US Masters: "Like any friend and fan of Arnold Palmer, I was disappointed for him. I know how much Augusta National and the Masters Tournament have meant to Arnold throughout his career and life, so I know this wasn't an easy decision for him.
"But I have been communicating with Arnold in recent weeks, and I know he is doing what is in the best interest of his health and for future opportunities to get back up on that tee with driver in hand. What is wonderful is that Arnold will be there on Tuesday night at the Champions Dinner to regale us with stories, and hopefully on the first tee with Gary and me on Thursday morning."
Contributing Writer Golf courses and travel are Roderick's particular interests and he was contributing editor for the first few years of the Golf Monthly Travel Supplement. He writes travel articles and general features for the magazine, travel supplement and website. He also compiles the magazine's crossword. He is a member of Trevose Golf & Country Club and has played golf in around two dozen countries. Cricket is his other main sporting love. He is the author of five books, four of which are still in print: The Novel Life of PG Wodehouse; The Don: Beyond Boundaries; Wally Hammond: Gentleman & Player and England's Greatest Post-War All Rounder.