Masters 2014 blog: The Champions' Pavlova
Robin Barwick speaks to Bernhard Langer ahead of the final round of the 2014 Masters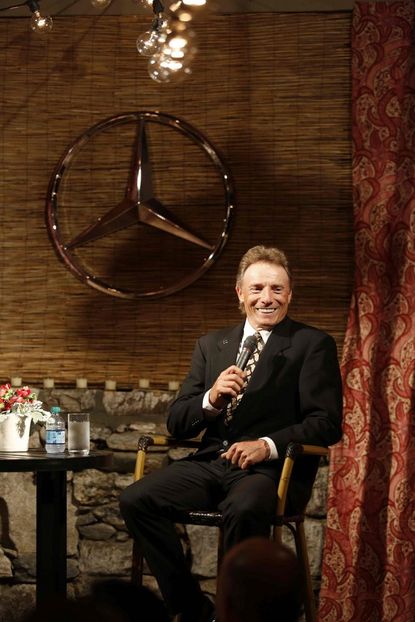 (Image credit: Mark Newcombe / visionsingolf.co)
Robin Barwick speaks to Bernhard Langer ahead of the final round of the 2014 Masters
The Champions' Pavlova
Words: Robin Barwick
Before the final-round action gets too heated, there is an insight into the Champions' Dinner to share from Bernhard Langer.
"Adam Scott's meal was really good," starts Langer, speaking last night to guests of Mercedes-Benz at Augusta. "We learned an interesting thing too. The dessert was Pavlova, and Phil Mickelson said: 'It is named after a famous French dancer called Anna Pavlova, who lived in Paris'.
"We were saying, 'Yeah, right Phil'.
"Phil said: 'If you don't believe me, Google it. Do you want to bet some money on it?'
"Of course, cell [mobile] phones are not allowed in the clubhouse, but the chairman [Billy Payne] pulled his phone out – I guess the rule doesn't apply to the chairman! He Googled it, and said: 'Phil, you are right, Anna Pavlova was a dancer, except she was Russian, not French'. Anna Pavlova was so beautiful they named the dessert after her. It tasted very good too."
The Pavlova was Scott's mum's recipe, so she will be delighted to hear it went down so well.
"I always enjoy the Champions' Dinner," added Langer. "It is maybe the highlight of the week for me. We sit down a long table, and this year there were 29 past champions and the chairman, and that's it. The food is usually great because the defending champion pays for it and he doesn't want to get any stick from us! I admit that I was disappointed when Tiger Woods served hamburgers one year – I did not think that was necessary."
And Langer's prediction for the final round?
"I have no idea who is going to win. A lot depends on whether the putts lip-out or lip-in. Bubba has the advantage because of his length off the tee. If he can hit two or three clubs less into these greens that is a huge advantage because he can approach the greens higher and with more spin, and stop the ball. He might be able to reach the par-fives in two shots easier that the others too.
"But there is a lot more to golf than that. The winner will have to putt and chip extremely well, and it will be a test of nerves.
"It will be interesting as there are nine guys within three shots of each other at the top of the leaderboard. It could be a real shoot-out. The golfers need to control their emotions, stay in the moment and make smart decisions, which is not always easy when you are under pressure and things seem like they are moving so fast. That is when it helps to have a good caddie who can make some good suggestions. You need to read the greens well and then you need some good breaks, and it is the winner who usually gets those breaks."
Robin Barwick travelled to Augusta National courtesy of Mercedes-Benz, Global Sponsor of the 2014 Masters Tournament

Tom Clarke joined Golf Monthly as a sub editor in 2009 being promoted to content editor in 2012 and then senior content editor in 2014, before becoming Sports Digital Editor for the Sport Vertical within Future in 2022. Tom currently looks after all the digital products that Golf Monthly produce including Strategy and Content Planning for the website and social media - Tom also assists the Cycling, Football, Rugby and Marine titles at Future. Tom plays off 16 and lists Augusta National (name drop), Old Head and Le Touessrok as the favourite courses he has played. Tom is an avid viewer of all golf content with a particularly in depth knowledge of the pro tour.