The Driver Bryson Used To Shoot 58 With… That You've Probably Never Heard Of
Bryson DeChambeau recently changed his driver and the results have been spectacular. We take a closer look at his newest toy and how it ended up in his bag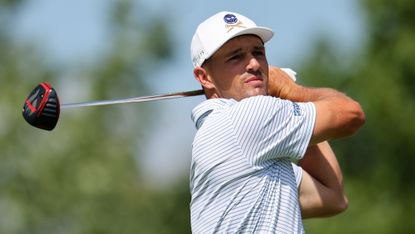 (Image credit: Getty Images)
Get the Golf Monthly Newsletter
Thank you for signing up to Golf Monthly. You will receive a verification email shortly.
There was a problem. Please refresh the page and try again.
Bryson DeChambeau has been playing some incredible golf since switching to a driver you've probably never heard of. Having ditched his long serving Cobra King LTDx driver for a TaylorMade Stealth 2 Plus earlier this year, DeChambeau made another change recently when he added a Krank Formula Fire LD driver to his bag. The results were immediate, and absolutely spectacular.
Krank isn't exactly a mainstream brand and has a reputation for being aimed at the longest hitters rather than your average weekend hacker with their 80mph swing speed. While Krank certainly do have a strong presence in the long driving game (they have won over 20 World Long Drive Championships) the company claims that 90% of their sales are to slower swinging golfers who are fitted with clubs that are tailored specifically for their game.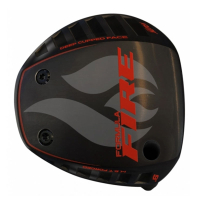 Nevertheless, where the brand separates itself from the competition is in the long hitting market, as witnessed by the remarkable upturn in form DeChambeau has enjoyed since making the switch just before the LIV Golf Greenbrier event in early August. DeChambeau won the tournament with rounds of 68, 61 and 58. Yes, that's 58.
Bryson's new big stick is set to six degrees of loft and is equipped with a Project X HZRDUS T1100 shaft. It is 46 inches long so it's only slightly longer than your standard issue driver. So on the surface, there doesn't appear to be anything unique or special about this driver, so what is it exactly that has the American gushing about the "best driver I've ever had in the past five years in professional golf"?
The answer seems to be forgiveness and durability. The Formula Fire LD driver is designed for the fastest of the fast with an ultra-low loft (6 degrees) to manage spin rate, and a handmade forged face cup that's constructed from durable hardened beta titanium. Unlike most drivers used on the pro tours, the face material is meant to withstand repeated blows at 175 mph and above.
Distance is never going to be a problem for DeChambeau but his frustration has been growing over recent years that driver technology has been unable to keep up with his swing advancements. Not only that, such is the raw power and violent nature of his golf swing that he was often cracking the face of his drivers.
The 2020 US Open champ has often spoken about his desire to find a driver that will find the fairway even when he doesn't hit it right out of the middle of the face. Some would argue that if you want to be sure of hitting the fairway, then finding the middle of the face should probably be your starting point, but the unconventional thinking DeChambeau has often seen things differently to most.
When it comes to driving the golf ball though, DeChambeau is undoubtedly the golfer who most moves the needle. Not only does he wow crowds at the biggest golf tournaments with his amazing feats of power hitting, he also managed to land second spot at the 2021 World Long Drive Championship, just one week after starring in a landslide victory for the US at the Ryder Cup. Whether you loved him or loathed him, back then Bryson was the most talked about man in golf until he departed to the LIV Golf Tour and fell off the radar of many golf fans.
Nevertheless, regardless of where he is playing there will always be great interest in whichever driver he has in the bag so this a dream scenario for Krank golf. After all, golf brands usually have to spend millions to get this kind of exposure but the only cost involved here to Krank is in supplying DeChambeau with the clubs he needs.
While DeChambeau is highly proficient in all areas of the sport (you don't win a US Open without a fine short game) it is the driver that has been his biggest weapon and that extra distance has allowed him to overpower golf courses. The chase for speed both helped and hindered him though. The faster he swung the club, the more difficulty he had keeping the ball in play. His form fluctuated as much as his weight following that US Open success and the driver became somewhat erratic.
His frustration grew but sympathy was in short supply. When he told the assembled media at the 2021 Open that "the driver sucks" most people sided with the equipment company, Cobra. A bad workman always blames his tools, as they say.
Except Bryson actually had a point. Kind of. The driver definitely didn't suck, Cobra make some of the best drivers on the market, but it's true that they were unable to keep up with what he was trying to do.
That's where Krank come in. The company is owned by Lance Reader, a former Long Drive professional. They only make drivers and fairway woods and until now, no elite touring pro has ever played Krank clubs although the company has enjoyed great success in Long Drive and they have a stable full of the top names in the field.
Reader could relate to the frustrations DeChambeau has been dealing with. Indeed, he started his own company specifically to be able to create drivers that can stand up to the immense pressures put on them by the longest hitters in the game.
"I was one of the top long drivers in the world," he said in a recent interview with LIV Golf, "and I was sick and tired of breaking drivers. So, I decided to make one. No one's even close to our durability," he claimed. "We're a hundred, maybe a thousand times more durable because we had to handle the guys that were the fastest."
Reader recently explained that he had seen from afar the issues Bryson was having and although he believed he could help, he didn't reach out. He waited until DeChambeau came to him, which he eventually did in late July. A driver was sent out for him to try and it was love at first sight.
"Why are your drivers 60% less curve on the ball flight than any other driver I've tested?" DeChambeau reportedly asked. "And it's not enough that I'm doing it. I need to know why."
While Reader will no doubt have had to go into every excrutiating detail to convince the deep thinking, often obsessive DeChambeau, in layman's terms the explanation is a simple one. "In a nutshell, our drivers are extremely straight-hitting because they have very little body and face deformation at impact," Reader said.
DeChambeau must have been satisfied with whatever answers he got because he put the Formula Fire LD driver into the bag for LIV Greenbrier and won the event, shooting those incredible weekend scores of 61 and 58. Unsurprisingly he could barely contain his excitement about his new toy afterwards. He wasn't even swinging at his best yet he was hitting almost every fairway.
"Ever since I put this driver into play, it's not been really my golf swing," DeChambeau said. "It's just hit on the toe, hit on the heel, everything comes back down the middle of the fairway, and I'm like, all right, pick up the tee and let's go."
Just like he always wanted. There's a certain irony in the man affectionately known by some as "the Mad Scientist" being involved with a brand called "Krank" but it does feel like they were made for each other.
In an age when most golfers have well paid equipment deals that lock them into playing clubs from a specific brand, DeChambeau's falling out with Cobra worked to his advantage as it allowed him to experiment until he could find a driver that can give him exactly what he wants.
"For five years, I didn't have the right equipment," DeChambeau said. "So that shows you how important equipment is. I think we're in a place now in time where [equipment] contracts aren't necessarily as important as the purse you're playing for. I really think the best equipment is going to start showing itself over the course of time because of that."
The Krank Formula Fire LD driver is not for everyone and Bryson himself has said that it is ideally suited to golfers with 175mph ball speed and upwards, but it seems he has finally found what he has been searching for and perhaps now we will see the big hitting 29 year old back in the mix at the majors in 2024.
Following the acrimonious split with Cobra earlier this year, their PGA Tour rep Ben Schomin said of DeChambeau; "He said he needs a driver that can be hit anywhere and everywhere across the face and find the fairway. With increased speed, demands increase precision. It's just like a race car. You've got to be a better driver when you're running at 200mph than you do at 75mph going down I-95. He doesn't believe that. He thinks there is a magic bullet out there, he's looking for a unicorn."
The implication of course is that he was looking for something that doesn't exist, but perhaps Bryson has found his unicorn after all?
Get the Golf Monthly Newsletter
Tips on how to play better, latest equipment reviews, interviews with the biggest names and more.
Dave is a distinctly average golfer with (fading) aspirations to be so much more than that. An avid collector of vintage Ping putters and the world's biggest Payne Stewart fan, in 2021 Dave turned his front garden into a giant putting green to work on the weakest area of his game, but sadly to date he has seen little improvement. In addition to his work reviewing golf gear and writing features for Golf Monthly and T3, Dave is the founder of the Bang Average Golf website.
Dave's lowest round is a one over par 73 around Kirkby Valley Golf Club in 2018, which included a bogey on the 18th to ruin the one and only chance he'll ever have of shooting an even par or better score. That errant tee shot on 18 does not still haunt him to this day though, in fact he hardly ever thinks about it. No, honestly, he doesn't. Not at all. Never.
Dave splits most of his golf between Hurlston Hall Golf Club in Ormskirk, Lancs, and Berrington Hall Golf Club in St Helens and has a handicap that fluctuates between 9 and 12, largely depending on how poor his putting is.
Dave's current What's In The Bag?
Driver: Wilson Staff Dynapower Titanium, 9.5°
3 wood: Wilson Staff Dynapower, 15°
7 wood: Callaway Mavrik Max, 21°
Hybrid: Srixon ZX 2 hybrid, 16°
Irons: Wilson Staff Dynapower, 6-PW
Wedges: Cleveland CBX ZipCore (graphite), 44°, 48°, 52°, 56°
Putter: TaylorMade Spider EX Ghost White
Ball: OnCore Vero X2