'He's Looking For A Unicorn' - Cobra Questions Bryson DeChambeau's Driver Demands
Bryson DeChambeau's relationship with former sponsors Cobra seems to be damaged beyond repair after his recent comments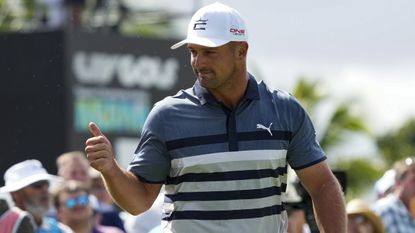 (Image credit: Getty Images)
Bryson DeChambeau's relationship with Cobra Golf seems to have somewhat ended on a sour note with the brand's PGA Tour rep claiming "he's looking for a unicorn" after his latest comments about searching for a new driver.
DeChambeau's contract with Cobra expired at the end of last year and he was recently spotted putting the new TaylorMade Stealth 2 Plus driver in the bag in Saudi Arabia.
Although not allowed to play at the WM Phoenix Open this week, DeChambeau has been in Scottsdale reportedly hanging around the Ping headquarters and testing out their motion-capture facility in search of some answers.
Ping spokesman Pete Samuels confirmed to Golfweek that DeChambeau was hitting Ping products in the latest round of testing he did in Arizona with his swing coach Chris Como.
"Chris (Como) often brings his players into our Lab to analyze swing dynamics from a coaching standpoint," Samuels is quoted as saying by Golfweek.
"Our engineering team also observes and learns from visits like this as we capture useful swing data. That was the primary reason for the visit, but Bryson did test Ping product as well."
Ping may find out that DeChambeau is not the easiest client to work with though, according to Cobra's PGA Tour rep Ben Schomin.
"I wish him all the best," said Schomin. "But it's going to be a struggle just because of what he wants to do."
Cobra, who supplied DeChambeau with his one-length irons, have arguably done more for one player than any other manufacturer has, given his unique style and the way he goes about the game in meticulous detail.
And Cobra were not too pleased with DeChambeau's latest comments on golf technology, with his quest to find a new driver that can do everything looking a bit like wishful thinking on his behalf.
"Technology is not up to par with the way golfers can perform at high speeds," DeChambeau told LIV Golf in an interview. "Anything over 185 mph – good luck trying to control it right now.
"We're still on a pursuit to who can make a driver that can work it at 200 anywhere and everywhere on the face and still goes in the fairway."
While we'd all like a drive that can send it straight down the middle regardless of where we hit it on the face, it was a notable comment from a player right at the very top of the game, and it seems that it went down pretty poorly at Cobra HQ.
"It was such an asinine statement, especially for a guy who is perceived to be all-knowing when it comes to science and physics, that he said he needs a driver that can be hit anywhere and everywhere across the face and find the fairway," Schomin added.
"With increased speed, demands increase precision. It's just like a race car. You've got to be a better driver when you're running at 200 miles per hour than you do at 75 (mph) going down I-95. He doesn't believe that. He thinks there is a magic bullet out there. He's looking for a unicorn."
It may be Ping that take on that challenge, or maybe TaylorMade fancy taking Bryson on, perhaps even Cobra will have him back, but after new contract offers were reportedly ignored by LIV Golf, who apparently have a say on them under his contract, that relationship may be damaged beyond repair.
DeChambeau will not be on golfing screens as much now he's playing for LIV Golf and is outside of the world's top 100, so would likely not command as big a fee as previously, but he has enough of a fortune now to play in a freelance role with any equipment manufacturer he wishes.
It's now just up to the golf club makers themselves as to who will take up what might be one of the most demanding jobs in the sport.
Paul Higham is a sports journalist with over 20 years of experience in covering most major sporting events for both Sky Sports and BBC Sport. He is currently freelance and covers the golf majors on the BBC Sport website. Highlights over the years include covering that epic Monday finish in the Ryder Cup at Celtic Manor and watching Rory McIlroy produce one of the most dominant Major wins at the 2011 US Open at Congressional. He also writes betting previews and still feels strangely proud of backing Danny Willett when he won the Masters in 2016 - Willett also praised his putting stroke during a media event before the Open at Hoylake. Favourite interviews he's conducted have been with McIlroy, Paul McGinley, Thomas Bjorn, Rickie Fowler and the enigma that is Victor Dubuisson. A big fan of watching any golf from any tour, sadly he spends more time writing about golf than playing these days with two young children, and as a big fair weather golfer claims playing in shorts is worth at least five shots. Being from Liverpool he loves the likes of Hoylake, Birkdale and the stretch of tracks along England's Golf Coast, but would say his favourite courses played are Kingsbarns and Portrush.