Our Golf Course Experts Answer Your Questions...
Our two golf course experts have played nearly 2,000 courses between them - here they answer your questions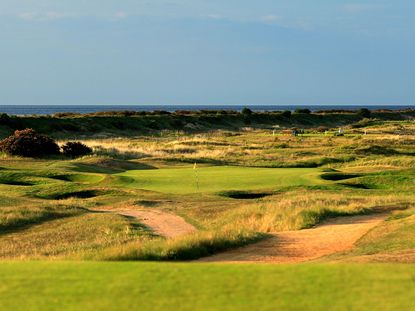 (Image credit: Getty Images)
Jeremy Ellwood and Rob Smith have played nearly 2,000 courses between them - here they answer your questions
Our Golf Course Experts Answer Your Questions...
Where's the best spot for a post-round beer? What are the best underrated Scottish links courses? How much do clubs value Golf Monthly's rankings?
These are just some of the questions we answer in this piece.
The answers come from our golf course experts Jeremy Ellwood (@JezzEllwoodGolf) and Rob Smith (@RobGolfBeer).
Jeremy and Rob have played almost 2,000 golf courses around the world between them and are Senior Panellists in our biennial UK and Ireland Top 100 rankings.
Our Golf Course Experts Answer Your Questions...
What makes you and Jeremy experts? Jacko_G, GM website forum
Given there is no recognised qualification for being an aficionado of golf courses, this is a good question!
However, between us we have played nearly 2,000 courses, and we have spent a huge amount of time over many years both on and off the course with architects, pros, managers and other industry insiders. Hopefully this means our views are informed and worthy.
Of all the courses currently on the Open rota, which would you dispense with? rksquire, GM website forum
I genuinely cannot think of one that doesn't justify its inclusion, but from a personal perspective, I have always felt that Royal Lytham isn't blessed in terms of setting, and I wonder if every five years is too often for the Old Course bearing in mind it also hosts the Dunhill.
Are good practice facilities at courses a key quality? Sports_fanatic, GM website forum
While they are a minor factor in terms of course rankings, I think they are far more important for the members.
Most golfers tend not to spend a day of their time and their hard-earned money visiting a top club in order to practise – they go in order to delight in the course itself.
What is the most unusual mode of transport you have taken on a journey to or from a course? Peter Hurst, Liverpool
Two journeys to Yas Links in Abu Dhabi stand out – first on a press trip just after it opened via a RIB boat speeding through the lagoons, and last year on a bike as we were borrowing clubs.
GM photographer Kevin Murray fell off trying to film the experience and somewhere there is video evidence of the tumble!
What's your view on trees planted in fairways as a hazard? John Slater, Wimbledon
These were quite a feature on the now defunct Moatlands GC and I've encountered them at Wychwood Park, St Mellion, Studley Wood and others.
For me, it depends whether there is sensible room to negotiate them with a good shot.
If even a pretty decent shot leaves you stymied or having to clear an 80-foot tree, I have to say I'm not so keen on the idea.
Should all courses have a drivable par 4? Russ Groombridge, London
It's a resounding yes from me.
We all love even the faintest prospect of a potential two-putt birdie and it certainly adds to the post-round conversation.
Courses with only mid to long par 4s are missing a trick in my view–a bit of give and take is much preferred.
Related: 5 of the best drivable par 4s
Are you a fan of starting or ending a golf course with a par 3? Rob Gillett, Leeds
I would rather ease my way into a round than start with a short hole, but I have no problem with finishing with one.
To me, it's far more important that the golf course feels balanced and has a natural flow, rather than exactly where the par 3s and indeed the par 5s are located.
How much do clubs value the Golf Monthly ranking system? Jeff Dean, Birmingham
Having liaised with all of the top 200 clubs over the years, I would say that the vast majority consider them to be very important.
The primary reason is marketing.
They generate huge interest among golfers, which leads to greater green fee and society revenue.
More importantly still, it fosters the members of the future.
Related: Golf Monthly Rankings - UK and Ireland's top 100 courses
Because of your job, do you only get to play Top 100 courses? Colin Broadford, London
Not at all.
Jeremy and I both ended up writing because our enthusiasm for courses and love for the game led us here.
I get to play courses right across the spectrum and play as much off-duty golf as on.
I pay my green fees and I travel all the time.
I still believe that every course, no matter how modest, has something to offer the golfer.
Where are the most scenic golf courses you have played? Geraldine Davidson, Stockport
We golfers are really spoilt for choice on this front, so close to home I'll go with the first couple that spring to mind – Old Head, which I would say was unrivalled for visual drama, and Cockermouth in Cumbria, where the scenery of the northern Lake District is majestic.
Overseas, Royal Bled in Slovenia enjoys the most beautiful of settings, while Lofoten Links in Norway offers golf on a landscape unlike any other I've played.
What is the quirkiest course you've played? Oliver Bradbury, Newport
Probably Church Stretton in Shropshire, where the opening trio of par 3s will leave you scratching your head a little.
But the views on top are incredible.
Then I'd go for Cullen on the Moray Firth, where you'll encounter, and have to negotiate, some amazing red-rock formations as you make your way round.
What are the best spots for a post-round beer? Tony Walton, Kilmarnock
I have a real soft spot for the old-school clubhouse at Royal Porthcawl gazing out over the Bristol Channel.
The terrace at my old home club of Crowborough Beacon in Sussex is hard to beat, too, looking out over the 1st and 18th holes and on towards the distant South Downs.
What is your favourite setting or location for a golf course? Alan White, Chester
While many golfers express a preference such as links or heathland, I would say that rather than by a specific location, I am seduced by the visual impact of individual holes and the beauty of the setting.
For example, Royal Lytham is easily the better course, but I'd have more fun playing Enniscrone.
What are your thoughts on bunker reviews? Rob Fear, Bridgwater
I am all for this for several reasons.
I have no problem with turfing over redundant bunkers or those that are proving too costly to maintain.
Similarly, although it can be very expensive, I am all for new or revised bunkering to cater for modern equipment and tastes.
Not all bunkers need to be purely related to strategy – some can be visual.
Do we have too many golf courses? Alan Davison, London
Sadly, we do.
The massive boom in the game in the 1970s and '80s led to too many new-builds, some of which had little architectural merit and suffered from tight budgets.
We know there are far more courses closing than opening, but hopefully the knock-on effect is the remaining clubs will absorb those golfers and be better placed to survive.
What are the best multi-course facilities or resorts in the UK? Martha Smith, Wigan
I've been fortunate enough to visit Gleneagles several times, and although it's expensive, it's hard to beat for the all-round experience and facilities.
Away from the resorts, I love Saunton in Devon, and actually prefer the shorter West links, which I feel has more character than the East.
Can you recommend a great area for a UK golf break away from the most famous stretches? Oliver Davis, Stockport
For a great seaside experience I've always loved the north Norfolk coast, not only for the golf – Hunstanton, Brancaster, Sheringham and Cromer – but also the step-back-in-time feel of the area.
I also have a soft spot for the south Wales valleys where you're guaranteed inexpensive, away-from-it- all golf at places like Neath, Morlais Castle and Cradoc.
What are the best coastal holes you've ever played? Terry Matheson, Kirkcaldy
I'll go with two that spring instantly to mind.
For clifftop golf, I'll stay in Norfolk and go for Sheringham's long and demanding par-4 5th perched right on the edge.
For links golf, Doonbeg's superb par-5 opener with its awe-inspiring amphitheatre green will take your breath away.
Do clubs ask you for feedback on their exclusion from the Top/ Next 100? Mike Chapman, Swanage
We do provide feedback, and when it's because something they've done hasn't worked, or something has gone wrong, both of which are rare, we say exactly what it is.
Most ranking changes are due to improvements to design and conditioning.
As our brilliant greenkeepers and their methods and equipment get ever better, so too are the standards throughout our Top 100 and Next 100.
You once wrote there is no such thing as a bad golf course. Do you stick by that? Joe Frame, Milton Keynes
I may have been wearing green-tinted glasses on this, but I will stick by it!
If you love golf and you love golf courses – and these are not the same thing – then I am sure you will find something of merit on just about any course.
Do you take short courses seriously? John Morgan, Ayr
Absolutely!
Anything that facilitates shorter rounds or welcomes more people to the game is good by me.
In the last year I have thoroughly enjoyed discovering Carradale, the Forest course at Bramshaw and Kinghorn, and I would happily recommend them to anyone.
What are your favourite clubhouse settings? Adrian Higgs, Worcester
That's a tough one as we have many superbly appointed clubhouses in the UK and Ireland.
I'm a sucker for anything with a very adjacent sea view – Porthcawl and Lundin spring to mind – but I also remember the Vale of Llangollen's decked seating area gazing out over the course.
The terrace at my old home club of Crowborough Beacon served up an excellent view down the 1st and 18th and on to the distant South Downs.
What are your thoughts on bunkers in the middle of fairways? David Williamson, Aberystwyth
Generally, I don't have an issue and anything that adds to the strategic variety of a golf course is a good thing, if not overdone.
However, if reasonable golfers can't clear the central bunkers, but laying back short of them means they can't then reach the green in regulation, I would say that was flawed and unnecessarily penal.
What makes for a heroic golf hole? Colin Walters, Redruth
For me, it would be one where the challenge and aesthetics come together in perfect harmony – a hole that looks great, but tests you to the limit, like the superb long par-4 9th at Formby from an elevated tee.
What's the most underrated links in Scotland? Allan Hinton, Dumfries
Fergus Bisset: There are many fabulous lesser-known links, from Southerness on the Solway Firth to Brora in the northern Highlands.
Fraserburgh is a very underrated links at the north-east tip of Aberdeenshire.
But if I had to single out one, it would be the New course at St Andrews.
Yes, it's very well known, but if it sat alone away from the Home of Golf it would be more highly revered – it's a tremendous, beautifully maintained layout.
Which is your favourite Scottish Open venue? Eleanor Smithson, Redcar
Fergus Bisset: The event has visited some fabulous tracks in recent years – the spectacular Castle Stuart and the impressive Renaissance, for example.
But for me, the best of the bunch is Royal Aberdeen.
The front nine is as good a stretch of links as you'll find, and the run for home features some hugely challenging holes.
Which course in Scotland would you love to see host The Open? Douglas McAdam, Ullapool
Fergus Bisset: Taking logistics out of the equation, I'd love to see it visit Royal Dornoch.
It's the most stunning setting for golf and a near-perfect links as far as I'm concerned.
I'd like to see how the very best golfers in the world would deal with the subtleties and nuances.
What's your view on thick rough under trees? Alan Matheson, Truro
I appreciate golfers may have encountered a bit more of this of late where clubs have focused on essential maintenance, but in general, I think it's unnecessary and unhelpful.
If you're in the woods, your 'punishment' should be a tree on your line or an impeded swing, not a lost ball and long walk back.
Keeping rough short under trees allows sensible escape options and keeps play moving.
What makes a good opening hole? Toby Allinson, Devizes
One that excites visually yet doesn't overly test you – certainly in terms of accuracy – on the opening blow.
Doonbeg in County Clare, with its impressive amphitheatre green, springs to mind.
It gets the blood pumping for the round ahead.
The 1st at the JCB Golf & Country Club is a cracker, too.
What are the best- bunkered courses you've played? Andrew Gower, Clacton
I love the bunkering at Aberdovey with its tufty surrounds, and also remember thinking Fairhaven in Lancashire was particularly well- bunkered strategically.
Many courses have improved their bunkering enormously of late, with one of the best transformations at Effingham GC in Surrey.
Can really short courses make it into your Top 100? Paul Johnstone, Edinburgh
Gleneagles Queen's is probably our shortest at 5,965 yards from the whites, but several of the current Top 100 play around 6,000 from the regular tees.
The one specific criterion that mentions length is that we like to see a good balance of longer and shorter par 4s.
I think it would be tough for a truly short course to make it in, although that does not mean we enjoy them any less.
If you could have a hole-in-one on any par 3, which would it be? James Pinkstone, Reading
My lone such achievement came on the 4th at my own club, Tandridge, which is played to a raised green, so I didn't see it go in!
I would therefore love it to be visible and on a green in a beautiful setting.
For inland, I would go for the 5th on Sunningdale New, and for links, drama and bragging rights, perhaps the 15th at Kingsbarns.
Is water overused in the design of many modern inland courses? Chris Boakes, Maidstone
I understand the need to create challenge and interest, but I think our better modern courses use landscaping, bunkering and run-off areas to great effect and water more sparingly. Streams and ponds are also visually appealing and frequently home to attractive plants and wildlife.
Got a question for Rob & Jeremy? Email it to golfmonthly@futurenet.com
Get the Golf Monthly Newsletter
Tips on how to play better, latest equipment reviews, interviews with the biggest names and more.
The leading website from the world's oldest golf magazine, we're the go-to destination for amateur and keen golfers alike who are keen to up their golfing game. As well as expert course reviews, news and tips to improve your handicap our golf-focused travel content will help you pair teeing off with your travels in some of the best destinations around the globe.