Five Of The Best Driveable Par 4s
The thrill of an easy birdie or potential eagle makes the short par 4 one of golf's most mouthwatering prospects…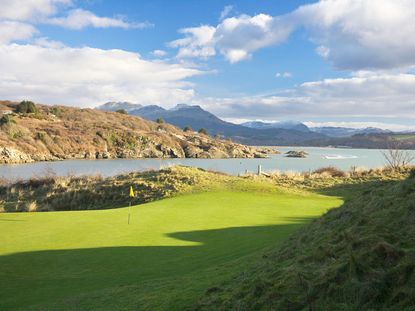 The thrill of an easy birdie or potential eagle makes the short par 4 one of golf's most mouthwatering prospects…
Five Of The Best Driveable Par 4s
Porthmadog 12th - 275 yards (Pictured above)
Admittedly you would have to play this one from the yellow tees unless your name is Bubba or Dustin, and even then it's uphill so you will need your Sunday best, but it is one of the most spectacular links holes you will find anywhere.
For realists, it is a mid-iron or hybrid over a hill to a wide fairway before a short iron up to a lovely green cut into the dunes above.
Drive it or not, it's a joyous hole worth the green fee on its own.
Aberdovey 16th - 288 yards
Late in the round on this classic Welsh links comes a wonderful matchplay hole that is the very essence of risk and reward.
Less than 300 yards from the tips, the hole eases from right to left hugging the railway that serves this beautiful coastline.
No bunkers are needed to protect the small green which is fronted by all manner of humps and hollows and has a run-off area all the way along the left-hand side leaving the trickiest of pitches.
Aberdovey Golf Club Course Review
The Belfry (Brabazon) 10th - 311 yards
Probably the most famous drivable par 4 in British golf, the 10th at The Belfry is a guaranteed show-stopper that has seen more than its fair share of drama.
The tiger line requires a carry of about 250 yards to reach terra firma and avoid a watery grave, and Seve Ballesteros brought it to the public eye when he drove the green on day one of the 1985 Ryder Cup.
This feat was subsequently matched by Ian Botham, only for the cricketing legend to three-putt.
The Belfry Brabazon Course Review
Continues below
Expand Five Of The Best Picturesque Par 3s
Five Of The Best Picturesque Par 3s
We take a look at an eclectic collection…
Expand Five Of The Best Tough Par 4s
A tough par 3 calls for one great…
Expand Five Of The Best Clifftop Golf Courses
Five Of The Best Clifftop Golf Courses
Have you played any of these?
Boat of Garten 15th - 307 yards
This short, bunkerless par 4 surrounded by the stunning Cairngorm Mountains is a real temptation for anyone who thinks they can blast it beyond the marker pole that shows the line to the green.
But all is not as it seems, as there is a deep gully just where many will carry their driver.
Discretion in the form or a pair of 6- or 7-irons may be the best way to tackle this lovely, old-fashioned James Braid classic.
Related: Five of the best clifftop courses
Lewes 3rd - 335 yards
Downland golf is renowned for its exposure to the wind and the vagaries of the bounce, but when both are in your favour, this pretty hole in the East Sussex hills might just be reachable.
It is played from an elevated tee, across out-of-bounds, to a sloping fairway with a pair of sentinel bunkers on the right.
In a westerly breeze, if you get the line just right and a favourable kick, the green is just about reachable and a birdie beckons.
Let us know your top driveable par 4s on our social channels
Don't forget to follow Golf Monthly on Facebook, Twitter and Instagram
Rob Smith has been playing golf for more than 40 years and been a contributing editor for Golf Monthly for over ten years, specialising in course reviews and travel. He has now played more than 1,170 different courses in almost 50 countries. Despite lockdowns and travel restrictions in 2021, he still managed to play 80 different courses during the year, 43 of them for the first time. This included 21 in 13 days on a trip to East Lothian in October. One of Rob's primary roles is helping to prepare the Top 100 and Next 100 Courses of the UK&I, of which he has played all but nine. During the 2021-22 review period, Rob has played 34 of the Golf Monthly Top 200. He is a member of Tandridge Golf Club in Surrey where his handicap hovers around 16. You can contact him at r.smith896@btinternet.com.