Dustin Johnson: what lies beneath?
Is there another side to Dustin Johnson than the cool, laid-back persona?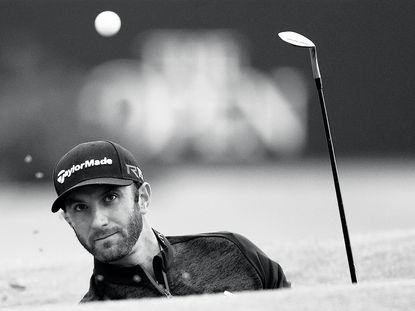 (Image credit: Getty Images)
Fergus Bisset met the laid-back Dustin Johnson at St Andrews and attempted to discover the man behind the cool persona he shows the puiblic
Dustin Johnson: what lies beneath?
As the 2015 US Open drew to a close, Dustin Johnson had two great opportunities to claim his first Major victory, to rid himself of the monkey that's been clinging resolutely to his back since he capitulated in the final round of the 2010 US Open.
Johnson led by two at the turn in round four at Chambers Bay. But he bogeyed three of the four holes after the turn to, seemingly, play himself out of the running. But DJ was handed a second chance as Branden Grace carved one out-of-bounds on the 16th and Jordan Spieth double-bogeyed the 17th.
After two superb shots to the par-5 last, Johnson faced a 15-foot eagle putt for the victory. It drifted past by a good four feet. DJ's face visibly sank. In fact, he looked resigned to his fate. When he, too quickly, stood up to the birdie putt to try and force a play-off with Spieth, there appeared no way it could go in.
The greens were abysmal, yes, that's been almost universally agreed. But, much like when Tom Watson faced that par putt on the final green at Turnberry in 2009, you just knew it wouldn't drop. It didn't, of course, and Johnson was once again left to contemplate a missed Major chance and to reflect on how best to bounce back from what was surely an agonising loss.
I spoke to DJ on the eve of The Open Championship at St Andrews when the memory of Chambers Bay should still have been fresh and the wounds raw. "I can take the positives," he said.
"Obviously I was a little disappointed with the way I finished but it wasn't painful because I didn't have much control over it. I had control over my game, but once you got on those greens you didn't have much control. I was hitting putts where I wanted to, but they just weren't going in. I was disappointed, but it wasn't painful. I'm over it."
Hmm. I wondered then if Dustin felt he would be under any extra scrutiny at the final two Majors of the year because of what happened at Chambers Bay and, if so, how he would cope as the media would, inevitably, continue to question him on the subject.
"No, I'm not worried about extra scrutiny," he said. "In fact, I like it, I'm fine with it."
Wow. OK, I thought, he didn't want to show any sign of weakness. He had to remain positive with another Major challenge ahead of him at The Open. But wait a minute, how could three-putting the last to lose a Major by one shot not be painful?
Missed opportunities
It seemed the 31-year-old protested too much. Surely things weren't quite as "totally cool with me" as DJ was projecting. Ostensibly Dustin is an almost horizontally laid-back guy who lets nothing bother him, but he's a professional sportsman with ambition and goals.
The more Major-winning opportunities that come and go, the more the pressure must build. That old analogy of a duck cruising across a millpond works well – to the casual observer he seems serenely calm, but under the surface he's going like the clappers.
What happened at St Andrews that week didn't dispel that theory: DJ started brilliantly with a 65 and he still led after 36 holes. It all looked cool and measured and he appeared unfazed. But he fell away with a pair of 75s – a familiar story for the extremely talented American.
In 2010, DJ headed Graeme McDowell by three strokes going into the final round of the US Open at Pebble Beach. It was a course he had won on earlier in the year (in the AT&T Pebble Beach Pro-Am) and opening rounds of 71, 70 and 66 suggested he had total mastery of the layout and would sail to the first of many Major victories.
But a triple-bogey at the 2nd and double-bogey on the 3rd threw the then 25-year-old out of the picture. He limped in with a closing 82.
Later that year, Johnson thought he had forced his way into a play-off for the USPGA Championship at Whistling Straits, but was penalised two strokes after completing the final hole for grounding his club in a sandy area deemed to be a bunker – an error he really shouldn't have made.
In 2011, he had a chance to win The Open Championship at Royal St George's until he fired a ball out-of-bounds on the 14th hole of the final round. Add Chambers Bay into the mix and there's no denying that DJ has some Major baggage.
I was interested to know if Dustin felt nervous in those situations. Is that what had prevented him crossing the line in a Major? When had he felt nervous on the golf course? Revealingly, his answer steered us elsewhere.
"When I played in my first Ryder Cup in 2010, I was really nervous then," he said. "I was playing with Phil and we were first match out. I remember the 1st at Celtic Manor wasn't really a driver hole but there was no chance I was hitting anything but a driver. I wanted the biggest head I could just to make contact! Yes I was definitely nervous then."
Speaking about the Ryder Cup, DJ was animated. It was clear the historic biennial team event means a great deal to him. Having missed the 2014 matches because of personal issues, he is very keen to be part of the US team for Hazeltine in 2016.
"I love playing in the Ryder Cup, it's just a great event," he said. "It's the best event, something different, pulling for your teammates instead of most weeks when you're rooting against them – it's just fun. It reminds me of being in college or playing the Walker Cup: those events were always so much fun. You spend the whole week together, have dinners together, everything."
Passion for the game
While many things about Dustin Johnson are hard to fathom, what is clear is his love of playing golf. Whether he's reminiscing about past contests like the 2007 Walker Cup, when he was on the winning side at Royal County Down together with Rickie Fowler, Billy Horschel and Webb Simpson, or about the new driver he's just put in his bag, it's clear he has a true passion for this sport and it's one that was ingrained in him as a kid.
"My dad was a club pro when I was a youngster and in the summer time I'd go to work with him every day and I'd play every day," he said. "And that was how I got into it, it was my summer sport and I loved it."
Dustin enjoyed a fine amateur career that peaked in 2007 when he won the Monroe Invitational and the Northeast Amateur. He also competed in the Walker Cup and Palmer Cup during a hugely impressive season.
He had almost instant success in the pro ranks and won during his rookie season on the PGA Tour in 2008. He has won a tournament every year since, except for 2014, and has picked up almost $30 million in prize money.
One of the key reasons for his success is his phenomenal power. At 6ft 4 inches and athletically built with long levers and quick muscles, Johnson is able to hit the ball prodigious distances. In the age of the 'power game' Johnson is one of its leading exponents. Since he joined the PGA Tour, DJ has never ranked outside the top four in average driving distance. I asked him how far he can carry the ball in still conditions.
"I think my best on TrackMan is something around the 337-yard mark," he said with a hint of a smile. "Yeah, that was a good one." But he is aware that length isn't the only thing that matters.
"You know everybody talks about this and it's true, hitting the ball a long way does give you an advantage," he said. "But it's not much good if you hit the ball a long way into trouble. So being a straight hitter is really the key thing. The strength of my game is that I can hit the ball really straight with the driver."
Ask golf fans what they think of when Dustin's name is mentioned and most will probably plump for his hugely powerful hitting. A close second would likely be his supremely relaxed approach to life.
At a pre-Open press event at the Rusacks Hotel in St Andrews, Dustin was interviewed together with Sergio Garcia. The American was asked when he first met the Spaniard. "I don't know, maybe 2008?" he ventured. "Look, I can barely remember what I did last week." Cue much laughter.
Related: Sergio Garcia swing sequence
This was what the press wanted to hear, and this was what DJ wanted to give them – he's the daydreamer who doesn't let anything worry him. He just doesn't care, doesn't really bother to think… Well, I don't buy it.
It's a great self-defence mechanism though – If DJ remains supremely chilled out at all times and doesn't react to questions about his Major misses then the press will get bored; like bullies with an unresponsive victim.
But it's there under the tranquil façade – Johnson wants to win a Major, perhaps more than any current top player. Given how many times he's been burned in golf's big four events, the release of tension when he finally does get one (and he will) is going to be huge.
When the monkey gets the heave-ho, we'll see a different, less cagey Dustin Johnson and the floodgates could open. Phil Mickelson didn't win his first Major until he was 33 and he now has five to his name. Dustin is just 31.
He may be a duck swimming across the millpond – he might appear calm on the surface and what's going on out of sight might be more frenetic – but sooner or later he'll reach the other side and walk away a Major Champion.
Fergus is a golf obsessive and 1-handicapper. Growing up in the North East of Scotland, golf runs through his veins and his passion for the sport was bolstered during his time at St Andrews university studying history. He went on to earn a post graduate diploma from the London School of Journalism. Fergus has worked for Golf Monthly since 2004 and has written two books on the game; "Great Golf Debates" together with Jezz Ellwood of Golf Monthly and "The Ultimate Golf Book" together with Neil Tappin (also of Golf Monthly)... Fergus once shanked a ball from just over Granny Clark's Wynd on the 18th of the Old Course that struck the St Andrews Golf Club and rebounded into the Valley of Sin, from where he saved par. Who says there's no golfing god?