Essential guide to St Andrews
From local knowledge to how to watch on television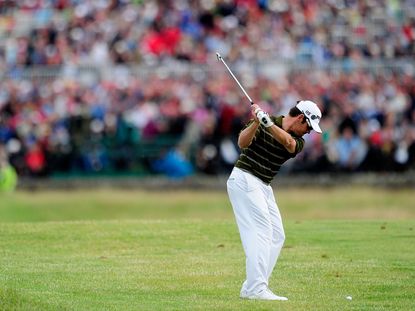 We've compiled the ultimate lowdown on how best to enjoy St Andrews
Travel - how to get to the course...
By road
Police Scotland is urging all motorists to use the designated traffic routes, which will be clearly signed by the AA. Visitors are advised to turn off their satellite navigation systems and follow the appropriate signage.
From the north via the Tay Road Bridge, continue to the Forgan roundabout, then turn left on to the A914/A919 to Guardbridge via Leuchars. Join the A91 to the public car parks.
From the south, cross the Forth Road Bridge and follow the M90 to Junction 2A, thereafter following the A92 to Glenrothes, A911/A915 through Leven and on towards the public car parks.
Park & Ride
Designated routes will lead to park-and-ride facilities operating from some public car parks. Spectators are strongly encouraged to use the park-and-ride facilities to minimise disruption to local traffic and ensure a swift transfer to and from the course.
Parking
Weekly car park passes are available at a cost of £60. Weekly passes are only available in advance from theopen.com or by phoning the ticket office (01334 460010).
Daily car parking, payable in advance or on arrival, will cost £10 from Sunday 12 to Tuesday 14 July and £15 from Wednesday 15 to Sunday 19 July.
Ticket information - Everything you need to know if you're heading to St Andrews...
Tickets can be purchased online at theopen.com or by calling 01334 460000. It will also be possible to purchase tickets at the gate.
A week-long season ticket, including free entry for juniors (16 and under), is available for £250.
Tickets for practice days start at £15 and tournament days from £80. Concession prices are available for 16 to 21-year-olds.
Opening times
Gates open at 6am on Thursday 16 July and Friday 17 July, and 7am on all other days, excluding Sunday 12 July (first admittance 9am).
Further information
Mobile phones will be permitted, provided users adhere to the strict policy in place. Cameras are allowed on practice days only. Visit theopen.com for further information.
Daily ticket prices
Under 16s are admitted free with a responsible, ticket-holding adult.
Sunday 12th - Adults - £15 / 16-21 - £5
Monday 13th - Adults - £25 / 16-21 - £15
Tuesday 14th - Adults - £30 / 16-21 - £15
Wednesday 15th - Adults - £40 / 16-21 - £20
Thursday 16th - Adults - £80 / 16-21 - £30
Friday 17th - Adults - £80 / 16-21 - £30
Saturday 18th - Adults - £80 / 16-21 - £30
Sunday 19th - Adults - £80 / 16-21 - £30
Local knowledge - what to do when the day's golf is done...
Stay
As a world-famous tourist destination, St Andrews caters for all accommodation needs from five-star hotels to guest houses and welcoming B&Bs. A list of hotels and private lodging options can be found at stayattheopen.com.
Eat
The Seafood Restaurant - Since opening in 2003 it has been awarded the top restaurant in Scotland, top seafood restaurant and the best wine list by the AA guide. T: 01334 479475 W: theseafoodrestaurant.com
The Doll's House - Specialising in traditional Scottish and French cuisine, The Doll's House offers an impressive and diverse range of quality menus, which will satisfy every palate. T: 01334 477422 W: dollshousestandrews.co.uk
Balaka - A family-run restaurant that has been serving high quality Bangladeshi/Indian cuisine for the last 29 years, using locally sourced ingredients. T: 01334 474825 W: www.balaka.com
Drink
The Jigger Inn - Located alongside golf's most iconic par 4 – the Road Hole on the Old Course – The Jigger Inn is, without question, the game's most famous 19th hole. T: 01334 474371 W: oldcoursehotel.co.uk
The Criterion - A beautifully restored town centre pub with a loyal clientele. T: 01334 474543
1 Golf Place - Located within a 30-second walk of the Old Course it's steeped in history. There has been a hotel on the site since 1827. T: 01334 472059 W: 1golfplacestandrews.co.uk
The Dunvegan - Has pictures of the 27 Major champions on its walls who have come in for a drink over the years. T: 01334 473105 W: dunvegan-hotel.com
Away from the course - local attractions and other courses to play nearby...
Visit
Eden Mill Distillery and Brewery - This craft distillery and brewery offers the chance to discover how some of the best beers, gins and whiskies in Scotland are created. T: 01334 834038 W: edenmill.com
Scotland's Secret Bunker - A bunker of a different kind can be found hidden beneath a Scottish farmhouse where a tunnel leads to 24,000 square feet of secret accommodation. Had there been a nuclear war, this is where Scotland would have been governed from. T: 01333 310301 W: secretbunker.co.uk
Hill of Tarvit - This is one of Scotland's finest Edwardian mansion houses. Within the grounds, the nine-hole Kingarrock Hickory Golf Course gives golfers a chance to play the game as it was years ago. T: 01334 653127 W: nts.org.uk
The Scottish Deer Centre - One of the area's most popular attractions, featuring 14 species of deer from around the world, a wolf pack, brown bears, otters and other rare species. T: 01337 810391 W: tsdc.co.uk
Local courses -
Crail - T: 01333 450686 / W: crailgolfingsociety.co.uk
Elie - T: 01333 330301 / W: golfhouseclub.co.uk
Ladybank - T: 01337 830814 / W: ladybankgolf.co.uk
Leven - T: 01333 428859 / W: leven-links.com
Lundin Links - T: 01333 320202 / W: lundingolfclub.co.uk
Scotscraig - T: 01382 552515 / W: scotscraiggolfclub.com
Viewing - How to take in all the action at home or at the venue...
Media
Thursday 16th July - BBC2 9am - 8pm
Friday 17th July - BBC 9am - 8pm
Saturday 18th July - BBC 1 10am - 12pm / BBC 1 12:10pm - 5:15pm / BBC 2 5:15pm - 7:45pm
Sunday 19th July - BBC1 11am - 12pm / BBC 1 12:10pm - 7pm
Also watch via the red button and online (times subject to change - check listings closer to the event). Live commentary available daily on BBC Radio 5 Live.
The Open Championship app
A complimentary Wi-Fi network, providing access to The Open App, will be available. The interactive course guide will allow you to track your favourite golfers around St Andrews, providing live scoring, video highlights, and the latest news.
Vantage points
Grandstands - A huge new grandstand arena, seating almost 10,000 people, will be created around the 1st, 17th and 18th holes. For the first time, a two-tiered grandstand will be erected behind the 18th green to add to the grandstands located alongside the fairway.
The arena will be completed by a new L-shaped grandstand behind the 17th green and a further stand by the 1st green. The grandstand behind the famous Road Hole will have a capacity of more than 4,000 and offer spectators an excellent panoramic view of the 17th, 18th, 1st and 2nd holes.
Approximately 20,000 free-of-charge seats will be located around the course and at the practice ground. A limited number of reserved grandstand seats at the 1st tee and 17th green can be purchased.
Large screens - Keep up to date with all the action through one of the many electronic leaderboards around the course. Large screens will also be located in the Spectator Village area.
Spectator Village - what's on offer this year...
The Open Swingzone - A team of expert PGA professionals provide free golf lessons all week at the popular Swingzone.
British Golf Museum - The ticket price this year includes same-day admission to the newly refurbished British Golf Museum behind The R&A clubhouse.
HSBC Golf Zone - Back for the fifth year in a row, the HSBC Golf Zone gives all spectators the chance to test out their golf skills and win a host of daily prizes.
Glenmorangie House - Discover the official Spirit of The Open with help from the in-house whisky expert, or relax with a refreshing whisky cocktail while catching up on the day's action.
Big Screens & scoreboards - Numerous large screens and scoreboards will be positioned throughout the course and in the Spectator Village.
Autographs - To assist both players and spectators, a designated autograph area will be clearly signposted.
Left Luggage Facilities - There will be several complimentary left luggage facilities located throughout the Spectator Village, operated on a first come, first served basis. Please note that security bag searches may be in operation.
Banking - HSBC will provide a full-service branch in the Spectator Village. Several free-to-withdraw cash machines will also be available.
Food and drink - In response to feedback, The R&A has moved to reduce the price of on-course catering this year, with fish and chips, for example, down from £10.50 to £8.50.
Will Medlock graduated from UEA with a degree in Film and Television before completing a Masters in Sports Journalism at St Mary's in London. Will has had work published by The Independent and the Rugby Paper.