Ross Biddiscombe: BMW PGA Championship qualifiers
Ross Biddiscombe reports from Wentworth on Pro-Am day of the BMW PGA Championship at Wentworth, the European Tour's flagship event, and focuses on some lesser known names teeing it up with the big guns.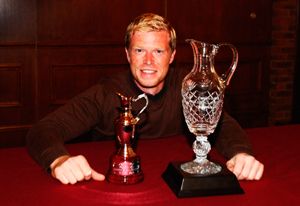 So when you're watching the Westwoods, Montys, Cabreras et al in this week's PGA Championship at Wentworth, spare a thought for ten ordinary PGA pros (although far from being ordinary players) who will also be teeing it up at Wentworth.
The ten proud men have qualified for this event via winning national titles or finishing top of regional PGA money lists. In no particular order, they are John Kelly, Brett A Taylor, Simon Lilly, Nick Ludwell, Chris Doak, James Ablett, George Ryall, Jason McCreadie, Paul Simpson and Guy Woodman. They come from England, Scotland and Ireland (no Welshmen, I'm afraid) and this is likely to be the biggest stage they have ever played on.
In a normal week, some of them will spend their time teaching members in their clubs and taking part in the occasional pro-am, but others are daring to hope of a life as a tournament professional. Scotland's Chris Doak won the Tartan Tour money list last year and then performed heroically in Q School to win a Tour Card. He's a likeable fellow and not so young anymore (he was 31 in December), so he needs to get his skates on if being a Tour pro is ever going to earn him shed loads of cash. His Main Tour results so far this year have been below the necessary standard – he has missed five of eight cuts and won only about £30,000. He is ranked 200th in the Race to Dubai and is already staring another trip to Q School in the face.
By contrast, Guy Woodman – who featured in my Q School book – is playing in his first ever full European Tour event (his only other taste was a co-sanctioned tournament in South Africa several years ago) and was grinning from ear to ear when I saw him on Tuesday after a practice round with his old Berkshire county golf chum Luke Donald.
The East Berkshire assistant won both the UK and English Assistants titles last year to gain his spot at Wentworth and is so pleased not to be selling Mars bars in the club shop this week that he can hardly believe it. When I cornered him near the putting green, noted how hard this week would be for the PGA pros – he commented on how quick the greens were and how long the course was playing (7,320 yards will seem even longer if the bad weather and heavy rain continue).
"I'm really enjoying it, though," said Guy who was lapping up the atmosphere, being chatted to by the media and generally feeling like a king at the European Tour's flagship event.
I asked Luke Donald in the press conference what was the difference between him (a top 50 player) and Guy (a EuroPro Tour regular and who made Final Stage of Q School for the first time in 2008 and will play Challenge Tour events this year). Luke said Guy was "a solid pro" but he didn't believe he was going to succeed this week in the same way that the top pros do – it's all mental, was the basis of his answer to my question. Plus, he thought Guy could brush up on his short game (shouldn't we all?).
So, as usual, I will leave the star gazing to others at Wentworth this week while I watch the journeymen golfers. I wonder who will have most fun – you or me - and, if Shane Lowry can win in Ireland, what would the bookies give for one of the PGA pros winning in England?
Ross Biddiscombe is author of Golf On The Edge: Triumphs & Tragedies Of Q School. Go to golfontheedge.co.uk for details.
Where next?
Tour news: Lee Westwood's caddie in 90-mile walk to Open Championship Equipment news: New Never Compromise XRAY putter range pictures Amateur news: Matchplay Championship in Egypt won by Cheshire golfers Industry news: FootJoy DryJoys celebrates 20th with exclusive anniversary golf shoe range
Ross is a Q-School expert.