2023 PGA Championship Final-Round Odds and Live Picks
We're onto the Sunday round at Oak Hill Country Club! Trent Pruitt breaks down the latest at the PGA Championship, dives into the live odds, and presents his favorite two bets for the finale.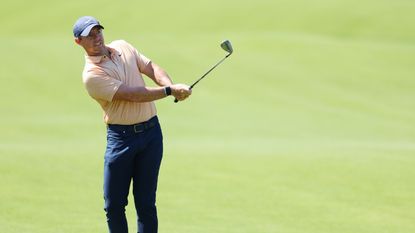 (Image credit: Getty Images)
Brooks Koepka propelled himself all the way up the leaderboard, where he currently holds the lead after two consecutive four-under rounds at the PGA Championship. The American is the betting favorite (+120) heading into Sunday action as he looks to hold off Viktor Hovland (-5) and Corey Conners.
Koepka's fellow LIV Tour golfer Bryson DeChambeau resides in fourth place (-3) after shooting par on Saturday. Meanwhile, it's Scottie Scheffler (-2) and Justin Rose in a tie for fifth. Scheffler, the world's second-ranked golfer, posted a forgettable three-over round on Saturday, potentially taking him out of contention.
In my opinion, this is looking like a three-man race down the stretch. However, there's still plenty to compete for on Sunday as 76 participants tee it up in Rochester, NY. Let's dive into how I'm betting on Sunday's PGA Championship.
Before we get into our PGA Championship Picks, make sure to take a moment to check out these awesome sports betting offers for this week. You can use one of the HUGE first bet offers to wager with more confidence on your 2023 PGA Championship selections this week.
PGA Championship Picks - Live Picks
Corey Conners to Beat Bryson DeChambeau Head-to-Head (+100) (Bet $100 to collect $200 Get the best Corey Conners odds at DraftKings
I'd be remiss if I didn't weigh in on an outright winner for the PGA Championship. So, considering Koepka has shot two straight four-under rounds, I'd say it's his tournament to lose. No one is catching him if he does it for a third consecutive round. However, if he opts for a more conservative approach, I wouldn't be surprised if Corey Conners makes a move and closes the one-stroke gap. I don't mind a play on him at +500 to win this tournament outright.
Let's put it this way when comparing my confidence in similar payouts, I have more faith in Conners (+100) beating Bryson DeChambeau (-115) head-to-head than Koepka holding down the lead and capturing the Major Championship (+120). So, I think backing Conners in this capacity is a better bet.
In an odd way, it says more about DeChambeau than Koepka and Conners. DeChambeau has simply been less consistent when compared to Conners. He has three bogeys and two double bogeys over the last 36 holes, which have led to one-over and even rounds. Conners, on the other hand, has been very steady. The Canadian posted one double bogey on Saturday and a bogey on Friday. With this treacherous course, I'll opt for the stability that comes with Conners in a head-to-head fourth-round matchup with Bryson.
Rory McIlroy Top Five Finisher (+130) (Bet $100 to collect $230) DraftKings has the best Rory McIlroy odds
Two-time PGA Championship winner Rory McIlroy has been lurking in the shadows this weekend. I don't think he'll be able to make a huge move to the top of the leaderboard on Sunday, but I think there is room for him to move up. He's currently in a standalone seventh place at -1 overall. He's been getting his footing under him as the tournament progresses, steadily improving upon his one-over round on Thursday.
So, if McIlroy is to make it into the top five, it means that someone needs to drop out or at least place slightly worse than the Northern Irishman. Well, I wasn't very inspired by Scheffler's three-over performance on Saturday. He just didn't have it. Furthermore, I think it's more likely that DeChambeau drops down another stroke, and the threshold for a top-five spot becomes two-under.
If that's the case, we could see McIlroy move into a four-way tie for fifth with Rose, Scheffler, and DeChambeau, or maybe even leapfrog them all. I guess the point I want to drive home is that I'm confident McIlroy is going to take another step forward and that there will be room for him to climb. I think this is great value with a plus-money payout. Let's lock in Rory for a top-five finish on Sunday.
PGA Championship– Live Odds Entering Sunday
Swipe to scroll horizontally
| Golfer | Odds |
| --- | --- |
| Brooks Koepka | +120 |
| Viktor Hovland | +330 |
| Corey Conners | +500 |
| Scottie Scheffler | +850 |
| Bryson DeChambeau | +1200 |
| Rory McIlroy | +2200 |
| Justin Rose | +2500 |
| Tommy Fleetwood | +25000 |
| Justin Suh | +25000 |
| Shane Lowry | +30000 |
Trent is a Chicago native who has been an avid sports fan ever since he could walk. He played collegiate rugby at Arizona State University and still resides in Arizona, where he spends his days engulfed in sports betting analysis. Trent fell in love with the analytical side of sports in his late teens and has been a part of the sports betting industry for 10+ years now.