What Is Joaquin Niemann Wearing?
Take a look at the adidas clothing Joaquin Niemann is wearing at the 2021 PGA Championship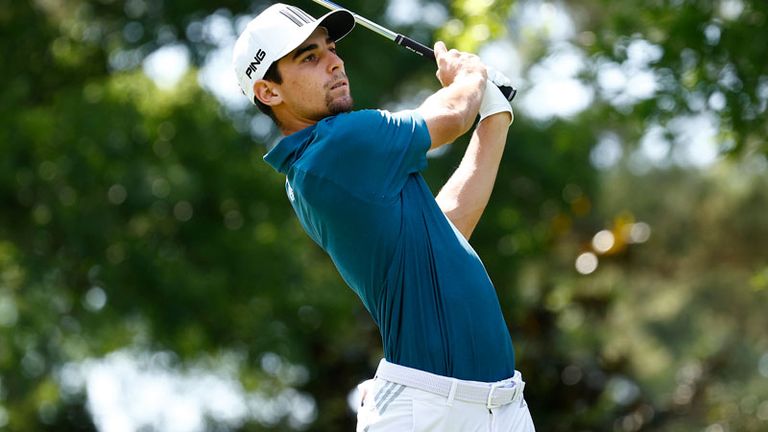 (Image credit: Getty Images)
Take a look at the adidas clothing Joaquin Niemann is wearing at Augusta National for the 2021 Masters
What Is Joaquin Niemann Wearing?
Joaquin Niemann has been signed with adidas since he turned professional in 2018. The Chilean golfer quickly earned his PGA Tour card and won his first professional event in 2020 at the Greenbrier.
The clothing brand continues to push the boundaries, with the 22-year-old turning head at the Genesis Invitational in February in the newly designed adicross line. He regularly shows off the new apparel and gear from adidas.
Related: Joaquin Niemann What's In The Bag?
Check out what he will be wearing at the PGA Championship this week.
What Is Joaquin Niemann Wearing?
adidas Vibes Print Polo
For the opening round of the tournament Niemann has gone for a unique look with the Vibes Print polo. Available in a couple of colours.
adidas Ultimate365 Classic Pants
On Thursday, paired with the Vibes polo above will be a pair of Ultimate365 Classic pants in navy. They have a classic look as the name suggests but they come with modern features like moisture-wicking fabric, a water-resistant finish, and sun protection.
adidas Ultimate365 Printed Polo
On Friday Niemann will go for this Printed design in an Acid Mint finish. Made from 88% recycled polyester, the shirt has a stretchy, comfortable fit whilst also helping the player out in terms of sweat too. Given how hot it can get in South Carolina, this could help Niemann when things get serious on Friday.
adidas Go-To Five Pocket Pants
Paired with the polo above will be the Go-To pants. They are designed with extra stretch in the waistband for full freedom of movement so you can truly unleash your mobility on the golf course. The moisture-absorbing fabric also helps keep you dry for the days play too.
Designed in nylon twill fabric they give a cool, dry feel whist a stretchy build lets you twist and flex with ease.
adidas No Show Polo
Niemann has worn the No Show polo previously out on Tour in a variety of colours. During the PGA Championship he will opt for the white design with blue detailing.
adidas Pin Roll Trousers
The Pin Roll trousers continue the modern trend of sitting just above the ankle line of golf shoes. Therefore they work excellent in warm weather as they help keep you cool under pressure which could be important at Kiawah. They are also made with 87% recycled polyester too as part of adidas' aim to end plastic waste.
adidas Heat.Rdy 3-Stripes Polo
Niemann's Sunday look will consist of this Heat.Rdy polo in navy. Constructed with adidas' Heat.Rdy cooling fabric, it will undoubtedly help Niemann stay under control provided he is in the hunt on the final day. The heat ready fabrication is breathable, moisture wicking and has a cooling effect to keep you comfortable on the course. The 3-stripes design adds a unique look too.
adidas Ultimate365 3-Stripes Tapered Pants
On Sunday he will pair the above shirt with white 3-Stripes Tapered Pants. Made with a mix of nylon, polyester and elastane, comfort is king with these pants. Freedom of movement is also an important factor too thanks to the stretch fabric design.
Adidas ZG21 Shoes
Niemann will be wearing the Adidas ZG21 shoes throughout the week. These are lightweight and have a low profile, providing a solid foundation for every shot.
And again, in line with their ambition to end plastic waste, they are also made from 50% recycled materials.
Adidas Performance Cap
The Chilean is also wearing an adidas Performance Cap this week, designed to combine style and performance thanks to the moisture-control features within.
adidas Golf Braided Stretch Belt
Paired with his trousers is this braided stretch belt. We are unsure of the exact colours we'll see this week but it comes in navy, white and grey so expect it to be in one of those across the tournament.
Related: Who Is Joaquin Niemann's Coach?