5 moments where the US Open was won/lost
The final round at Chambers Bay was settled by five key moments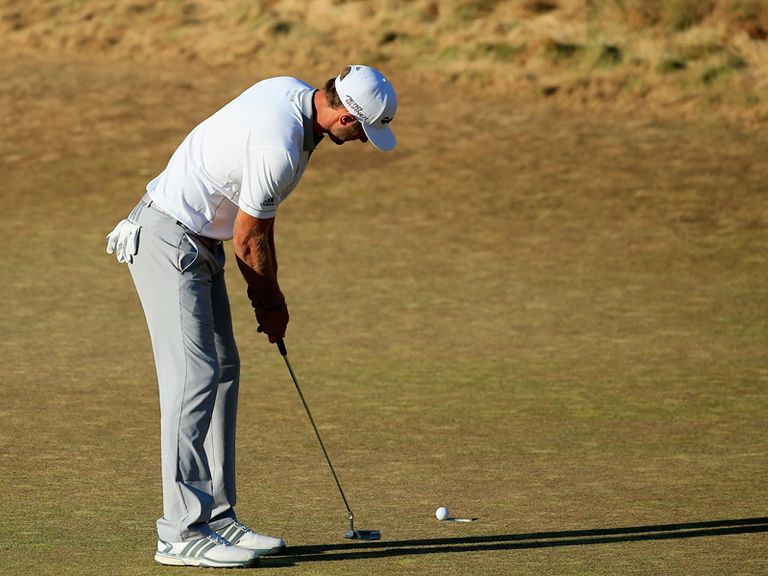 Massive tournaments like the US Open can depend on one moment. In the blink of an eye tournaments can be won or lost, careers made or unmade. Here are 5 of the best pivotal US Open moments.
Jordan Spieth had a nervous wait to find out whether the US Open was his.
As Dustin Johnson three-putted, Spieth became a member of an exclusive group to have won two majors before the age of 22.
However, the tournament didn't hinge on one moment. There were several throughout the final round that could be viewed as pivotal. Here they are...
1. Jordan Spieth's birdie on 16
How would you be feeling? You've got a putt for birdie with just two holes remaining. The leaderboard is congested and suddenly the feeling of winning your first major in April comfortably has gone. This is pressure, but this is also Jordan Spieth we're talking about.
Spieth set his putt on 16 out to the left and watched it roll back inside. Almost before it had sunk, his putter was raised in the air in celebration. It felt significant.
The celebration was almost a little premature, given that the ball appeared to be doing what so many had done last week. It rolled around the edge of the hole, flirting with the possibility of upping the pressure another notch.
However, Spieth is a man of means. What we're coming to learn is that, although he feels the pressure, he handles it better than anyone.
2. Dustin Johnson three-putting
No tournament is lost in one moment. That will be little comfort to Dustin Johnson, though, after his three-putt on 18 consigned him to defeat.
An eagle opportunity on the final hole would have guaranteed him his first major. He missed.
A birdie from three feet would have forced a play-off with Spieth. He missed again.
It's a sad fact that when Johnson's final round is broken down, people will be drawn to these two missed putts. No-one more so than Johnson himself.
3. Johnson bogeying three of four holes at the turn
If only Johnson hadn't bogeyed one of 10, 11 or 13 a play-off might have beckoned.
Of course, it's impossible to say what sort of mindset he would have adopted had he made par on one of the aforementioned. His approach to the remaining holes might have changed ever so slightly.
What can't be denied, though, is that this poor start to the back nine meant there was more pressure than perhaps there should have been on those closing putts.
4. Branden Grace double-bogeying 16
Don't talk to Branden Grace about fine margins.
Grace dropped two shots on 16 to finish two behind Jordan Spieth. He had such a steady round, too.
After making a bogey on 4, Grace proceeded to make two birdies to move tantalisingly close to an unexpected first major win.
However, the double-bogey on 16 was a hit too hard to get up from.
5. Louis Oosthuizen's three consecutive bogeys on 2, 3 and 4
Credit to Louis Oosthuizen for not resigning himself to failure after three straight bogeys on the opening four holes.
The South African refused to fold and instead went on a staggering back nine run that resulted in six birdies from the final seven holes.
He'll look back with pride, but a hint of regret that his early setback couldn't be recovered, not even with five straight birdies.
Will Medlock graduated from UEA with a degree in Film and Television before completing a Masters in Sports Journalism at St Mary's in London. Will has had work published by The Independent and the Rugby Paper.