Golf in Lisbon - Orizonte
Michael Weston takes you on a whistle-stop tour of Orizonte's fine golf courses close to the Portuguese capital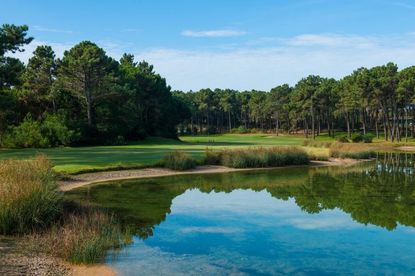 Michael Weston takes you on a whistle-stop tour of Orizonte's fine golf courses close to the Portuguese capital
Golf in Lisbon - Orizonte
Lisbon boasts a fantastic selection of courses and its appeal as a golfing destination is only enhanced by the charms of this historic capital city.
In this part of Portugal, the Orizonte group operates a collection of seven fine courses to rival some of the best layouts in the country, offering golfers super variety, as well as outstanding value.
Framed by the Arrábida Natural Park, Quinta do Peru Golf and Country Club, which opened in 1994, presents a stern test as it meanders through the pines.
The par-5 opener may look generous on the scorecard but there's no future in going off line.
The fairways do become more generous, but you'll need to find your putting stroke quickly as the greens can be slick.
The tee shot on the par-3 8th represents one of the toughest front-nine tests with its long carry over a lake. Later, on the par-3 16th, the challenge is a similar one.
Aroeira Aroeira, which has two must-play courses, lies close to the coastal town of Costa da Caparica.
There's a 'Wentworth' feel here with the tall pines that frame the holes placing a premium on finding fairways.
Designed by Frank Pennink, Aroeira I opened in 1973 and hosted the Portuguese Open in 1996 and 1997, with Wayne Riley claiming the second of his two European Tour titles in that first staging.
Despite comparisons with Wentworth, there's an understated feel here, which only adds to its charm.
Nearly 30 years later, the Donald Steel-designed Aroeira II arrived.
Water hazards are never far away and its big, undulating greens pose a different challenge altogether.
It's quite a tall order staying dry with water in play on half the holes, even more so off the back tees, which stretch the course to over 7,000 yards.
Aroeira I may reign above its younger sibling, but don't let that stop you playing all 36 holes, though you may wish to spread it over two days, especially if you're visiting in the summer when temperatures regularly exceed 35˚C.
Ribagolfe
Less than an hour away to the east of Lisbon, the two courses at Ribagolfe take full advantage of their wonderful natural setting among the carob and oak trees.
It's not easy to plot your way around Ribagolfe I, with often just a sliver of fairway visible from the tee.
It's a test many European Tour hopefuls have had to overcome through the years, with Q-School regularly visiting this Peter Townsend and European Golf Design layout, once described as the 'Valderrama of Portugal'.
There is no shortage of standout holes, although the par-5 12th is an exhilarating test, especially if you're taking it on in two, as there's water and a deep bunker to the left of the green.
Ribagolfe II
Ribagolfe II, designed by former Ryder Cup player Michael King in collaboration with European Golf Design, plays over the same undulating terrain, although visually it's less intimidating.
It was designed as a members' course, but despite being shorter, offers a beautifully balanced set of par 3s. Its main defences are its large contoured putting surfaces, which will really test your ability to find the right parts for the easiest putts.
Santo Estêvão Not far away, Santo Estêvão is set in the rolling landscape of the Northern Alentejo region.
This Donald Steel design opened in 2004 and despite measuring over 7,000 yards from the tips, presents a fair challenge to golfers of all abilities.
A number of lakes make for some extra theatre, most notably on the 3rd where you must drive over water, with another creating an interesting approach to the par-4 7th.
Oeiras
If you have designs on completing the 'Orizonte Seven', then you'll need to tick Oeiras off the list. Measuring around 3,500 yards off the tips, this enjoyable nine-holer is located in a secluded spot 15 minutes from Lisbon.
Off course, there's an awful lot to pack in, especially if you're on a weekend break, and that's one of the reasons why you would never tire of coming to the Lisbon area of Portugal. The capital itself is a vibrant one, always bristling with activity.
If you have the energy after golf, a night on the town is recommended. If not, save the steep cobbled streets for another day and enjoy Lisbon at a slower pace.
Should that be more to your taste, Sesimbra, just 30 minutes away, is one of the finest seaside resorts in Portugal.
Famous for its freshly cooked seafood and pristine coastline, this charming fishing village is well worth a visit, especially for those seeking an authentic Portuguese experience.
Related: Check what else Portugal has to offer golfers
Expand Lisbon golf coast awaits Santo Estêvão trophy
Lisbon golf coast awaits Santo Estêvão trophy
This year's Santo Estêvão Trophy is scheduled to…
Expand Your Lisbon Golfing Retreat – The Perfect Portuguese Weekend
Your Lisbon Golfing Retreat – The Perfect Portuguese Weekend
There's more to golf in Portugal than the…
Expand Golf in Northern Portugal
Whilst the Algarve and Lisbon justifiably attract plenty…
For more golf course reviews, check the Golf Monthly website and follow our social media channels
Michael has been with Golf Monthly since 2008. As a multimedia journalist, he has also worked for The Football Association, where he created content to support the men's European Championships, The FA Cup, London 2012, and FA Women's Super League. As content editor at Foremost Golf, Michael worked closely with golf's biggest equipment manufacturers, and has developed an in-depth knowledge of this side of the industry. He's now a regular contributor, covering instruction, equipment and feature content. Michael has interviewed many of the game's biggest stars, including six world number ones, and has attended and reported on many Major Championships and Ryder Cups. He's a member of Formby Golf Club.