Golf in Northern Portugal
Whilst the Algarve and Lisbon justifiably attract plenty of golfing tourists, Rob Smith discovers there are beautiful and quite different courses further north, and plenty more besides…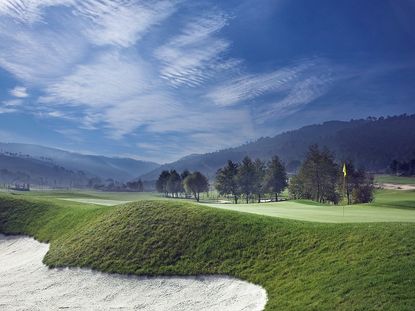 (Image credit: Mark Alexander)
Whilst the Algarve and Lisbon justifiably attract plenty of golfing tourists, Rob Smith discovers there are beautiful and quite different courses further north, and plenty more besides…
Golf in Northern Portugal
Portugal is one of Europe's golfing strongholds. In 2015 it received a Best Golf Destination (opens in new tab) award and although there is much to be said for the golfing strongholds that dot its southern coastline and surround Lisbon, further north and away from the purpose-built resorts is another world altogether. Here, there is a more rarefied atmosphere offering spectacular scenery, striking architecture, and the most mouth-watering regional cuisine.
Porto is an enchanting and romantic city that sprawls along the slopes lining the Douro river as it emerges into the Atlantic. It is the nation's second-largest city and makes for the perfect base at the start or end of a trip to the region. It is packed with remarkable buildings, superb restaurants and enough attractions to warrant a proper visit in its own right.
On the southern outskirts close to Espinho is Oporto, the oldest club on the Iberian peninsula. (opens in new tab) Celebrating its 125th birthday in 2015, it is a traditional links along flat ground with a clubhouse oozing history and bygone times. The first four holes run along the shore, a relatively gentle introduction to a course with small greens and fertile green bushes a regular feature. The sixth is a fun short par 4 with a pitch up to a raised, narrow green before the best hole going out, a dogleg left which requires two mighty and accurate blows. The second half is substantially stronger, particularly the closing four holes which offer more drama with water coming into play on them all.
Nearby, the Solverde Spa & Wellness Centre is a beachside hotel just 20 minutes from the centre of Porto which serves as a very good base both for couples and groups.
In any kind of a wind, the excellent links at Estela Golf Club (opens in new tab) is a severe examination. There are two loops of nine either side of the light and airy clubhouse. Into a southerly breeze, the stretch from six to thirteen is unremittingly tough. I was fortunate because just as the club's director of golf turned up to check on our progress by the seventh green, I chipped in for birdie; totally misleading! Host of the Portuguese Open in 1991, it has many fine holes.
It was now time to head inland and to the hilly and heavily wooded Axis Ponte de Lima (opens in new tab). The front nine is as hilly as it gets with a long walk between some of the holes, with the third a massive 680 yards from the back tee. It is some time, and for me a number of shots, before you even get to see the green! Narrow and quirky, the front nine still has much to offer with some terrific views. The undoubted highlight is the absolutely cracking par 3 at eight which needs no defence other than nature itself.
By contrast, the back nine is far less extreme but still very enjoyable, and the on-site hotel provides modern accommodation just a stroll from the clubhouse. As everywhere, the welcome was extremely warm.
My next stop was the fascinating Vidago Palace (opens in new tab). The holes closest to the sumptuous hotel run through mature woodland whilst others are more open. Everywhere there are ditches and bunkers that call for strategic play and well executed shots, and it is very appealing from start to finish.
An ancient well is still visible by the sixth green, and various other architectural features including the unusual stone-walled teeing complexes all add to the originality on this thoughtfully-designed and thoroughly enjoyable parkland test.
I was equally impressed with the truly grand hotel which would still be fit for royalty with a truly magnificent galleried dining room, and originality and charisma at every turn. With food and service to match, Vidago Palace is an exceptional golfing venue.
My final port of call was Amarante. The club is on the outskirts and above yet another picturesque town full of the most appealing architecture. The views are outrageously good and although the course is not long, its allure steadily grows and there are one or two terrific holes with the par-3 thirteenth a genuine stunner.
This is feel-good golf from the top drawer, and I was also taken by the scary third, a par 4 down to a green perched by the lake, the tough sixteenth, and the attractive short seventeenth which is played over a very pretty pond. The halfway lunch was also just right; not fancy, but a selection of appetising and authentic local dishes that reminded you that you were somewhere different.
Our final hotel was the delightful Casa da Calçada. This gorgeous Relais & Chateaux hotel defines the word style, and its Michelin-starred Largo do Paço restaurant is not to be missed with outstanding food and wine, beautifully presented in a peaceful and elegant setting.
The cuisine throughout northern Portugal is special and is more than matched by the home-grown wines, and of course, the pristine port. Happily, because it is not yet so well-known, the value for money is also surprisingly good. The scenery and architecture are fabulous, the accommodation full of character and charm, and the golf packed with variety. Probably more of a region for couples, families and small groups, it is an area that I cannot recommend highly enough.
For more information on visiting the region, please see uk.visitportoandnorth.travel. (opens in new tab)
Rob Smith has been playing golf for more than 40 years and been a contributing editor for Golf Monthly for over ten years, specialising in course reviews and travel. He has now played more than 1,170 different courses in almost 50 countries. Despite lockdowns and travel restrictions in 2021, he still managed to play 80 different courses during the year, 43 of them for the first time. This included 21 in 13 days on a trip to East Lothian in October. One of Rob's primary roles is helping to prepare the Top 100 and Next 100 Courses of the UK&I, of which he has played all but nine. During the 2021-22 review period, Rob has played 34 of the Golf Monthly Top 200. He is a member of Tandridge Golf Club in Surrey where his handicap hovers around 16. You can contact him at r.smith896@btinternet.com.