Sky Sports Golf's Ewen Murray: My Masters Picks
Sky Sports Golf commentator Ewan Murray gives us his tips for Augusta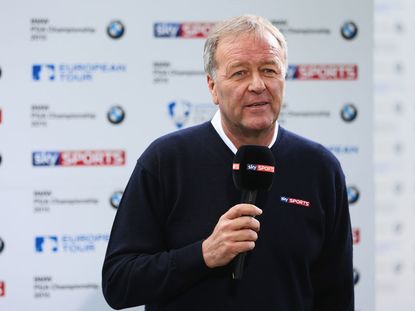 (Image credit: Getty Images)
Sky Sports Golf commentator Ewan Murray gives us his tips for Augusta
Sky Sports Golf's Ewen Murray: My Masters Picks
We recently visited Sky's HQ in West London to chat to the Golf team about this year's highly anticipated US Masters.
Here, commentator Ewen Murray gives us his red-hot tips ahead of Augusta...
Related: Sky Sports Golf's Nick Dougherty: My Masters Picks
Favourite
I would pick McIlroy, Ive got a tremendous admiration for Rory, seven years since he had a really good chance to win.
He was 21 then, he's a different player now and I honestly think you have to go through these things before you finally unlock the secret.
I like what he's done. I saw a lot of him in Dubai and Abu Dhabi. I like what he has done fitness wise and golf wise.
I was saying earlier about the Daily Mail saying that Rory in crisis, I mean for christ sake, he hasn't played for 104 days, he comes back and finishes 3rd and 2nd equaling the record for the Dubai Dessert classic beaten by a guy who had a great week.
Watch the GM Tipster discuss who will do well at Augusta this year
Crisis? What crisis? That is not a crisis to me. That's a general build up to where he wants to be on the 5th of April standing on that first tee.
Augusta does suit him, you can pick out holes. The 1st he can drive it to the top of the hill which a lot of people couldn't do last year.
I always think that McIlroy has a great chance. If you birdie the four par-5's and par the rest you will comfortably win the Masters. That's the way I look at Augusta.
There are a lot of holes you cant birdie, the 5th green can be a disaster, the 4th is a very difficult hole, the 5th is like that. It goes that way. The fourth is the par 3 which is very difficult, 7 has become a very difficult hole, it used to be an iron then a flick, not anymore.
Continues below
Expand US Masters TV Coverage 2019 – Times Moved Forward On Sunday
US Masters TV Coverage 2019 – Times Moved Forward On Sunday
Sky have the full rights, but you can…
Expand US Masters Golf Betting Tips 2019 – Post Cut
US Masters Golf Betting Tips 2019 – Post Cut
Who is going to make a move on…
Expand How Can I Play Augusta National?
How Can I Play Augusta National?
This is one of the most exclusive golf…
I mean 9 isn't that tough, 10 is tough, 11's tough. But 14 isn't, 17 isn't. So if you look at the par-5's, the way McIlroy plays, if you drive it well at these par-5's you should be making 4's. And lets say if you birdie 3 of the 4, you're 12 under, there is going to be birdies elsewhere, and the odd mistake here and there, but the par-5's are the key to Augusta.
As we saw with Garcia, we've seen it down the years, 15 is a big hole on Sunday because it can be a 6 and a 3, and that's another hole Rory can drive it over the top.
He can drive it past the trees on the left, and leave a mid-iron in, so that's why I picked McIlroy.
I think his game is suited, I don't think there is a curse where his game isn't suited to it to be perfectly honest, but Augusta should suit him because he can fly it through the air.
American
The Americans have got a strong fancy at Watson winning his third. I don't, I don't see that. Thomas is a very special player but Mickelson just needed confidence, he's gone to a new coach, Andrew Ledson, for the last couple of years they have been working on little things, his takeaway is different he swings a bit different, he gets a victory. Everything is perfect, never mind being 47, don't worry I still feel 35, I think Mickelson will contend but if I had to pick one other I would pick Justin Thomas.
Related: 10 things you can't do at Augusta
On Justin Thomas...
He's got a great coach in his father who was a PGA Professional, Michael. He has a great caddie, probably the best on the circuit at the moment who was a good player himself. Played in South Africa a bit, also caddied for Nick Price, Jimmy is a fantastic caddie and they get on well together.
I also thought two years ago, like Butch did, that he didn't have a half shot. He was a 100 per center, full on which is fine when its okay, but not when its off.
I notice that shot he hit on the last hole in Mexico it was a 3/4 shot, he did not have that 2 years ago.
He would not have been able to play that shot 2two years ago and jimmy said that's exactly what you need and land it there. That would have come ripping back before because he would have been blasting a wedge in there.
Down the shaft a little, not so much hands, bit more arms, and in.
He's a different player to what he was a couple of years ago and he will get better.
He came in on Thursday and says that's the worst Ive ever felt on the golf course, "I had nothing" - they was his words. He came in o Friday having double bogeyed the 18th and just said today was worse than yesterday. Then he goes 62, 64, his father sorts him out a little bit. If this is what you're feeling this is what you're doing. Goes out next day, forgets about the previous two - he's more than capable of taking anyone on.
Outsider
I am thrilled Sharma has got his invite. He's a really lovely young guy, a fantastic bloke. From the Europeans or Brits I would go for Tyrrell, I love the way Hatton plays golf. On the other side I am scared the temper wont let him be as good as I think he can be. I think he is a fantastic player, I love the way he plays golf , he's a good putter, he obviously knows what to do. Id pick him.
I'd also fancy Patrick Cantlay. 13 events last year and he made the Tour Championship, and a pretty good showing in LA, a slow showing, but good showing. Id probably go for someone like him, and there will always be a surprise. There always is a surprise, its like the Ryder cup Team. You say that will be the team but you will find somebody you haven't said will make the 12.
Related: 4 Masters bets to avoid for 2018
On Patrick Cantlay...
He's got the most amazing college record in the US and he was walking across the street with his caddie and best friend and his caddie was run over, hit and run, died in his arms.
That obviously set him back. He's had a shoulder injury for the last year, before last season which is why he only got in 13 events, he was playing on a medical exemption. And he made the top 30, he finished 29th but he made the top 30.
I would keep your eyes on him, he's a really good player.
Sky Sports Golf will show live coverage of The Majors and Ryder Cup in 2018.
The leading website from the world's oldest golf magazine, we're the go-to destination for amateur and keen golfers alike who are keen to up their golfing game. As well as expert course reviews, news and tips to improve your handicap our golf-focused travel content will help you pair teeing off with your travels in some of the best destinations around the globe.