Live - Tiger Woods Round 2 US Masters 2018
Live Tiger Woods US Masters 2018 blog and live updates from Augusta National, Georgia round 2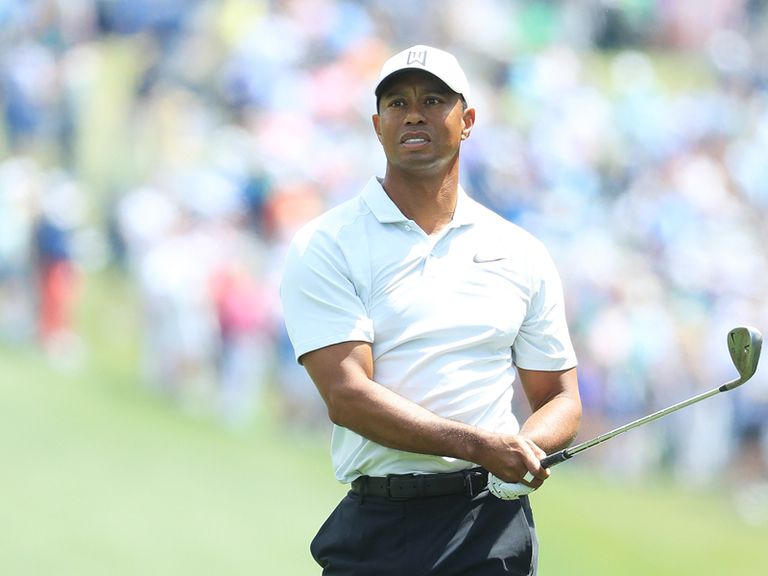 (Image credit: Getty Images)
By Tom Clarke
Follow the former world number one in the second round of the US Masters with our shot-by-shot updates and live blog from Augusta National, Georgia
Live - Tiger Woods Round 2 US Masters 2018
Hole 18 (par 4) PAR. Takes out his 3-wood and it's well struck. Safely on the fairway just short of the bunkers. A 9-iron into the final green and it's a good one. Leaves himself 15ft to finish off on a high. Misses to the left and it sums up his day. Finishes with a par for a 75. We'll be seeing Tiger back for the weekend but it won't be a 15th Major this time. +4
Hole 17 (par 4) PAR. Driver again and draws it slightly to the left, just off the fairway. Should have a line in, 136 yards to the hole. Bends it round the pines and it's a beauty. Leaves himself a 14ft putt for birdie. Just slides by! Has to settle for a par and it's on to the last. +4
Hole 16 (par 3) BOGEY. Decent line but just through the green. Not a bad place to be though. Big left to right break here. Looks good but just past the left edge! Work to do for par here. Pushes his par putt and just slides by. Drops back and is flirting with that cut line once again. +4
Hole 15 (par 5) BIRDIE. Finds the fairway with his driver but not ideally placed on the left side. Has some pines to contend with en route to the green if he's to make it in two. Takes his time over the second and it's worth the wait as he hooks it around the trees to just off the back of the green. Good chance to make another one back here. Putts from off the green and it's a good one. That's another birdie and he claws one more back. He's finally remembered how to play the par 5s! +3
Hole 14 (par 4) PAR. Out with the driver and it's his best of the day. Long and straight. Decent second shot to the back of the green. Outside chance of a birdie here – 26ft to the pin. Putt is a good one but just runs out of steam. Taps in for par. +4
Hole 13 (par 5) BIRDIE. Driver is out and he needs a big one as he's flirting with the cut. Flirts with the pines. Second shot finds the green. Leaves him a long downhill putt for eagle. Needs something to happen here. Nice putt. Rolls it close and taps in for birdie. First one of the day and first at a par 5 this week. +4
Hole 12 (par 3) BOGEY. Finds water again with a replica of yesterday's shot. Drops back to give himself the full length of the green to pitch into and he plays a beauty that rolls out to two feet. It's a bogey, however. +5
Hole 11 (par 4) PAR. Driver is wide right. Over 200 yards with the iron that he fires low up onto the green. Possible shot of the day with so much danger to contend with. First putt tracks well but misses and rolls on for a good few feet. Makes par. A very good par, but he's a long way back now. +4
Hole 10 (par 4) PAR. Tee shot is a little right, just running out of fairway. Approach is decent but he's not in birdie range. A hole to be respected and get off with a safe two-putt. Easily said. He gives his first putt the utmost respect and taps in. +4
Hole 9 (par 4) PAR. Driver is a bullet down to the bottom of the hill, but an unforced error sees his ball roll back off the front of the green. He'll be scrambling again and the frustration is starting to show. Chip is poor and he's facing a downhill putt from some 15 feet for par. Makes it, Tiger-style. +4
Hole 8 (par 5) PAR. Leaves nothing behind with the driver and it's a good one. Really needs a spark here. Has 240 yards left and his iron approach is short and left and in a tough place to make his first birdie on a par 5 this week. The high flop is a gem but it's in that range where he's not been at his best so far this week. Leaves putt out to the left. Par. +4
Hole 7 (par 4) PAR. Having watched his playing partners both slice drives right, Woods hits a 3-wood into the left first cut. Hits a gorgeous looking iron right over the flag, and just holds upon the fringe, very tricky shot to follow. Very tricky putt off the rough rolls past five foot. Makes a gutsy putt and continues to hang on in there. +4
Hole 6 (par 3) PAR. Hits his irons shot through the back, chips nicely past the pin to four foot. Holes the putt, good up and down. +4
Hole 5 (par 4) DOUBLE. Playing... 3-wood from the tee and he leaks one out to the right. Second looks like disaster as it appears to bounce into a bush and they'll be no escaping with a bogey here. Forced to take an unplayable lie. Forced his way out of the bushes and into the bunker before splashing out to four feet. Makes putt but a double bogey moves him back to four over, right on the cut mark. +4
Hole 4 (par 3) PAR. Takes a while settling on club selection. A few gusts about and he hits a poor one flying it well past the green. Staring a bogey in the face and it's not the start he was after. Second is a good one from where he was but leaves himself 12 foot for a par. Makes it. Big. +2
Hole 3 (par 4) PAR. Driver is another good one that almost climbs onto the green. Can he take advantage? Chips one in close, but it's a slippery one that misses on the left. +2
Hole 2 (par 5) PAR. Out with the driver and it's a loose one that gets a lucky break off the trees and finds the fairway. Too far back to do anything spectacular but sets up nicely with an iron. Third flies the slope to bring the ball back down the slope and he'll have a tough two-putt for par. Dribbles the ball down to the hole and it runs on a few feet. Makes the return. Still no birdies at the par 5s this week for Tiger, so far. No early fireworks, maybe at the 3rd... +2
Hole 1 (par 4) BOGEY. Finds the fairway with a good opener and he's off. Looks focused. Very focused. Outdrives Tommy Fleetwood and Marc Leishman by quite some way with a 340-yard drive. But, with 92 yards to the pin, he goes long and left and leaves himself a tricky up and down. Duffs his chip and gives himself little chance of making a lengthy putt. Two putts and it's an opening bogey after the perfect drive. +2
Follow Tiger Woods and every shot during round two of the US Masters at Augusta National, Georgia.
Tees off 18.27 (UK time)
Related: US Masters Leaderboard
Tiger Woods Round 1 US Masters 2018 recap
Hole 18 (par 4) PAR. Finishes with a strong drive. Two good ones to close after a couple of loose ones right. A good lag putt after going a touch long with his 7-iron approach and he's in for a 73. +1
Hole 17 (par 4) PAR. Driver doesn't go right, it's dead centre. Approach is a good one to 20 feet. Putt never on line and dribbles to the hole side. Easy par.
Hole 16 (par 3) BIRDIE. Tee shot drifts right but finds the slope, finishing 20 feet below the hole. He rolls it in, of course for a much-needed two.
Hole 15 (par 5) PAR. Another big one right off the tee with driver. A concern for Woods, no doubt. The second heads left and the third finds the centre of the green, albeit some distance from the hole. Two putts is not what he had in mind and he's parred all par 5s.
Hole 14 (par 4) BIRDIE. 3-wood finds the fairway and approach sets up a decent birdie opportunity, one he could really do with holing. And he does, from about 8 feet, lovely approach.
Hole 13 (par 5) PAR. Right off the tee and right again with his approach that finds the gallery. Manages to get his third to 12 feet but misses birdie putt.
Hole 12 (par 3) BOGEY. Water found off the tee. Chip not his best and he has to hole a long one for bogey. Given his visit to Rae's Creek, it's a good bogey and one that might give him a psychological boost.
Hole 11 (par 4) BOGEY. It was on the cards after a loose drive to the right and a recovery shot that didn't make the green. His third shot was decent but the par putt from around 12 foot stayed out.
Hole 10 (par 4) PAR. Driver looking good, but again he can't take advantage and he leaves himself a tricky up and down. Electing to chip he does a good job and makes par.
Hole 9 (par 4) PAR. Driver on the last hole going out is good enough, but he plays safe with the approach with a left pin to be respected. Takes two putts and heads to the testing 10th.
Hole 8 (par 5) PAR. Perfect driver from Woods, but he can't take advantage. Chip isn't his best after his approach and he has to grind for a par with a save from around four feet.
Hole 7 (par 4) PAR. 3-wood is another beauty, approach not quite as good, leaving him a 25 footer plus for a birdie. Takes two and heads to the par-5 8th looking to get back to level.
Hole 6 (par 3) PAR. Tee shot to about eight feet and with a club twirl. Looks good despite two bogeys in opening five holes. Deserved a birdie but he's a couple of inches left. Tee shot on seven might have a bit of venom in it.
Hole 5 (par 4) BOGEY. 3-wood finds a trap, but a good second lands on the putting surface. Three putts and it's back-to-back bogeys. First putt left him close to eight feet and he slips to one-over.
Hole 4 (par 3) BOGEY. Tee shot looks good in the air and Tiger likes it but it ends up in the bunker. Can't get up and down and makes his first bogey.
Hole 3 (par 4) BIRDIE. Chip to ten feet after big drive.
Hole 2 (par 5) PAR. Walks off with a disappointing par. After a solid drive, his approach finds the greenside bunker to the right. A decent bunker shot leaves a slippery birdie putt from about 12 feet but he just misses to the right.
Hole 1 (par4) PAR. A solid start, but only after a great two putt from range. Opening tee shot (3-wood) was a bit left and he needed to fire a low one up to the front of the green for his second. Such escape shots have made Woods what he is here over the years.
Tiger Woods tees off with 3-wood. He's back at Augusta National...
Expand Tiger Woods Masters Record – Five Green Jackets
Tiger Woods Masters Record – Five Green Jackets
Augusta National is a course where Tiger has…
Expand US Masters Leaderboard 2019
Who is leading at Augusta?
Expand Tiger Woods Battles And Makes Masters Cut
Tiger Woods Battles And Makes Masters Cut
Tiger Woods In Battle To Make Cut at…
Golf Monthly is at Augusta and we will keep you up to date with the best of the action during round two, including live updates on Woods throughout the day.