Bubba Watson To Finally Make LIV Golf Playing Debut After Knee Surgery
Two-time Masters champion Bubba Watson was a non-playing LIV Golf captain last season due to his knee injury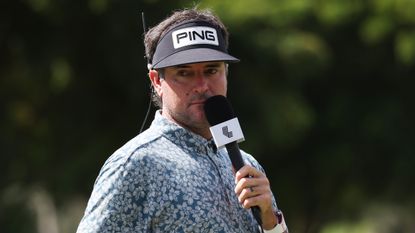 (Image credit: Getty Images)
Bubba Watson is back in action after eight months out with a knee injury just in time to finally make his playing debut in LIV Golf at the start of their second season next month.
Watson had surgery to repair a torn meniscus but after battling through his recovery, he will now be ready to tee it up at next week's Asian Tour season opener at the PIF Saudi International.
The two-time Masters champion will then be able to return to action in the newly re-branded LIV Golf League as it begins a second season at Mayakoba.
Watson last played competitively at the PGA Championship in May, before joining LIV Golf as a non-playing captain of the Niblicks GC.
He was also deployed out onto the course to use his personality as an on-course reporter during the final five events of the inaugural LIV Golf season, but now wants to swap the microphone for his golf clubs.
Watson had surgery in June, and has slowly been working his way back to full speed ever since, and though he's now able to return to action, his leg still hasn't fully recovered.
"I'm still trying to build that leg muscle up," Watson said. "I wouldn't say I'm 100% on the leg muscle being equal (to his left). But I'm really close. I'll say we're 10, 15% off one leg to the other. I'm walking fine, no pain. It's now trusting that I can really finish on that leg.
"There's going to be a few swings here and there where you just kind of revert back to old thoughts. So it's like anything. It's almost like teaching yourself to swing again or hit again. Now it's all on me."
Watson said his golfing return got off to a winning start, saying: "I just beat my caddie and my wife. So I got that going for me."
And after having to commentate on Patrick Reed helping his 4 Aces GC win the Team Championship in Miami, Watson is more than happy to get back to being back on the playing side of things.
"Knowing Patrick over these years and being able to see his excitement for that, it made me want to do it. Made me want to go home and grind so I can have that chance to pull of something like that for my team," Watson said.
"This is why we joined LIV, for the team aspect. I'm anxious to get back with the team and try to pull off amazing shots.
"I'd rather miss a 3-footer than have to come up with words to talk about golf."
Paul Higham is a sports journalist with over 20 years of experience in covering most major sporting events for both Sky Sports and BBC Sport. He is currently freelance and covers the golf majors on the BBC Sport website. Highlights over the years include covering that epic Monday finish in the Ryder Cup at Celtic Manor and watching Rory McIlroy produce one of the most dominant Major wins at the 2011 US Open at Congressional. He also writes betting previews and still feels strangely proud of backing Danny Willett when he won the Masters in 2016 - Willett also praised his putting stroke during a media event before the Open at Hoylake. Favourite interviews he's conducted have been with McIlroy, Paul McGinley, Thomas Bjorn, Rickie Fowler and the enigma that is Victor Dubuisson. A big fan of watching any golf from any tour, sadly he spends more time writing about golf than playing these days with two young children, and as a big fair weather golfer claims playing in shorts is worth at least five shots. Being from Liverpool he loves the likes of Hoylake, Birkdale and the stretch of tracks along England's Golf Coast, but would say his favourite courses played are Kingsbarns and Portrush.