Revolutionary Ogio golf bag straps unveiled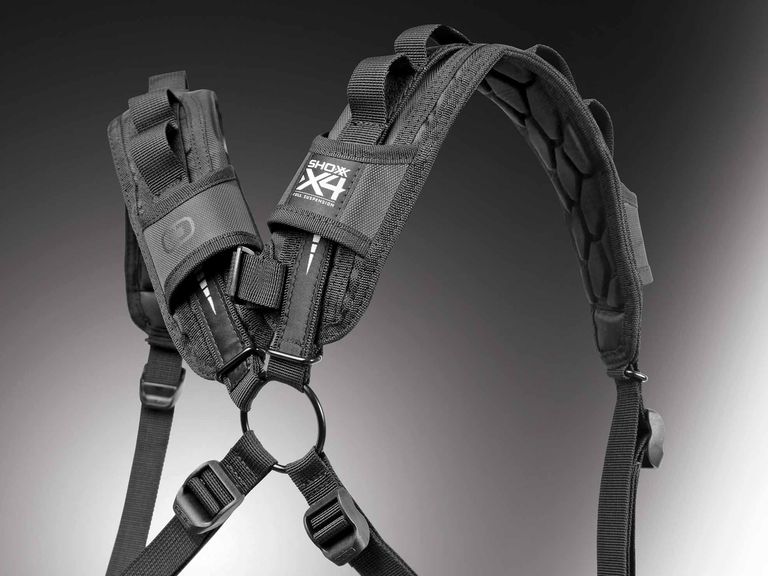 By Joel Tadman
Shock absorbing SHOXX X4 straps reduce the downward pull from the weight of your golf bag when carrying to reduce stress placed on your neck and shoulders
The new Ogio golf bag SHOXX X4 Suspension straps are set to make carrying your golf bag a more comfortable and pleasurable experience than ever before.
The SHOXX X4 Suspension straps address all the weight burden issues of carrying, no matter how much you load up. The system boasts comfortable advanced molded XX shoulder pads, but more importantly, an elastomeric suspension system between the shoulder straps and your bag that acts like a shock absorber in a car to eliminate weight shift and equalise the load as you walk.
SHOXX X4 will keep things on a much more even keel and help you feel more energetic over the last few holes of your round, no matter how much you choose to carry.
The elastomeric suspension system neutralises the effects of downward pull as you walk, placing significantly less strain on your neck and shoulders and leaving you fresher and better able to concentrate on your golf. SHOXX X4 suspension straps are fitted to several of OGIO's current stand bag range, including Grom, Silencer (above) and Ozone.
The new straps feature on the Silencer bag, which features the Silencer club protection system that cleverly locks things firmly in place top and bottom via an upper membrane and lower flex-grab teeth to stop your clubs moving around as you walk. It also eliminates the irritating bag 'chatter' that can quickly make you exceedingly unpopular out on the course.
The Silencer Stand bag with SHOXX X4 has an RRP of £189. The Grom Stand bag with SHOXX X4 £149 and the Ozone Stand bag with SHOXX X4 £169.