New Models Added To Cameron & Crown Putter Range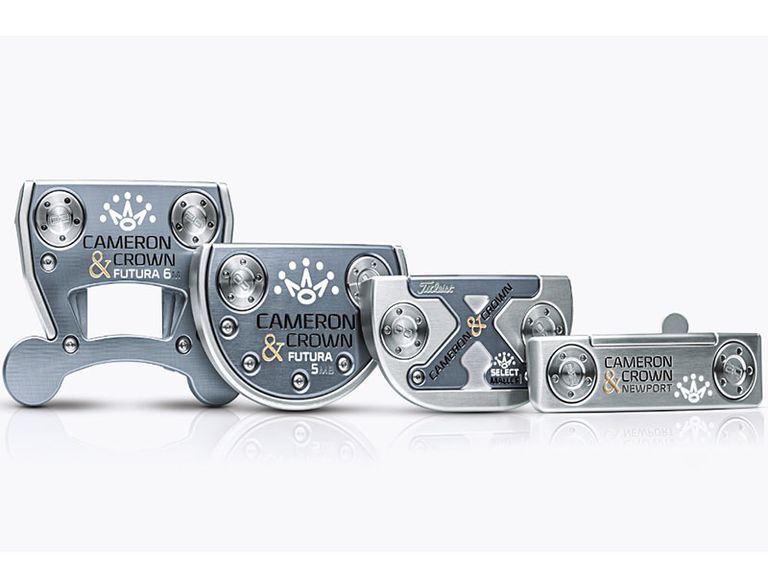 By Joel Tadman
New Models Added To Cameron & Crown Putter Range - Now those who prefer shorter 33-inch putters can experience new shapes including the Newport and Futura
New Models Added To Cameron & Crown Putter Range
Master Craftsman Scotty Cameron has followed-up on the success of last year's Cameron & Crown range by offering four new models to complete the 2017 line-up.
Made at 33 inches long and specifically weighted for players that prefer a shorter putter, the 2017 Cameron & Crown line includes popular head styles from Scotty's Select and Futura putter families: Select Newport, Select Mallet 1, Futura 5MB and Futura 6M. These provide modern blade, mid-mallet and high-MOI mallet options to satisfy a variety of strokes, styles and preferences for players at every level of the game.
"Our initial Cameron & Crown release was very well-received, and we continue to hear great feedback from golfers who are benefitting from the 33-inch setup," Cameron said.
"I've always said that the length sets the eyes, and the eyes set the path. For those men, women and juniors who need a shorter putter, it gets their eyes in the right position to make a proper stroke while maintaining good posture and balance."
Scotty Cameron himself explains how to choose the right putter for your game
Each Cameron & Crown putter benefits from multi-material technology – utilising 303 stainless steel and 6061 aircraft grade aluminium for face inlays, face-sole components and flange constructions.
A raw stainless steel finish with a unique Silver Mist treatment creates a radiant, yet glare resistant, appearance. Cameron & Crown graphics blend Scotty's familiar three milled dots left unpainted in misted stainless steel with an elegant white, gold, grey and black colour scheme applied to engravings.
Within the range, the Newport is a Classic heel-and-toe weighted blade. The Mallet 1 is a rounded, flowing mid-mallet with 6061 aircraft aluminium wrap-around face-sole technology and pop-through flange alignment system.
The Futura 5MB is a Classic, elegant "muscle-back" rounded mid-mallet with face-sole technology, and completely solid stainless steel flange.
Finally the Futura 6M is a stable and balanced high-MOI mallet that offers the ultimate in forgiveness and resistance to twist on mis-hits with dual-purpose alignment.
The new Cameron & Crown putters are available in golf shops from July 21st with an RRP of £335.