2017 Motocaddy Push Trolleys Unveiled
Five 2017 Motocaddy push trolleys have been unveiled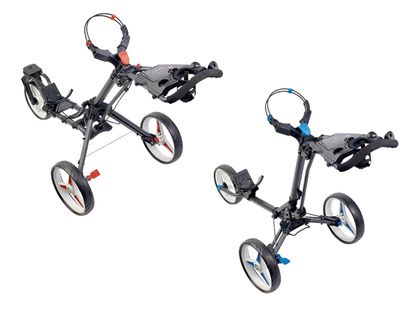 Five 2017 Motocaddy push trolleys have been unveiled, including the all-new P360, Cube and P1 models, plus a new look for the popular S1 Lite
Five 2017 Motocaddy push trolleys have been unveiled, including three completely new designs in the P360, Cube and P1 models.
The brand's biggest-ever push trolley offering will include a total of five models, with the three new additions joined by an upgraded version of the S1 Lite and the continuing M1 Lite.
Motocaddy P360 Push Trolley
The new Motocaddy P360 will enhance your manoeuvrability around the course thanks to a 360° fully-rotating front wheel that will help you to access the tightest of spaces and weave around bags on busy tee boxes.
Unlike the M1 Lite and S1 Lite models, the new P360 features multiple storage options, including an under-handle net, built-in drink holder, a scorecard clip, an integrated accessory compartment, an umbrella holder attachment and holes for carrying balls and tees.
Thanks to a simple one-step folding mechanism, the P360 is ready to use in seconds, while its ergonomic handle has an adjustable height to make it comfortable to hold and easy to steer.
The new P360 also boasts a foot-operated brake, quick-release wheels, adjustable bag supports and the brand's EASILOCK base that removes the need for a lower bag strap.
Motocaddy Cube Push Trolley
The new Motocaddy Cube trolley stands out thanks to a simple two-step assembly system that allows it to fold over 45% smaller than traditional push trolleys so it can fit into the smallest of car boots.
It also has a storage compartment near the handle like the new P360, as well as an adjustable height ergonomic handle and friction-free oversize wheels that help it to glide smoothly.
Motocaddy P1 Push Trolley
The lightweight Motocaddy P1 trolley weighs just 6.9kg and can be folded up or down in one simple step. It is also EASILOCK compatible, has friction-free oversized wheels, a foot-operated brake, adjustable handle height and quick-release wheels. As well as that, it has all of the same integrated accessory compartments for balls, tees, drinks and scorecards as the new P360 and Cube trolleys.
Motocaddy S1 Lite Push Trolley
The popular S1 Lite has also received an extensive upgrade for 2017 and now includes a stylish soft-touch ergonomic handle and the QUIKFOLD mechanism found on Motocaddy electric trolleys, like the Motocaddy S7 Remote or the Motocaddy S1 DHC.
Even lighter than its predecessor, it also incorporates easy-run oversized rear wheels and an anti-clog front wheel to ensure it is easy to push. Other standout features include a foot brake, insulated food and beverage pouch, adjustable bag supports and EASILOCK base.
Motocaddy M1 Lite Push Trolley
Completing the 2017 Motocaddy push trolley range is the ultra-compact Motocaddy M1 Lite trolley, which includes a triple-fold mechanism that allows it to fit into the smallest possible spaces.
In addition to its adjustable handle height, it also benefits from an integrated accessory station so you can attach up to four accessories to the handle, plus there is a convenient food and drinks pouch and a foot brake.
2017 Motocaddy Push Trolleys - Specifications
The new Motocaddy P360 will retail at £169.99. The Motocaddy Cube will cost £149.99 and the new Motocaddy P1 £129.99. All three models will be available from August in red or blue trim options.
The improved Motocaddy S1 Lite will retail for £119.99 and Motocaddy M1 Lite for £149.99. Both will be available in Black or Alpine finishes.
Jake O'Reilly specilaises in equipment coverage, and joined the Golf Monthly team in 2013. Before this he graduated from the University of Huddersfield with a Sports Journalism and Media degree, and worked at a number of British golf magazines. Follow Jake on Twitter
@jake0reilly