17 things you didn't know about Andrew Landry
We find out about the golfer who lies second in the US Open after day 3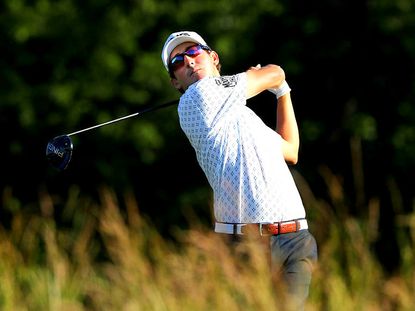 (Image credit: Getty Images)
Here are a list things you probably didn't know about Texan golfer Andrew Landry.
Andrew Landry lead the US Open after the first round, and he goes into the final day in second place, only two shots behind leader Shane Lowry. But the question many British television viewers were asking is - who exactly is this Andrew Landry fella? So we at Golf Monthly have found out a bit about him.
Here are 17 things you probably didn't know about Andrew Landry:
1. Andrew Landry was born on August 7, 1987 in Nederland, Texas.
2. He went to the University of Arkansas in Fayetteville and turned professional after graduating in 2009.
3. If he weren't a professional golfer, says he would want to be a fishing guide.
4. He once met President George W. Bush when fishing in Dallas
5. His favourite meal is crawfish and raw oysters.
6. He earned a tour card for the Web.com Tour in 2015 after finishing runner-up in the Web.com Tour Qualifying Tournament with rounds of 71, 67, 67, 69, 67, 68 (20-under par). He views the US Open as being much like Q School.
7. He played once on the PGA Tour in 2015, in the Shell Houston Open in April 2015, where he missed the cut after rounds of 76 and 73.
8. This season Andrew Landry has played 11 tournaments on the PGA Tour and his best finish has been a tie for 41st.
9. He has missed more cuts than he has made on the PGA Tour
10.. His average drive this season has been 290 yards. He has hit almost two-thirds of the fairways.
11. He is ranked 86th for long-distance drives and 42nd for accuracy of driving.
12. His greens in regulation stat for 2016 is 64%.
13. His favourite television programme is the situation comedy Seinfeld
14. He uses a Titleist golf ball
15 Andrew Landry is ranked 624th in the world.
16. He is 203rd in the FedEx Cup rankings
17.. He shot 66 in his first round in a Major.
Contributing Writer Golf courses and travel are Roderick's particular interests and he was contributing editor for the first few years of the Golf Monthly Travel Supplement. He writes travel articles and general features for the magazine, travel supplement and website. He also compiles the magazine's crossword. He is a member of Trevose Golf & Country Club and has played golf in around two dozen countries. Cricket is his other main sporting love. He is the author of five books, four of which are still in print: The Novel Life of PG Wodehouse; The Don: Beyond Boundaries; Wally Hammond: Gentleman & Player and England's Greatest Post-War All Rounder.