2023 Pebble Beach Pro-Am Odds and Betting Preview: Can Jordan Spieth or Matt Fitzpatrick Win as the Favorites?
This week's stop on the PGA Tour comes to us at Pebble Beach as we prepare for the 2023 Pebble Beach Pro-Am. There are many big names in the field, but Pebble Beach Pro-Am odds favor Jordan Spieth and Matt Fitzpatrick to win.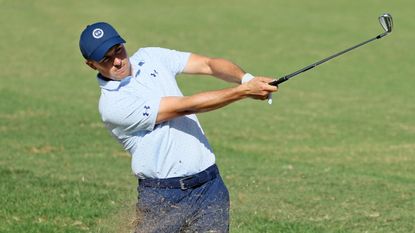 (Image credit: Getty Images)
The PGA Tour heads to the scenic, coastal beaches of Northern California for the 2023 Pebble Beach Pro-Am at Pebble Beach Golf Links for its next event. Beginning on Thursday, 156 professionals will be joined by amateur and celebrity golfers on three different courses at Pebble Beach, culminating with a cut-line enforced after Saturday's third round has been completed. Jordan Spieth and Matt Fitzpatrick are the current betting favorites to win outright at +1000, but plenty of talented players are lining up for a chance to hoist the first-place hardware and collect the winning purse. It's also a great opportunity for amateur golfers and celebrities to compete with each other and have fun while generating revenue for charity.
Max Homa just won his sixth PGA Tour event at Torrey Pines during the Farmers Insurance Open, recording his fourth win in his home state of California. He also saved his best performance for the last round, going six-under-par at Torrey Pines' South Course to usurp Sam Ryder with a brilliant combination of ball-striking, approach shots, and putting. Jon Rahm was the betting favorite after winning the previous two events outright. Still, he was unable to produce another masterful finish on Sunday, sliding from ten-under par to an eight-under-par finish with a +2 final round. We haven't seen a sudden-death playoff in 2023 yet, so will it finally happen at one of golf's most prestigious venues at Pebble Beach? The last time a sudden death playoff occurred at Pebble Beach was in 2016 when Phil Mickelson missed a birdie putt on the 18th hole and allowed Vaughn Taylor to mount a comeback win at -17-under-par.
Let's check out the top-ten Pebble Beach Pro-Am odds (opens in new tab), course layout, and a few players who warrant serious consideration to win outright ahead of Thursday's opening round at the 2023 Pebble Beach Pro-Am.
2023 Pebble Beach Pro-Am Odds
Swipe to scroll horizontally
| Golfer | Odds |
| --- | --- |
| Jordan Spieth | +1000 |
| Matt Fitzpatrick | +1000 |
| Viktor Hovland | +1100 |
| Seamus Power | +1900 |
| Tom Hoge | +2000 |
| Maverick McNealy | +2000 |
| Andrew Putnam | +2500 |
| Justin Rose | +2800 |
| Matt Kuchar | +3500 |
Jordan Spieth and Tom Hoge have each won at Pebble Beach in the last five years, which is why they're being given short odds to win outright once again this weekend. Hoge managed to hold off Spieth during last year's event, opening up with a strong 9-under par in Round 1, while sealing the deal with a two-stroke lead on Sunday. In fact, Spieth has finished inside of the top ten for three consecutive years after falling outside of the top 25 following his outright win (-19) back in 2017.
Seamus Power, Andrew Putnam, and Matt Fitzpatrick are getting a lot of love with oddsmakers and sportsbooks after finishing T9 or higher at Pebble Beach in 2022. Maverick McNealy had a T33 finish last year but had a second-place finish in 2021 behind Daniel Berger, delivering a final round of six-under-par to climb above Patrick Cantlay and Spieth. Seamus Power is one of the best ball-strikers in the field and has +1900 odds due to his skill set. He'll be motivated to avenge his disappointing final two rounds in 2022, going +3 across Saturday and Sunday to fall outside of contention for first place.
Several big-name players such as Dustin Johnson and Phil Mickelson are no longer competing on the PGA Tour circuit but they were dominant names who frequently won or finished in the top ten at Pebble Beach. This opens up ample opportunity for other players seeking to stake their claim and build their legacy at a challenging, iconic venue like Pebble Beach. The lack of continuity will be a big obstacle to overcome, as there are three courses that players will have to adjust to and compete at before returning to Pebble Beach Golf Links for the second time on a pressure-packed Sunday. Let's explore the course layout more, along with previous winners, relevant betting stats, and a few of my favorite golfers to bet on as outright winners ahead of the 2023 Pebble Beach Pro-Am.
2023 Pebble Beach Pro-Am Betting Preview
Pebble Beach Pro-Am Previous Winners
2022 - Tom Hoge (-19)
2021 - Daniel Berger (-18)
2020 - Nick Taylor (-19)
2019 - Phil Mickelson (-19)
2018 - Ted Potter Jr. (-17)
2017 - Jordan Spieth (-19)
Pebble Beach Pro-Am Relevant Betting Stats
Strokes Gained: Off-the-Tee
Strokes Gained: Tee-to-Green
Scrambling
Bogey Avoidance
Pebble Beach Course Layout
The PGA Tour continues to make it difficult on its players to acclimate and adapt to the same exact golf course, as Pebble Beach has three different courses to compete on across the first three days. The traditional cut-line, typically enforced at the same course after the first two rounds, will not be enforced until the end of the third round on Saturday, playing Pebble Beach GL, Monterey Peninsula CC, and Spyglass Hill GC.
Pebble Beach GL and Spyglass are both par-72 courses, with Spyglass tipping at 7,041 yards, edging out the other two for length. Monterey Peninsula CC (Shore) is the third course that is a par 71, stretching to 6,957 yards. Most of the courses have an even distribution of par 3s and par 5s, but Monterey only has one par 5 on the front nine. But, three par 3s on the front-nine demand precision and great putting without the benefit of an extra stroke to birdie.
Whether it's the sprawling coastal views, Cypress trees, or challenging hole locations on smaller greens, players will have their hands full trying to acclimate to each course's intricacies and hazards. Wind will be a constant factor off of the coast while sloping hills and cliffs will punish errant tee shots and approach shots. Putting will be at a premium, per usual, as the sloped fairways and greens add an extra layer of difficulty to overcome on these three courses located along the shores of Northern California.
Pebble Beach Pro-Am Best Bets - Outright Winner
Jordan Spieth (+1000) (Bet $100 to collect $1,100) Get these odds at DraftKings now
Not much persuasion is needed to back the 2017 winner of the Pebble Beach Pro-Am. Jordan Spieth has three consecutive T10 finishes, including the runner-up at -17-under-par in 2022, while entering the event well-rested after missing the cut at the Sony Open a few weeks ago. +1000 is still great value for a betting favorite, compared to the 4/2 odds Jon Rahm was given after winning at The American Express ahead of a disastrous final round at Farmers Insurance Open last weekend. Back Spieth ahead of a venue that he historically dominates.
Andrew Putnam (+2500) (Bet $100 to collect $2,600) PointsBet has the best odds for this outright pick
34-year-old American Andrew Putnam hasn't missed a cut all season. He's played ten events and only logged two T10 finishes, which includes a T2 finish at the ZOZO Championship back in October. Putnam has logged previous finishes of T6, T55, T38, and MC during his last four appearances at Pebble Beach. Putnam is ranked 34th in total strokes gained, hits 71% of his greens in regulation, and has a flat stick that can catch fire at any given moment. +2500 is great value to acquire ahead of Thursday's opening round, so invest in Putnam accordingly.
Trey Mullinax (+6000) (Bet $100 to collect $6,100) If you're backing Trey Mullinax, FanDuel has the best odds
30-year-old Alabama native Trey Mullinax is another intriguing prospect who can be labeled a long shot at +6000 odds. He has previously finished T28, T22, T47, and T14 at Pebble Beach, relying on a blend of powerful driving and running 49th in strokes gained approaching the green. It hasn't been a great start to Mullinax's season with only one T25 finish, but his previous success at Pebble Beach, combined with his lucrative odds, make him a quality dart throw.
Russell Knox (+6500) (Bet $100 to collect $6,600) You can head over to PointsBet to get the best odds for this play
Another long-shot player that has huge odds and a lot of past success at Pebble Beach is Scottish golfer Russell Knox. He's logged previous finishes of T33, T7, MC, T14, and T15 while boasting accurate irons that find the greens over 70% of the time. Knox also has great finesse and touch around the green, ranking sixth in strokes gained approaching the green, but he'll need to clean up other areas of his game in order to climb the leaderboard and have a shot at netting his fourth T25 finish in his previous six events played at Pebble Beach.
Lanto Griffin (+7500) (Bet $100 to collect $7,600) If you want to back Lanto Griffin at the best odds, Caesars Sportsbook is the place to bet
After making his PGA Tour debut last weekend with a T37 finish at Torrey Pines, 34-year-old American Lanto Griffin is eyeing up the potential to pull off an upset win at Pebble Beach. Griffin has logged previous finishes of T16, T9, and MC, so he's developed the ability to master the three-course circuit. The Florida native hit over 70% of his greens in regulation at a tougher Torrey Pines venue last weekend and has the ability to gain strokes with his putter and wedge when approaching the green, finishing 27th in strokes gained approaching the green in 2022. +7500 is a massive payout, so based on how fresh Griffin is, combined with his previous T16 and T9 finishes, Griffin is my favorite long shot to produce an outright win at Pebble Beach this weekend.
Matt MacKay is an avid writer, editor, and researcher. He enjoys analyzing the game from a fantasy sports and sports betting perspective. Music is another constant in his daily life. Matt loves spending time with his wife and three pets. He likes to read, listen to podcasts, and is constantly aiming to create the most accurate and engaging content in the sports betting industry.