Who Is Golf Commentator Jim Nantz?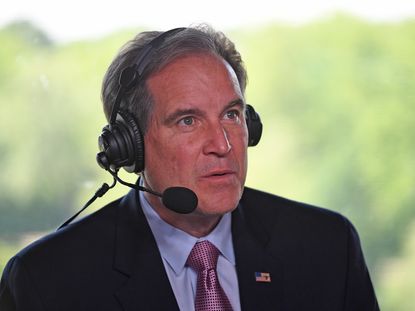 Who is Jim Nantz? We look at the background of the American broadcaster, who regularly appears on PGA Tour and NFL TV coverage
Who is Jim Nantz? In this article we look at the background of the American broadcaster, who regularly appears on PGA Tour and NFL television coverage.
Born in 1959 in North Carolina, Jim Nantz grew up in New Orleans, Louisiana and then New Jersey, where he was co-captain of his school basketball team and number one player on the golf team.
Jim Nantz then went to the University of Houston in Texas, where he majored in broadcasting and played on the Houston Cougars men's golf team. During this time he roomed with future professional golfers Fred Couples and Blaine McCallister. It was during this time that he got his first experience in sports broadcasting with the CBS Radio Network, recording taped interviews for Sports Central USA weekend reports.
In his early twenties he made it to an anchor and sportscaster position for KHOU Houston. He then became a weekend sports anchor on KSL-TV in Salt Lake City, where he commentated on college American football games and Utah Jazz basketball matches.
Jim Nantz moved up in the world by joining CBS in 1985, initially working as a studio host for the network's college football and basketball coverage. It was during this time that he started working in golf, covering the PGA Tour as an on-course reporter. He also commentated on NFL games for what was then called CBS Radio Sports.
Thanks to his success with these opportunities, Jim Nanzt soon became the anchor of CBS' coverage of the US Masters, which he has continued to do since 1989. Since 2009, he has also guest commentated on the final round of The Open Championship for the BBC.
Alongside his golf hosting and basketball commentary, Jim Nanzt has become 'The NFL on CBS' top play-by-play announcer and in 2007, commentated on Super Bowl XLI, making him one of just two men to host a Super Bowl, announce an NCAA Men's Basketball Championship game and host coverage of The Masters, with Brent Musburger being the other.
Outside of his anchoring and live commentary duties, he has appeared as himself in the 1996 film Tin Cup. He also provided extensive commentary for the 1990s PC golf game Jack Nicklaus 6 – Golden Bear Challenge, as well as for the Madden NFL series.
In his personal life, Jim Nanzt often plays golf with former President George H.W. Bush and launched the Nantz National Alzheimer Center after losing his father to the disease.
Jim Nantz was married to Ann-Lorraine Carlsen Nantz for 26 years before they divorced in 2009. He was ordered to pay his ex-wife $916,000 a year in child support and alimony, just a snip of his reported $7 million a year salary.
In 2012 Jim Nantz married Courtney Richards in a ceremony at Pebble Beach and in 2014 he and his wife welcomed a baby girl, followed by a second child, a boy named Jameson, in 2016.
Jake O'Reilly specilaises in equipment coverage, and joined the Golf Monthly team in 2013. Before this he graduated from the University of Huddersfield with a Sports Journalism and Media degree, and worked at a number of British golf magazines. Follow Jake on Twitter
@jake0reilly