GM Exclusive Q&A: Rich Beem On The 2017 Masters
We caught up with five-time Masters competitor and Sky Sports broadcaster Rich Beem ahead of this year's tournament at Augusta National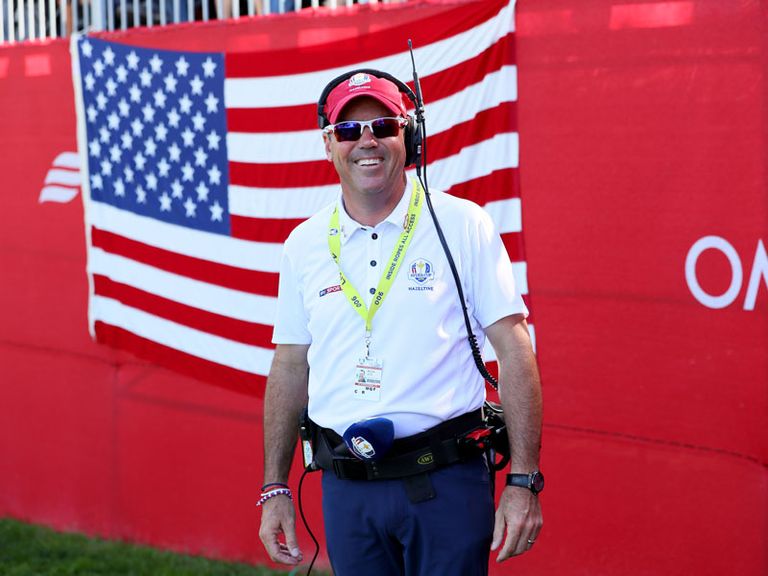 (Image credit: Getty Images)
"I don't have to face a five-and-a-half footer that is going downhill and sideways and if it doesn't hit the hole I know I've got a 40 footer coming back, that's a good thing I think!"
GM Exclusive Q&A: Rich Beem On The 2017 Masters
GM's Elliott Heath caught up with Sky Sports' Rich Beem ahead of the 2017 US Masters. Beemer, who has made five Masters appearances, spoke on a number of things including who he fancies for the Green Jacket this time around, what there's to do in Augusta City and whether or not he thinks Tiger Woods will play.
Sky Sports ' live offering in 2017 includes Majors, the PGA and European Tours, women's golf including all five Majors, the Solheim Cup and much more.
Are you looking forward to the masters?
"I look forward to going back to augusta every year, it's just an amazing spot. It always seems to produce some pretty excited stuff, I'm always excited about heading back to augusta and being part of it, it's just a pretty spectacular place all round."
Related: 2017 Masters betting tips
I understand this will be your fourth masters as a member of the press?
"This will be my second time with Sky Sports, I wasn't involved in my first year because they already made plans but I am excited about going back as part of the sky team. I think that we've got a great group of guys that head down there, it's great fun working with them and it's a busy week, for sure. It's non-stop action pretty much from Monday through to Sunday and by the time the week is over you're almost glad to leave Augusta just because the hours are so long, but I can't think of a better place to spend long hours and long days at than Augusta. It's a very cool spot and I love it, it's always great going back and reacquainting old friends, meeting new people. It's just one of those spots where you see everybody in the game and you just enjoy being there and I can't think of a better place to be for about a week to hang out if you're a golf geek like I am. It's just spectacular, it truly is."
What's it like going there to report on as a member of the press as oppose to playing in the tournament?
"Oh it's a lot less stressful! I don't have to try and figure out how to hit it an extra 15 yards and I don't have to face a five-and-a-half footer that is going downhill and sideways and if it doesn't hit the hole I know I've got a 40 footer coming back, that's a good thing I think! It's a little bit different but it's still work. You're out there and you've got long hours to try and figure out everything you possibly can about the golf course and I just kind of have to figure out some things about the players but in all reality it's more the golf course and how it's presented. It's always in spectacular shape but these players, even though they've gone year after year after year, some of them are still perplexed on exactly how best to play it. I think the guy that's been the most impressive is Jordan Spieth, his first three years out and if he continues to attack the golf course in the same way then he'll continue to have success but it's a golf course that always keeps you on your toes and if you get out of position just a little bit, you're in a world of trouble. I think from a TV standpoint that's the coolest point for me, is to tell the viewer exactly either A. How difficult the shot is or B. Where they need to hit it to put it back in position, because they're not going to do it so easily. That's the challenging thing about that golf course is that you have to be in the right section of the fairways and greens and you have to miss it around the greens in the right spot or you've got no shot."
The story of the 2016 Masters:
Can you paint a picture to people that watch at home, what is surprising about Augusta and what don't people get to see on TV that is so special?
"I think just the terrain. When you first walk onto the ground you walk through the main gate and you go and you get to the first fairway and behind the first tee you get to see how expansive the property truly is. It's probably the number one thing that I hear from everybody who goes for the very first time, exactly how big the golf course is, how expansive the entire property is and even though you see it on TV and they have different ways of projecting how big the slopes and undulations are, you really don't get a good idea until you get there. You can describe it all you want but until you actually see it you just don't get it, and that's the biggest part about it. It's not just the fairways and things like that it's the green complexes. You can't believe how much movement and undulations are actually in the fifth green and the 14th green and it's pretty remarkable."
Related: Rich Beem on the 'immaculate' Masters par 3 course
In the third round in 2003 you averaged 295 yards off the tee and had just 26 putts, can you remember much about that?
"My brother is with me and he doesn't believe me. I don't blame him I hardly believe it myself!"
You had 35 putts on day one and 26 putts on day three…
"Well that's not surprising, I probably hit it pretty good on the first day if I can remember correctly but I couldn't make anything. It was just abysmal, that was the year that on Thursday nobody hit a golf shot. It was just completely wiped out and so we go out there on Friday and you'd play the first round and they sent you back out to finish your second round but even more entertaining was that I think when we were finishing our second round, the rules committee were over on the putting green and they were basically saying to players "hey are you ready to go?" and the players would say "yeah I'm ready to go" and they would say "why don't you go off number one now with so-and-so?" and they just sort of shoved guys out there at any given time. It was a really bizarre situation and I forget exactly what it was, it was in between the second and third round I'm assuming. It was pretty interesting and that's the kind of thing that you can do when you have your own tournament. They were kind of shoving guys out there as seamlessly as they could just to get everything in so they could have a Sunday finish, which they got fortunately. I remember my first year, I don't remember the exact stats I had but 295 off the tee was about average back then I'm sure and 26 putts that must have been something phenomenal for me because those greens scared the bejesus out of me, I never felt comfortable whatsoever putting on those greens so 26 putts there, that's remarkable I've got to say."
Related: Will Rory McIlroy win the 2017 Masters?
What is the city of Augusta like and will the players go and experience it much in the evenings?
"There's a couple of restaurants the players will go and visit year-in year-out, at least some of the older guys, I'm not sure any of the younger guys do it. There's a restaurant right there on Washington Ave that the players go to 'T-Bones' and you'd always go in there, even today, and you'd walk in, I know the owner Karen, and I'll phone her up and say "Hi Karen I'm coming for dinner" and she'll say "no problem I'll fit you in" and they'll do that with all the players should they choose to go there. Most of the younger players rent houses and they've got their chefs and things like that, so not a whole lot of nightlife for the players. N
Now Augusta, it's an older town and with all the fans in town I mean every place is just packed to the gills. It's all fun. Everybody is just so happy to be there and so excited that the Masters is finally here and everybody seems to be in a great mood. It's a cool little town but you're not gonna see a whole lot of players out and about roaming around. You might see a few out Monday, Tuesday night, maybe one or two on Wednesday but you're not gonna see a whole load of guys out there just because they're pretty dialled in with their private houses and their chefs and things like that. But the town of Augusta, it's a nice little old town but you've got to remember too that whole town of Augusta – that's the one week where everybody makes their money. Now you've got a few industries in there as well but for the bulk of the town, that is the one week of the year where they make all their money."
Have Sky got anything up their sleeves this year coverage wise? Any new tech?
"I'm sure the technology that they've got working back in the studios is gonna be pretty remarkable, the nice thing is that we're gonna be on live coverage every minute that we possibly can. We kind of go through CBS coverage and it's basically all mandated also by Augusta National so all the TV cameras get turned on at the same time, we're live starting with the par 3 tournament, we've got live coverage and we'll do Thursday through Sunday. I'm sure there's gonna be some pretty wicked stuff that they have in the sky studio with Butch, Livo and Monty and McGinley and all that fun jazz. I have no idea what it is because they keep it close to their chests but these guys will come up with something wild and crazy and fun and it'll be neat."
One favourite and one outsider –
"My favourite right now will be Dustin. I just think that he's firing on all cylinders right now and you've got probably five or six guys that you can argue all the same point with and what not. Dark house – Is Jon Rahm considered a dark horse? A rookie. I mean no rookie has won since Fuzzy so that'll be my dark horse. This kid has got some serious talent, he's doesn't seem to be afraid of a whole lot but going to augusta for the first time you always kind of get a little bit, you know your knees seem to go a touch weaker with that opening tee shot but he seems to be the real deal. So if you're gonna give me Jon Rahm as a dark horse I'm taking him."
*This interview was from before the WGC-Mexico Championship so Jon Rahm was still a dark horse back then!
Related: 2017 Masters Par 3 Contest to have smaller field
Who will go well from the over 50s?
"Over 50 – let's see, that's gonna be a past Masters champion. You've got Vijay there, you've got Bernhard Langer there. Man, Freddie couples. Langer and Viay, their strokes kinda frighten me a little but so I'm gonna say Freddie."
Is tiger woods going to play the masters?
"Why are you doing this to me, why are you putting me on the spot? I don't think he will, no. I just don't see it right now I think that a lot of people have the same opinion and I think his body is just not where it needs to be. I think Steve Stricker said it pretty distinctly in his press conference the other day. Tiger's got a lot of physical issues, I think that is spot on. I just don't see him being able to play, and I don't think he'd want to go to a golf tournament at Augusta, a course that he loves and hobble around there for a couple of days. I think the golf course is too demanding physically on you and I just don't think that right now – I don't see it. I don't see him playing unless something crazy happens."
Elliott Heath is our Senior Staff Writer and has been with Golf Monthly since early 2016. Elliott graduated in Sports Journalism in 2016 and currently manages the Golf Monthly news, courses and travel sections as well as our Facebook, Twitter and Instagram pages. He is obsessed with the game and currently plays at West Byfleet Golf Club in Surrey. His handicap index floats between 3-5. His golfing highlight is making albatross on the 9th hole on the Hotchkin Course at Woodhall Spa, and he has made one hole-in-one.
Elliott is currently playing:
Driver: Honma TR20
3 wood: TaylorMade SIM2 Max
Hybrid: TaylorMade SIM Max
Irons: Honma TR20B
Wedges: Titleist Vokey Design
Putter: Odyssey White Hot OG #5
Ball: Titleist Pro V1x