Bill Elliott Masters blog: greens too soft?
GM editor-at-large Bill Elliott gives his latest Masters blog installment from Augusta National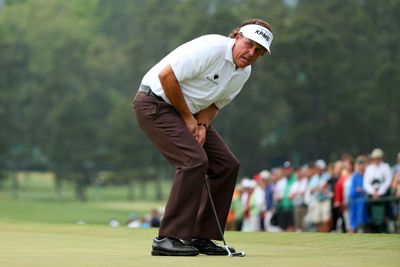 Get the Golf Monthly Newsletter
Thank you for signing up to Golf Monthly. You will receive a verification email shortly.
There was a problem. Please refresh the page and try again.
After an interesting sort of opening day here - lots of birdies, no big disasters - the really interesting stuff came in the early evening. And it came from the mouth of Phil Mickelson. On Tuesday The Great Lollop surprised most of us when he complained that Augusta's greens were being made too soft and that a lot of the old difficulty had evaporated. Mickelson was disappointed at this turn of events because in ye olden days at the Masters (about five years ago and beyond) the greens were allowed to become rock-hard, crusty and all but imppregnable to anyone except players who had the nerve and the high skill to hit an appropriate approach. So far this century this elite group has been led by Mickelson at Augusta. Three Green Jackets bear eloquent testimony to this fact. Yesterday, however, after a stuttering, occasionally superb, round that netted him a one under par 71, Mickelson was not so much disappointed as angry. And he was angry with himself. Really angry. You could see it in his eyes, hear it in his voice. "I'm paying this course too much respect because those greens are really soft. I mean you can attack these pins. You shouldn't be able to hit a ball into a pin set up top on 16 and have it stick next to its divot but you can. This is a birdie-fest and I've got to attack and that's what I'll do in the second round, " he said, eyes staring hard at anyone who caught his gaze. Mickelson has a big point here. Several years ago many of us criticised the men in blazers for creating an Augusta that was too hard, too demanding and, ultimately, too dull. Now they seem to have gone the other way and made it too easy. With rain expected those squelchy greens are set to turn even softer and although the wind is forecast to get up, most of these blokes can cope with that. If this continues through the weekend then I guess it will take at least 16 under to win, maybe 18. is that right? Does it feel right, smell right, sit right? No it absolutely doesn't. But, as Tiger would rather tediously say, it is what it is. What it isn't, however, is what it once was. And that's a pity. I'm with Mickelson on this one. Start to toughen those greens and bring the big talents back into play. We'll see what happens. PS: Tianlang Guan's opening Masters 73, a round crowned with a birdie on 18, had everyone smiling in amazement yesterday. A boy-child among men, Guan looked like he should be hustling ice-cream not playing in the Masters. But his slender build and young face belies an extraordinary talent for this daft, old game. Can he keep going? I hope so. But can he make it ultimately as a great adult golfer? Who knows. Life is littered with once great kids who end up discovering that's all they actually were...once great kids.
Get the Golf Monthly Newsletter
Tips on how to play better, latest equipment reviews, interviews with the biggest names and more.
Bill has been part of the Golf Monthly woodwork for many years. A very respected Golf Journalist he has attended over 40 Open Championships. Bill was the Observer's golf correspondent. He spent 26 years as a sports writer for Express Newspapers and is a former Magazine Sportswriter of the Year. After 40 years on 'Fleet Street' starting with the Daily Express and finishing on The Observer and Guardian in 2010. Now semi-retired but still Editor at Large of Golf Monthly Magazine and regular broadcaster for BBC and Sky. Author of several golf-related books and a former chairman of the Association of Golf Writers. Experienced after dinner speaker.