12 of the Sexiest Golfers
A look at 12 of the sexiest golfers on the planet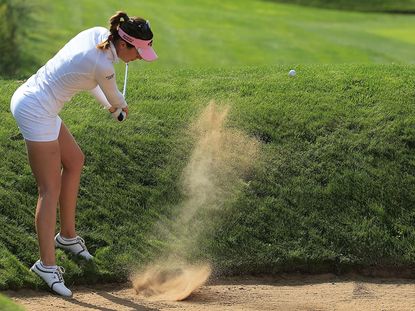 (Image credit: Getty Images)
Here we take an irreverent look at 12 of the very sexiest golfers on the planet, from Adam Scott to Sandra Gal and with plenty of talent in between.
Golf is, of course, a supremely sexy sport and pretty much anyone who can wield a club with a degree of proficiency is seriously hot stuff. Go down to any Golf Club across the UK and stand by the first tee for a few hours, you'll be staggered by the selection of "eye-candy" strutting their stuff on the fairways – "talent" of sufficient quality to rival any trendy nightclub or beach resort.
So if simply by playing golf, someone's sex appeal goes through the roof, those who happen to be physically attractive before they don their spikes are on to a winner. Here we take a look at 12 of the very sexiest players on planet golf. There are plenty others out there, but we thought that any more than this on one webpage might just be too much for the internet to take…
So, in no particular order, actually in alphabetical order according to their first names, we salute some of the hunks and babes of the sport we love:
Adam Scott And he's such a nice guy too. The Aussie is someone you'd be delighted to take home to meet your parents. Or, if you were one of the parents, you'd be delighted to meet him. Stylishly dressed, lean and muscular with film-star good looks, the 2013 Masters Champion is golf's Brad Pitt and would make quite a catch. Unfortunately he got married to a Swedish architect called Marie Kojzar and the couple are expecting their first baby. What a spoilsport!
Anna Rawson Anna had a bit of a head-start on her golfing rivals in the sex-appeal stakes, as she began her career as a model, aged 16. The Australian appeared on the catwalk, on billboards, in print and on TV. Not content with that though, she realised she was pretty handy at golf too. She had a fine amateur career and then enjoyed two seasons on the Ladies European Tour and a stint on the LPGA Tour.
Camilo Villegas Just look at those muscles. You know when you're at work, and you've called a plumber to sort something at the house, and your wife has taken a half-day to meet him? Well, Camilo Villegas is what you dread he's going to look like. He's also incredibly flexible, as his famous "spider-man" method for reading greens displays, so he'd be extremely good at getting in to hard to reach pipes and that sort of thing.
Danielle Montgomery Another Australian – what do they feed them down there? Actually Danielle was born in Southampton, England but she lives in Perth, Australia. She is extremely fit. No, she really is, she's made her state team in both swimming and triathlon in the past. She's played on the Ladies European Tour and her best finish is a tie for second in the 2012 South African Women's Open.
Graeme McDowell GMac makes it onto our list for the glint in his eye and his sartorial elegance. He may have lost most of his Irish accent somewhere in the mid-Atlantic, but he still has the gift of the gab and the ability, "for sure" to charm the pants off anybody within earshot.
Henrik Stenson The Swede gets the nod for his physical presence. He's 6 foot 1 and he's tons of fun and he dresses to a tee, he's got big guns and when in the hunt, uses them so viciously… (to hit the ball a very long way and hole some good putts.)
Maria Balikoeva, (formerly Verchenova) Another player who has done some modelling as well as playing golf, (not fair is it) Maria has played on the Ladies European Tour since 2007. She's had a number of top-10 finishes on the circuit and she's looked pretty darned hot while recording them. Unfortunately she's also married and has a child. Why are all the good ones taken?
Martin Kaymer Kaymer makes the line-up for the sheer German efficiency of his looks: Unblemished skin, short well-kept hairdo, good physique with strong arms and slim hips, neat and nicely-fitted polo shirts coupled with tailored strides. Good work Martin.
Natalie Gulbis Ah Natalie. She just loves a swimming cozzie. And with a body like hers, why not eh! She's also pretty good on the fairways. She's won four times on the LPGA Tour and has finished in the top-10 at seven Major championships.
Paula Creamer "The Pink Panther" has been a favourite of most red-blooded male golf fans since she first appeared on the scene in 2005. With her Prom Queen smile, flowing hair and short skirts, she'd make the ideal mixed-greensomes partner. Oh for crying out loud, she's just got married too, to some chap called Derek Heath. He must be rich.
Rickie Fowler With his surfer-boy image, Rickie appeals to the cool chicks (and some mums too.) Tanned skin, silky brown hair and occasional tash, Rickie looks like he's strolled straight off the beach onto the first tee. Just look at him in this pic – like something out of Hollywood.
Sandra Gal Anyone who can look this good getting out of a bunker deserves their spot in this list. Sandra has a degree, has done some modelling and has a victory on the LPGA Tour, as well as almost $3 million in career earnings. The German is 6-feet tall with an amazing figure and long brown hair and, wait a minute, it looks like she isn't married. Form an orderly queue boys.
Fergus is a golf obsessive and 1-handicapper. Growing up in the North East of Scotland, golf runs through his veins and his passion for the sport was bolstered during his time at St Andrews university studying history. He went on to earn a post graduate diploma from the London School of Journalism. Fergus has worked for Golf Monthly since 2004 and has written two books on the game; "Great Golf Debates" together with Jezz Ellwood of Golf Monthly and "The Ultimate Golf Book" together with Neil Tappin (also of Golf Monthly)... Fergus once shanked a ball from just over Granny Clark's Wynd on the 18th of the Old Course that struck the St Andrews Golf Club and rebounded into the Valley of Sin, from where he saved par. Who says there's no golfing god?