Open Championship 2016: Key Dates in History
We take a look back at some of the big moments in Open history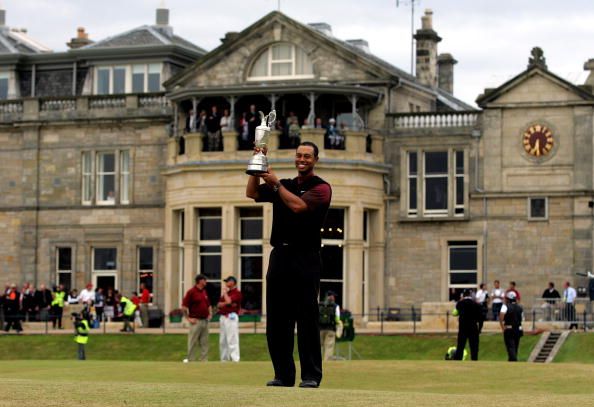 (Image credit: Getty Images)
Golf Monthly takes a look at some key dates in the history of the Open Championship
1860 - Prestwick Golf Club: The inaugural Open Championship was played over three days on the 12 hole course. Willie Park, Sr. was the inaugural champion, defeating the field of seven other professionals, with a score of 174.
1861 - Prestwick Golf Club: The Open Championship is opened to amateurs as well as professionals. "Old" Tom Morris defeated Willie Park, Sr. by four strokes. This would be the first of four victories at the Open Championship for Tom Morris, Sr.
Open Championship betting tips
1870 - Prestwick Golf Club: The Challenge Belt, the original winner's prize, was retired after "Young" Tom Morris wins for the third-straight time. The 1871 Open Championship was cancelled because there was no longer a prize available.
1894 - Royal St George's Golf Club: The first Open Championship held outside of Scotland. J.H. Taylor won by four strokes over Douglas Rolland, taking home the £30 first-place prize money.
1907 - Royal Liverpool Golf Club: The first non-British player wins the Open. Arnaud Massy of France won with a score of 312, two strokes over J.H. Taylor.
1914 - Prestwick Golf Club: Harry Vardon wins the Open Championship for the sixth time, a record that still stands today. He defeated the defending champion J.H. Taylor by three strokes, winning £50.
1915-1919: No tournaments held due to World War I.
1922 - Royal St George's Golf Club: Walter Hagen is the first American to win the Open Championship, with a score of 300. He would go on to win the tournament three more times, all within the next seven years.
1940-1945: No tournaments held due to World War II.
Open Championship 2016: Previous winners at Royal Troon
1959 - Muirfield Golf Linnks: Gary Player is the first of the "Big Three" (Player, Jack Nickalus, Arnold Palmer) to win the Open. Player would go on to win three championships, Nickalus won three as well, and Palmer won twice.
1977 - Turnberry: Tom Watson won his second of five total Open Championships, defeating Jack Nickalus by one stroke, leading this tournament to be known as the "Duel in the Sun". Watson and Nickalus played each of the last two rounds together, completely separating themselves from the field, as Watson finished -12 and 3rd place finisher Hubert Green finished -1. Watson birdied four of his final six holes, breaking the tournament record at that time by eight strokes.
1995 - St Andrew's: John Daly wins the Open Championship after a four hole playoff with Costantino Rocca, after Rocca's 65 foot birdie putt on the 18th hole to force the playoff. Daly's victory spurred an era of American dominance in the Open, in which Americans won ten of twelve Open Championships between 1995 and 2006.
Golf Monthly's Neil Tappin and Jezz Ellwood play Troon's 18th hole at Foresight Sports in Guildford
2000 - St Andrew's: Tiger Woods wins his first Open Championship, making him the youngest player ever to win all four majors. His score relative to par of -19 set a record for lowest score under par in any major championship, a record which still stands today.
2005 - St Andrew's: Jack Nickalus says goodbye to professional golf, finishing his career at St Andrew's. Nickalus won the Open three times, but finished as the runner-up a record seven times and had a record-tying 16 top-5 finishes. Tiger Woods won the tournament with a score of 274, after leading each day of the championship.
Royal Troon hole by hole guide
2006 - Royal Liverpool Golf Club: Tiger Woods wins his third Open Championship, repeating after winning the Open in 2005. This was the first major that Tiger won since the death of his father.
2007 - Carnoustie Golf Links: Open history was made when Padraig Harrington became the first Irishman to win the Open Championship since Fred Daly in 1947. He won with a score of 277, and went on to repeat his championship the next year at the Royal Birkdale Golf Club.
2013 - Muirfield Golf Links: Phil Mickleson wins the Open for the first time, after shooting a final round of 66 to defeat runner-up Henrik Stenson. Mickleson's incredible comeback after starting the final day five strokes behind the leader gave him his fifth major championship.
2014 - Royal Liverpool Golf Club: Rory McIlroy wins his first Open at Hoylake, edging out Sergio Garcia and Rickie Fowler. The Northern Irishman earned his third major by two strokes and became one of three players, alongside Tiger Woods and Jack Nicklaus, to win three of the sport's majors by the age of 25.
2016 - Royal Troon Golf Club: Sky Sports broadcast first ever Open Championship on pay-to-watch TV, ending BBC's 60-year run as Open broadcaster.
Mike Smith is an American undergraduate student studying journalism and political science at the University of Wisconsin-Madison. He is spending the summer living in London, studying British life and culture and working for Golf Monthly. He is excited to gain international working experience, as his career goal is to work in sports journalism.