Bill Elliott: Ryder Cup diary Thursday
Bill looks ahead to the start of competition and reflects on last night's gala dinner.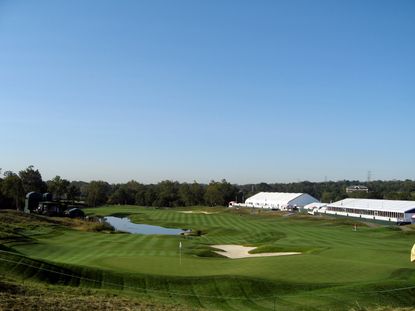 WE'RE nearly there. It's within sight. I can smell it in the air. I'm referring of course to the Ryder Cup. By this I mean the bit where all the waffle stops, the phoney stories get put away and these blokes actually start to hit balls. Later today we'll find out the pairings and then we can all retreat to a decent bar to think deeply about what it all means.
To be honest, I am still trying to work out what last night's gala dinner meant. For a start it was the first serve-yourself-buffet-supper-black-tie do I've ever attended. Food was good but serving oneself? Please. What, however, was even weirder was the absence of either captain or the teams from proceedings.
One thousand very decent local people had coughed up 500 bucks each to attend only to discover that they were not mingling with the week's stars but, rather sadly, with each other. I bumped into Sir Michael Bonallack over pre-dinner drinks - I served him and he served me - and listened while he told me that the players had demanded this non-attendance because they had been bothered by so many autograph hunters during the gala dinner in Dublin two years ago.
Oh, the poor, wee souls. How awful for them. Or to put it another way…what a bunch of spoiled, up themselves wallies. I responded to Mike's explanation by telling him about the moment I popped into the hotel bar immediately before that Dublin supper in 2006. It was crowded but sitting at one of the tables, drinking a pint of Guinness and talking to half a dozen Irishmen he'd just met was a tuxedoed Arnie Palmer.
No hiding for Arnie. And he'd just piloted his plane across the Atlantic. Now that's style. Something not many of today's players possess in abundance. Eventually the teams did turn up to say hello to us. Or rather we moved out of the dining area and filed into the theatre next door where following a ludicrously pompous intro in which an actor pretended to be Samuel Ryder, the curtains parted and there were the teams, standing on the sort of curved staircase that Morecambe & Wise used to dance down.
They were each announced, walked down, accepted the applause and walked off. Last down the stairs were the captains. Faldo & Azinger, official comedians to golf. Interviewed by some American TV bloke the skippers went into a well rehearsed routine. Naturally it didn't work. Then they cleared off and we all got to go back to the dining place for what was officially billed as Desserts and Dancing. Ever tried to eat a chocolate mousse while jigging around with what turned out to be an off-duty Kentucky policewoman?
Thought not. My advice is keep it that way. Roll on the golf. Did I mention my head hurts?
Bill has been part of the Golf Monthly woodwork for many years. A very respected Golf Journalist he has attended over 40 Open Championships. Bill was the Observer's golf correspondent. He spent 26 years as a sports writer for Express Newspapers and is a former Magazine Sportswriter of the Year. After 40 years on 'Fleet Street' starting with the Daily Express and finishing on The Observer and Guardian in 2010. Now semi-retired but still Editor at Large of Golf Monthly Magazine and regular broadcaster for BBC and Sky. Author of several golf-related books and a former chairman of the Association of Golf Writers. Experienced after dinner speaker.