Under Armour Spieth 2 Shoe
Read our verdict on Under Armour's new signature golf shoe, the Spieth 2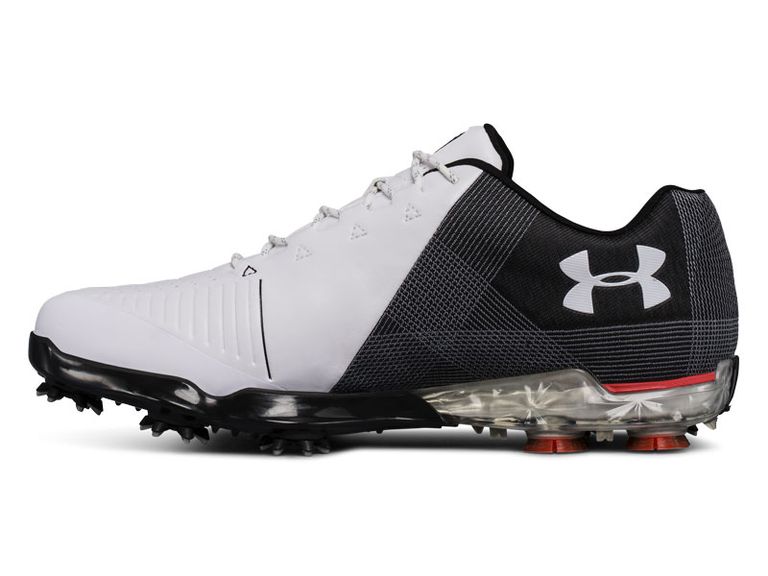 This is a structured, performance golf shoe that locks the foot in place and prevents excessive movement or rotation of the feet very effectively. The styling is still eye-catching, but is now neutral enough to cater for a wider variety of tastes, although the Smart Weave fabric section at the back may be more difficult to keep clean if it gets muddy.
Reasons to buy
+

Excellent grip, comfort and stability and more pleasing aesthetics. A solid connection with the ground and reduction in unwanted foot movement helps maximise power.
Reasons to avoid
-

Still a firm feeling, stable shoe that not everyone will enjoy. Smart Weave section is difficult to keep clean.
By Joel Tadman
Under Armour Spieth 2 Shoe Review - We test out the Under Armour Spieth 2 golf shoe on the course to see how it improves over the original Spieth 1
Under Armour Spieth 2 Shoe Review
Aimed At This is aimed at golfers that want the grip of a cleated shoe with waterproof protection and tour proven performance.
Key Technology A breathable, 100 per cent Gore-Tex waterproof upper has been added for the ultimate in waterproof protection. This upper now has TPU fibers woven into it for lightweight support and added comfort, making it lighter than Spieth 1.UA's Rotational Resistance Spikes help lockdown the foot and maintain connection with the ground in every direction during the swing. The Spieth 2 also has been made around 57 grams lighter than the Spieth 1.
GM Review
Comfort There is noticeably more padding around the ankle and under the tongue, making it feel instantly soft and comfortable out of the box. The synthetic upper too has a surprisingly soft, premium feel to it.
Support The snug heel section and unique outsole elements create a solid base from which to swing by providing effective grip and a solid connection with the ground. This comes from the unique Rotational Resistance spikes, low profile design and firm outsole material - all contributing to a stable platform.
We really liked the Spieth 1 but felt it was a touch heavy and the styling was on the busy side. Both these areas have improved considerably with Spieth 2. It is noticeably lighter but still soft-feeling under foot. In fact, the extra flexibility of the outsole makes it more comfortable as a walking shoe and also helps feel more connected to the ground.