Tiger Woods Denies Imminent Return
Despite playing his first round of 2016, Woods hasn't set a return date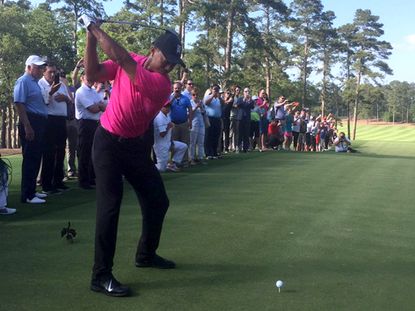 (Image credit: @TigerWoods Twitter)
Tiger Woods has played his first holes since last August at the opening of Bluejack National, but insists he hasn't set a return date
Tiger Woods Denies Imminent Return
Tiger Woods has played his first holes since last August at the opening of Bluejack National, a new course in Texas that he helped design, but when talking to the press after, the American insisted: "I haven't set any date to when I'm playing again."
The 14 time major winner hit a ceremonial tee shot and played five holes alongside lifelong friend Mark O'Meara, but doesn't believe he's quite ready to tee it up back on the PGA Tour yet.
Speaking to the press after his brief outing, the 40-year-old said: "I'm definitely a little tired but I feel pretty good. I haven't been out here playing like this. I hadn't played any holes until today. I know people have said I've played holes back at Medalist, but I haven't. This is actually the first time I've played holes since Wyndham. It's been awhile.
Woods added: "I'm just progressing. You saw how I was going at it today, nice and smooth. That's harder than I have been going at it the last month. Just gradually progressing. We're just trying to progress and I'm doing that."
Talking in more detail about his rehabilitation, Woods said: "I would not have said I would be here like this five months ago. I wouldn't have thought I'd be able to do what I did here now. Or play with my kids again, things of that nature.
"It's been a long road. To actually be able to play soccer with my kids again, to do something like this, to be able to live life ... that's what's been nice. Five months ago I couldn't. To be three months out of surgery and feel like that, it was tough. I still have a long ways to go. But I'm on the back side. I'm getting better, but I'm also getting closer to feeling better every day."
Despite the rumours, Woods insisted he is not targeting a specific tournament for his return, and skirted talk of reports that he would be playing tournament golf soon.
"I've got to get stronger and I've got to get faster. I'm not hitting it very far right now. I still have a lot more to go in the tank as far as speed, which is great. I'm able to hit the ball as far as I am right now just cruising," Woods said.
"I haven't set any date to when I'm playing again, which is frustrating to say. But to be honest with you, that's what I've had to do. I've had to go with that mindset. Would I have said that five months ago? No way."
Woods' progress comes after he underwent two back operations last autumn to remove a small disc fragment that was pinching a nerve, and adds to the hope his return is on the cards, especially after it was recently revealed that he has registered for the US Open in June.
Jake O'Reilly specilaises in equipment coverage, and joined the Golf Monthly team in 2013. Before this he graduated from the University of Huddersfield with a Sports Journalism and Media degree, and worked at a number of British golf magazines. Follow Jake on Twitter
@jake0reilly