Padraig Harrington Reveals 'Most Impressive Driver I've Played With'
Padraig Harrington has praised Denmark Nicolai Hojgaard as the "most impressive driver" he's played with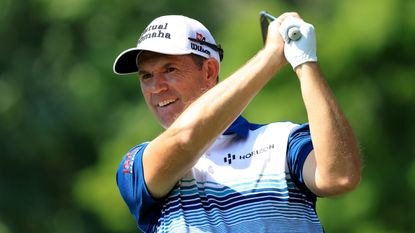 (Image credit: Getty Images)
Padraig Harrington is one of the most successful European golfers to grace the game over the previous 25 years, winning three Major championships, 15 European Tour titles and featuring on four winning Ryder Cup teams.
The Irishman has played alongside some of the greatest players of the modern era, although he has revealed the most impressive driver he has played with following a Twitter exchange with Eddie Pepperell and it's not one of his era's greats like Tiger Woods, Phil Mickelson, Adam Scott or Ernie Els.
Pepperell tweeted ahead of this week's Dubai Desert Classic that he was set to play with two mighty drivers of the ball in Nicolai Hojgaard and Harrington, who has increased his ball speed despite turning 50 last year.
"First week this week with a driver back in the bag… And I'm paired with Nicolai and Padraig… Play your own game play your own game play your own game don't get depressed," Pepperell wrote.
There are levels and neither of us are on Nicolai's. So there'll be two of us feeling inadequate. He's the most impressive driver I've played with.January 24, 2023
See more
The Irishman then replied detailing his admiration for the Dane: "There are levels and neither of us are on Nicolai's. So there'll be two of us feeling inadequate. He's the most impressive driver I've played with."
High praise for Nicolai Hojgaard indeed, and the 21-year-old has certainly justified the comments from Harrington, especially with his driving statistics (opens in new tab) over the previous few years.
In 2020, his first full year on the DP World Tour, he ranked third for driving distance, averaging 327.34 yards, while 2021 and 2022 saw the youngster rank fifth with 314.8 and 322.23 yards respectively.
Hojgaard is a two-time DP World Tour winner, with victories coming at the 2021 Italian Open and 2022 Ras Al Khaimah Championship.
Nicolai and his twin Rasmus made history in 2021, winning DP World Tour titles in consecutive weeks. A week after Rasmus won the European Masters, Nicolai triumphed at the Italian Open, and the twins certainly look like they could be part of many European Ryder Cup teams over the next decade or so.
With Luke Donald hoping to usher in a new era for team Europe, the 2023 edition could see a major changing of the guard. Previous stalwarts such as Sergio Garcia, Lee Westwood, and Ian Poulter are unlikely to claim the required qualification points, while Donald looks certain to utilise his captains picks on players who are committed to the DP World Tour and not LIV Golf.
It's testament to how good Nicolai is that a three-time Major winner feels inadequate playing with him and if he continues his upward trend – alongside his brother – then the future looks bright.
Ross Kilvington is a freelance writer from Scotland who has had his work published by acclaimed publications such as Nutmeg alongside popular online blogs including the Gentleman Ultra, North Section and Engrossed in Football. Ross holds a passionate interest in golf and tries to play as often as possible, although having two daughters under the age of four means his quest to break 80 will have to wait a little bit longer. He writes about golf in his spare time, most recently having an article published in the Golf Memories anthology Mind the Links, which was released in July with all proceeds going towards Alzheimer charities. With a handicap that floats between 13-14, highlights are few and far between on the golf course, with an eagle on the par 4 16th at Kinghorn one that stands out (it doesn't matter that it was only 290 yards!).