Searching For The Ultimate Golf Club In GB&I
Golf Monthly would love to come along and sample a day in the life of your club.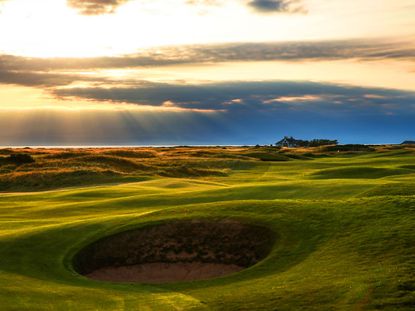 What are the elements that combine to make the ultimate golf club? Golf Monthly is looking to feature some of the best clubs around GB&I. Does your club or one you've visited fit the bill?
Searching For The Ultimate Golf Club In GB&I
I've spent a lot of time travelling recently, which has given me plenty of opportunity to think. I keep coming back to a topic: what would the ultimate golf club look like? Let's call it Utopia GC.
Well, it would have an attractive, challenging 18-hole course featuring different teeing grounds to cater for all; the rough would be kept at a sensible height; and there would be no long grass under trees! Divots would always be replaced, bunkers raked and pitch marks repaired.
Related: Golf Monthly UK&I Top 100 Courses
There would also be a short course where beginners could learn in a less-intimidating arena before progressing to the full-length layout. Pace of play would be brisk on both courses and it would boast practice facilities that inspired you to hit balls far more frequently than normal!
The club would be friendly and welcoming and operate a modern dress code where common sense ruled. Members and guests could use their phones when required, but would never disturb others as they'd keep them on silent and find a quiet corner if they needed to use them. There would be a busy social diary and all events would be well supported.
Related: The Future Of Golf Club Membership
Utopia would be well known for its excellent food and members and guests would often go there to eat even if they weren't playing. And, of course, there would be a regularly changing selection of real ales! A variety of membership options would be provided, including flexible and family categories, and subs would renew in May.
Just as important as all of the above, the club would be a genuinely family-friendly place and as a result there would be thriving ladies' and junior sections attracting new players to the game.
Related: How Can Club Membership Be Made Appealing?
There must be some genuine Utopia GCs out there? If there are, Wed like to hear from members. Golf Monthly would love to come along and sample a day in the life of your club. If your club or a club you've visited fits the bill then email us and let us know email: golfmonthly@timeinc.com,
Don't forget to follow us on social media Facebook: facebook.com/golfmonthlymagazine and Twitter: twitter.com/golfmonthly
Mike has been a journalist all his working life, starting out as a football writer with Goal magazine in the 1990s before moving into men's and women's lifestyle magazines including Men's Health, In 2003 he joined Golf Monthly and in 2006 he became only the eighth editor in Golf Monthly's 100-plus year history. His two main passions in golf are courses, having played over 400 courses worldwide, and shoes; he owns over 40 pairs.
Mike's handicap index hovers at around 10 and he is a member of four clubs: Hartley Wintney, Royal Liverpool, Royal North Devon and the Royal & Ancient Golf Club of St Andrews.