The Future Of Golf Club Membership
Roderick Easdale speaks to a host of different facilities to build a picture of the state of the golf club industry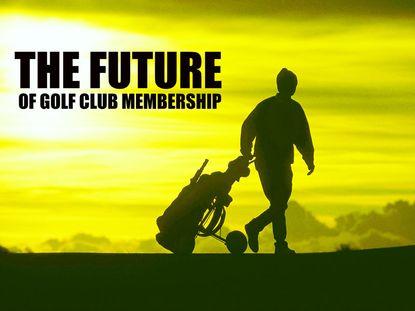 Roderick Easdale speaks to a host of different facilities to build a picture of the state of the golf club industry
The Future Of Golf Club Membership
When I first golfed as an adult, I would rise at 6am on a weekend, go downstairs and pick up the phone. I would call repeatedly until I eventually got through – this tended to be sometime around 7.20am – to book a tee time from the limited selection that was left by then. Playing a weekly game of golf at the weekend at my local 18-hole pay-and-play course required this rigmarole each time.
This was the early 1990s. The course, at that stage, had no clubhouse and took no members. So when another pay-and-play course opened up, I joined that as a member. It was my first club and gave me my first handicap. The membership was oversubscribed from the start. The design was unexciting and the maintenance a touch iffy in parts, but the club was popular and busy.
Soon, this course will become a housing development. My nephews' first club, a beautiful par-3 nine-holer, closed last winter. One of the other local clubs we would play occasionally – another nine-holer – also shut down around the same time last year. This eradication is happening all over. In these pages recently, Elliott Heath wrote movingly of playing a final round at his first club, which was also closing.
The question is, then, can the traditional stand-alone golf club, one which relies simply upon golf and golfers, survive? If so how? Or do golf clubs now need to be part of some wider enterprise?
Littlestone GC has had some distinguished committeemen – at one stage prime minister Herbert Asquith was its captain while the leader of the opposition, Arthur Balfour, was its president. But in 2014, the secretary role was abolished and business managers were brought in.
One of these was Sarah Saunders. "The club entered 2014 without having made a profit in any of the previous ten years," she explains, "but in 2015 we turned a profit of £30,000. There are many things you can do to be more commercial which do not reduce the emphasis on being a traditional club. For example, we changed our IT system and halved our costs in that domain."
Members' clubs
Members' clubs have traditionally been run by a few salaried staff and many volunteers. "We are lucky to have people high up in their professions on our committee – solicitors, bankers and so on – and if we had to pay them the going rate it would be expensive. But some clubs have people with no expertise or skills to match these individuals' areas of responsibility – that would not happen in a private operation," says Highgate GC secretary David Bryce.
"Traditionally, captains headed and ran clubs during their year in office. But many clubs now elect a chairman for a minimum three-year term to run things and the secretary reports to the chairman, with the captaincy now more of a figurehead role." Several clubs are now run by boards rather than committees.
An ongoing problem is that too many clubs are chasing too few customers. Richard Haygarth, who worked in business turnaround for PricewaterhouseCoopers before becoming a golf course owner, believes losing a few clubs wouldn't be a bad thing. Nick Gammon, managing director at Trevose GC, agrees: "Struggling clubs that drive down prices just to cover their costs and have nothing left to reinvest hinder the whole industry," he says.
Some struggling clubs, however, have been able to recover. Some years ago, Reigate Heath was on its knees as the membership had shrunk to perilous levels. It introduced discounted introductory memberships on the assumption that once people had experienced the club they would stay. They did, and it bounced back.
Other highly respected clubs have done something similar. For example, Moor Allerton's offer to new members of a 20 per cent discount on their first year garnered a 2016 net membership increase of 15 per cent. Elsewhere, flexible and credit-based options have become more common.
Another key consideration for members' clubs is recruiting youngsters. Research by Sports Marketing Surveys found that in 2009 the average age of once-a-week golfers was 48, but by 2013 it was up to 63.
A way to combat this is to make clubs more family-friendly. Fynn Valley won the Most Welcoming Golf Club award from Golf England, and owner Jenny Holmes explains: "We have a teaching programme to get women into golf. With women often come families, so you need an offering for the children as well. We welcome children to our golf days or to use the range, putting green or nine-hole golf course." Branston GC, meanwhile, is considering setting up a creche.
Richard Haygarth has built Adventure Golf courses – upmarket crazy golf – at two of his clubs. "It's a game changer. It moves your facility from being a golf centre to an entertainment one. It attracts kids and non-golfers and our goal is to move them from there into taking up the game," he says.
Other clubs have diversified away from golf, often into becoming function venues or by adding health clubs. This has created niche opportunities elsewhere. "People have been joining us as they want a pure golf club rather than something on the side of a bigger facility. Our membership has gone up in the past two years, having stayed fairly level for the previous six," says Pam Smith at Kirtlington GC.
The public course
Glendale Golf runs public courses, and its MD Tom Brooke is in his 11th year in the industry. "During my first three years it was easy to fill tee times. But then private clubs opened up to non-members and got aggressive in their green-fee pricing. In a price war they have the advantage as they are perceived to be more high end. We cannot reduce our rates further and still cover our costs," he says.
"With 20 per cent fewer golfers than ten years ago, there are too many courses in terms of supply and demand. There were too few courses when golf was at its peak, but too many were built in response.
"We need to realign the golf product – we need less of it and greater variety. Fifteen per cent of clubs should either go, diversify or offer quicker games. Why not turn an underused 18-hole course into a nine-holer, or if you have two courses with low traffic, make one a top-quality six-hole course, which would enable people to play after work or on summer evenings?"
Entry-level club
Fewer people taking up golf is a problem for clubs aimed primarily at the beginner, so the robust entry-level model involves beginners moving on within the same club.
Jenny Holmes' family set up Fynn Valley in 1989 to "provide a ladder whereby you could walk on the driving range having never held a club in your life, and progress to become a scratch golfer – and we have done that with some people. We get beginners onto the range, teach them to play, and from there they progress to our par-3 course and then our main course. Of our first intake of 250 members, more than 40 are still members more than a quarter of a century later," she says.
Continues below
Expand Farewell My Friend: The Final Day At Laleham Golf Club
Farewell My Friend: The Final Day At Laleham Golf Club
Elliott Heath laments the demise of Laleham Golf…
Expand Should Golf Clubs Be Treating Visitors Differently To Members?
Should Golf Clubs Be Treating Visitors Differently To Members?
Shouldn't golf clubs treat visitors exactly the same…
Expand Why Be A Golf Club Member?
Golf club membership is plummeting in the UK,…
The diversified club
Many clubs have diversified away from golf-related activities by, for example, hosting weddings and business meetings, or adding gyms or health centres. All the diversified clubs we spoke to for this article said their golf operation makes a profit, but the advantage of diversification came in cash flow and marketing.
Mid-market members' club
The Eaton GC clubhouse near Norwich was bustling when I arrived on a Friday mid-morning and also that afternoon after my round. This club is almost entirely self-funded by its flourishing membership. The club makes £40,000 just in sales of tea and coffee. "On Mondays and Thursdays we have swindles," explains secretary Peter Johns. "We reserve six tee times starting from 10am on the 1st and 10th tees and 48 people come in from around 8.30am, have a tea or coffee and put the world to rights, and the clubhouse is buzzing. We take about £120 every swindle just on tea and coffee.
"We are full on fewer members. The kudos of golf in the '80s meant some joined who rarely played; now we only get keen golfers. Plus many members have now retired and so have more time to play. But the next generation or two will not retire as well off, so where will we get members then?
"Our membership profile is getting older, so at some stage – perhaps in ten years – it may become necessary to look at changing our business model to get younger people in. But we don't need to at present.
"The private members' club will survive. If you offer a product that people want and get the atmosphere right, people will pay to be part of it."
The high-end club
Clubs with Top 100 Courses will always have demand. But whereas once these clubs could wait for people to come to them, now they may have to be more active in attracting custom.
Saunton GC has two Top 100 Courses, its West and East. "Membership is up in the past two years. This is a result of opening up the business, being more flexible to what's needed and the increased reputation of the club as our courses and facilities have got ever better," says secretary Russell Mayne. "Social media is useful for marketing. We have used it to give an insight into what we actually are and do, rather than being wrongly perceived as an exclusive private club.
"We have a business model that remains pretty constant, with 40 per cent of our income from members, 40 per cent from visitors and 20 per cent from catering and the bar."u88
The leading website from the world's oldest golf magazine, we're the go-to destination for amateur and keen golfers alike who are keen to up their golfing game. As well as expert course reviews, news and tips to improve your handicap our golf-focused travel content will help you pair teeing off with your travels in some of the best destinations around the globe.