5 Bands That Should Perform at Rory McIlroy's Wedding
Coldplay are rumoured to be performing at Rory McIlroy's wedding - but who else could be performing?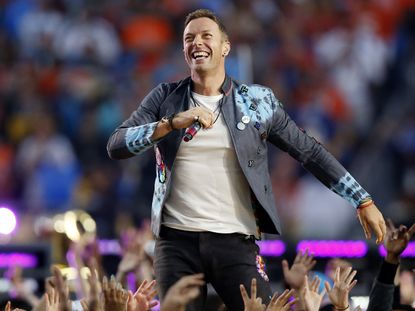 Coldplay are rumoured to be performing at Rory McIlroy's wedding this weekend, with other big names certain to follow.
5 Bands That Should Perform at Rory McIlroy's Wedding
Sources suggest that Coldplay will be providing the soundtrack to Rory McIlroy's wedding as he marries Erica Stoll in a beautiful 13th-century castle in County Mayo, Ireland this weekend.
The global superstars are reportedly one of McIlroy's favourite bands, but there will undoubtedly be more big names on show in what is shaping up to be a lavish bash. Here's what we think the musical guest list could look like:
1. Coldplay
Rory is such a Coldplay fan that he has previously admitted to listening to the band when he practises. Sources told the Irish Sun that he "needs something a little more mellow when I hit balls — acoustic stuff like Coldplay's older music."
He'd also be keen to not just spend big on the luxury 5-star Ashford Castle venue: "Rory has said he'll spare no expense on the big day and he loves the band so we'll see."
Coldplay are starting their 'A Head Full of Dreams' tour tonight in Tokyo, Japan, with a break until Tuesday week. Here's hoping they spend their weekend making Rory's wedding a dream come true.
2. Niall Horan
So this was was a foregone conclusion. Horan — who recently split from One Direction — is a keen golfer and friend of Rory McIlroy, and his invite to the bash has already been confirmed.
They're so close, in fact, that Rory asked Niall to caddy for him at the annual Master's Par 3 Contest in Augusta. He'll definitely want to put that slip behind him too.
Related: See what's in Rory McIlroy's golf bag
3. Ed Sheeran
He's everywhere at the moment, so why not a castle in Ireland? If he's "driving at 90 on those country lanes," it really won't take him long to get there from Sheeran's Suffolk home.
He might not be a golf man, but apparently has hit a golf ball out of Justin Bieber's mouth in the past. He's also another of McIlroy's favourites to practise to, making him an excellent addition.
Expand Best Golf Drivers
Your ultimate guide to the best drivers you…
Expand Best Game Improvement Irons
Check out the best irons to help move…
Expand Best Golf Shoes
Need to upgrade your golf footwear? Make sure…
4. U2
There's only really one band you can invite to your wedding to make it a killer Irish affair: U2. We think that such a massive band would be an ideal act to play at the wedding of such a big player.
And, for fans of tenuous links, Bono and Rory have shared a bodyguard in the past. The more you know.
5. Shane Filan
Since Westlife disbanded in 2012, the Sligo-born singer has been known to perform at weddings: he sang 'Flying Without Wings' as Jamie Vardy tied the knot last year.
If he attends Rory McIlroy's wedding, the memories will come rushing back: Shane had his wedding reception at Ashford Castle.
Harry did work experience at Golf Monthly in 2017.