Ian Poulter Takes Dig At DP World Tour Chief With #PettyPelley Tweet
Ian Poulter used the hashtag #PettyPelley after Ryder Cup Europe failed to wish him or Sergio Garcia happy birthday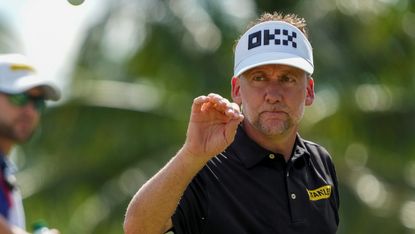 (Image credit: Getty Images)
Ian Poulter has once again made a sly dig at the DP World Tour, using the hashtag #PettyPelley in reference to the tour's CEO Keith Pelley.
A few days ago, Poulter – who isn't shy in voicing his opinions on social media – took to the platform to fume at Ryder Cup Europe for failing to wish Sergio Garcia a happy birthday, as the relationship between the LIV Golf defectors and the DP World Tour continues to become strained.
What's really an "incredible touch" is the Players that helped build the @RyderCupEurope Brand with other players as well. You just can't bring yourself to say a simple Happy Birthday. @TheSergioGarcia B'day Yesterday. Unfortunately this says so much. 🤷🏼‍♂️January 10, 2023
See more
The Englishman sent a rather more tongue in cheek reply to Lee Westwood after the 49-year-old tweeted a picture of his passport and captioned it "Season 30!!! Here we go again."
Poulter replied with "Happy 30th season" In what was a sly dig towards Ryder Cup Europe for the failed birthday wishes.
Eddie Pepperell even joined the action. "I'm 32 in two weeks," Pepperell tweeted to Poulter. "Make sure you don't forget."
The 47-year-old then replied "It's alright Eddie they'll pay for another commercial to celebrate yours #goldenchildinviteking," referencing a video Pepperell did with the DP World Tour in August 2022.
It's alright Eddie they'll pay for another commercial to celebrate yours 🤣🤣🤣🤣 #GoldenchildinvitekingJanuary 11, 2023
See more
Poulter wasn't finished there however, replying to a tweet by RTE Sport's Greg Allen about birthday messages, he replied: "Just highlighting the orders that have been given from the Top down.. #pettypelley."
Just highlighting the orders that have been given from the Top down.. #pettypelley 🤣January 11, 2023
See more
Poulter is of course a Ryder Cup legend, having been on the winning Team Europe on five occasions, but his association with LIV has put any further appearances in severe jeopardy, even though Luke Donald – European captain for the 2023 match at Marco Simone Golf and Country Club – could still technically pick who he sees fit for the biennial competition, pending a court case next month.
His comments last month may have scuppered that notion however. "The US team have had a shift where they have gone with younger players with less scar tissue; guys that seem to get on very well," Donald said.
"Europe is starting to go through a similar shift. A lot of the guys who have been stalwarts are coming towards the end of their careers.
"I'm not saying they don't have opportunities to make further Ryder Cups, but it's becoming less and less likely so we need some of these younger guys to step up and fill some of those holes."
Ross Kilvington is a freelance writer from Scotland who has had his work published by acclaimed publications such as Nutmeg alongside popular online blogs including the Gentleman Ultra, North Section and Engrossed in Football. Ross holds a passionate interest in golf and tries to play as often as possible, although having two daughters under the age of four means his quest to break 80 will have to wait a little bit longer. He writes about golf in his spare time, most recently having an article published in the Golf Memories anthology Mind the Links, which was released in July with all proceeds going towards Alzheimer charities. With a handicap that floats between 13-14, highlights are few and far between on the golf course, with an eagle on the par 4 16th at Kinghorn one that stands out (it doesn't matter that it was only 290 yards!).