Brooks Koepka and Dustin Johnson Altercation: More Unrest In USA Team
The pair were reported to have to be pulled apart on Sunday evening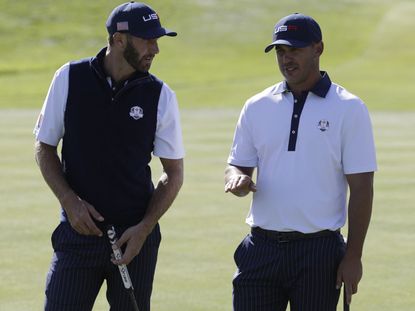 While in the European Team Room on Sunday at the Ryder Cup, the pair were pulled apart from each other.
Brooks Koepka and Dustin Johnson Altercation: More Unrest In USA Team
The conclusion of the Ryder Cup is not even 48 hours old and the fallout from the Europe victory and the Team USA loss continues
While the Europeans dressed up in Postboxes and were filmed in bed with the Ryder Cup, the USA Team have decided to throw each other under the bus, and from reports this morning even had physical altercations.
Reports have emerged that Dustin Johnson and Brooks Koepka needed to be separated on Sunday evening after they were invited to come and join the celebrations in the European Team Room.
This is very surprising as Koepka and Johnson are known for being great friends, they even work out together at the same gym in Florida and are of course also know as the 'Bash Brothers' due to their similar long-hitting games.
They even played together in the Saturday Afternoon Foursomes where they lost a close match 2&1 to Henrik Stenson and Justin Rose.
It is not clear what the altercation was about, but it shows much unrest in the USA Team, and follows on from comments that Patrick Reed made in an interview on Sunday evening (opens in new tab) that Jordan Spieth didn't want to play with him.
Koepka's girlfriend Jena Sims and Dustin Johnson's partner Paulina Gretzky also seem to get on well as the pair were seen taking selfies together at the Gala dinner on Wednesday evening – however the pair appeared to have deleted any pictures of themselves together or with each other's partners from their Instagram accounts, which would appear to confirm a rift.
Koepka had a bad start to his Ryder Cup, when he hit a spectator on Friday Morning, that spectator is now claiming to have lost the sight in one of her eyes (opens in new tab).
Expand Who Is Brooks Koepka's Fiancée?
Who Is Brooks Koepka's Fiancée?
Brooks Koepka's fiancée Jena Sims.
Expand Who Is Paulina Gretzky? – Dustin Johnson's Fiancee
Who Is Paulina Gretzky? – Dustin Johnson's Fiancee
Dustin Johnson has been engaged to Paulina Grezky…
Expand 15 Things You Didn't Know About Brooks Koepka
15 Things You Didn't Know About Brooks Koepka
Did you know all of these facts about…
Expand 18 Things You Didn't Know About Dustin Johnson
18 Things You Didn't Know About Dustin Johnson
Here are some interesting facts about Dustin Johnson
While it is good to see the USA are passionate about their performances, it does ask the question can their team spirit recover when the 43rd Ryder Cup takes place in 2020 at Whistling Straits (opens in new tab).
Keep up to date with everything in the world of golf with the Golf Monthly website and social media channels.
Tom Clarke joined Golf Monthly as a sub editor in 2009 being promoted to content editor in 2012 and then senior content editor in 2014, before becoming Sports Digital Editor for the Sport Vertical within Future in 2022. Tom currently looks after all the digital products that Golf Monthly produce including Strategy and Content Planning for the website and social media - Tom also assists the Cycling, Football, Rugby and Marine titles at Future. Tom plays off 16 and lists Augusta National (name drop), Old Head and Le Touessrok as the favourite courses he has played. Tom is an avid viewer of all golf content with a particularly in depth knowledge of the pro tour.